Andrew Cuomo
Schneiderman resigned in scandal. Here's how politicians are reacting.
A bombshell New Yorker story reports that New York state Attorney General Eric Schneiderman physically abused four women, and he resigned within hours. How did New York politicians and others react?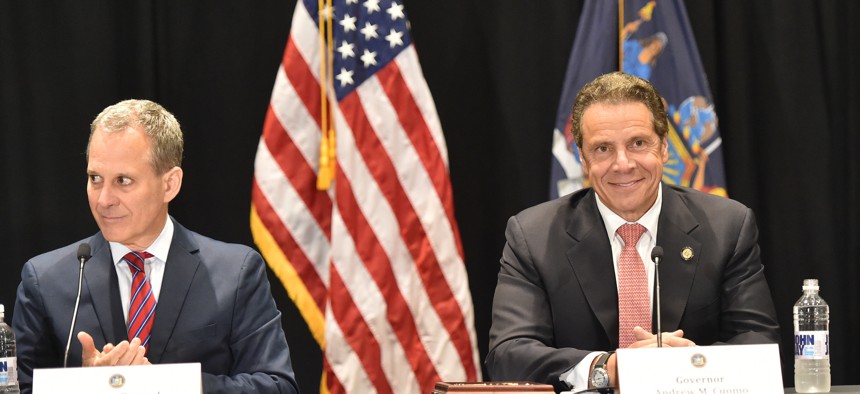 New York was rocked by stunning revelations that four women had accused state Attorney General Eric Schneiderman of physical abuse and by his decision, within a few hours of the publication of the allegations, to announce his resignation.
The allegations, reported by The New Yorker, were all the more shocking since Schneiderman has a record of advocating for women when he was in the state Legislature and as an attorney general, and he was currently prosecuting Harvey Weinstein, the former film producer whose alleged sexual misconduct spurred a national reckoning over the treatment of women by powerful men. Schneiderman had one of New York's most prominent figures, with the campaign cash and a host of endorsements from women's organizations to prove it, and he had enjoyed a rising national reputation for taking on President Donald Trump.
But Schneiderman's political future changed rapidly since the allegations were revealed on Monday evening, including detailed allegations from two women who spoke on the record about what they endured. In a statement issued late Monday evening, Schneiderman continued to maintain his innocence but said he could no longer carry out the duties of his office effectively.
"It's been my great honor and privilege to serve as Attorney General for the people of the State of New York," he said. "In the last several hours, serious allegations, which I strongly contest, have been made against me. While these allegations are unrelated to my professional conduct or the operations of the office, they will effectively prevent me from leading the office's work at this critical time. I therefore resign my office, effective at the close of business on May 8, 2018."
New York's political leaders did not stay silent on the issue for long, with Gov. Andrew Cuomo promptly calling on Schneiderman to step down. Here is a roundup of reactions from other New York officials.
Schneiderman initially denied the allegations, insisting that he had not assaulted anyone:
Statement from Eric T. Schneiderman:

"In the privacy of intimate relationships, I have engaged in role-playing and other consensual sexual activity. I have not assaulted anyone. I have never engaged in non-consensual sex, which is a line I would not cross."

— Eric T. Schneiderman (@Schneiderman) May 7, 2018
When asked for comment, a spokesperson for Schneiderman sent the above statement, and added another from his ex-wife, Jennifer Cunningham, who has continued to serve as a political consultant for him:
"I've known Eric for nearly 35 years as a husband, father and friend. These allegations are completely inconsistent with the man I know, who has always been someone of the highest character, outstanding values and a loving father. I find it impossible to believe these allegations are true."
Cuomo was among the first to call for Schneiderman to resign, saying it would be "for the good of the office":
Statement from Governor Andrew Cuomo pic.twitter.com/XHV9g2lxvJ

— Melissa DeRosa (@melissadderosa) May 8, 2018
U.S. Sen. Kirsten Gillibrand, who has earned a reputation for calling out those accused of sexual misconduct, also said Schneiderman had to resign:
GILLIBRAND calls Schneiderman to go: "I do not believe that Eric Schneiderman should continue to serve as Attorney General" pic.twitter.com/1foPjlvm2u

— Shane Goldmacher (@ShaneGoldmacher) May 8, 2018
Neil Kwatra, Schneiderman's former chief of staff, had harsh words for his former boss:
"They read very credibly," Neal Kwatra, Eric Schneiderman's former chief of staff says of New Yorker story in which four women accuse Schneiderman of abuse. "It's shocking."

— Grace Rauh (@gracerauh) May 7, 2018
Assembly Speaker Carl Heastie, whose sizeable Assembly majority will give him great sway over picking a replacement since it's up to the state Legislature to replace him, suggested the attorney general should step aside. "These are very serious allegations," he said in a statement. "I support Governor Cuomo's call for a thorough investigation. Based on what has been reported, I believe it will be very difficult for Eric Schneiderman to continue as New York State Attorney General."
New York City Council Speaker Corey Johnson joined those calling for Schneiderman's resignation.
New Yorkers deserve and expect more from their Attorney General, who as the state's chief law enforcement officer has an obligation to uphold the law. Eric Schneiderman must step down immediately.

— NYC Council Speaker Corey Johnson (@NYCSpeakerCoJo) May 8, 2018
But New York City Mayor Bill de Blasio remained mum.
Mayor de Blasio says he does not think it's appropriate to comment on the bombshell Eric Shneiderman story in @NewYorker.

— Inside City Hall (@InsideCityHall) May 7, 2018
A de Blasio spokesman said he would address the allegations on Tuesday.
The Mayor has seen the report and will address it publicly tomorrow. https://t.co/cTmJjSvtcy

— Eric Phillips (@EricFPhillips) May 8, 2018
Several other prominent New York Democrats - including state Senate Minority Leader Andrea Stewart-Cousins and U.S. Sen. Charles Schumer - did not immediately respond to the scandal enveloping Schneiderman, either. Neither did New York City Public Advocate Letitia James or Long Island Rep. Kathleen Rice, both rumored to be potential candidates to replace Schneiderman. 
State Comptroller Thomas DiNapoli weighed in only after Schneiderman announced his resignation:
The allegations against the Attorney General are shocking. In light of the serious nature of these accusations, Eric Schneiderman took the appropriate step and resigned.

— Tom DiNapoli (@NYSComptroller) May 8, 2018
Cynthia Nixon, who is mounting a Democratic challenge against Gov. Andrew Cuomo, also issued a statement after Schneiderman had already announced his resignation:
The descriptions by these brave women of the physical and sexual abuse they suffered at the hands of NY Attorney General Eric Schneiderman are sickening. It is the right decision for him to resign immediately.

— Cynthia Nixon (@CynthiaNixon) May 8, 2018
Former Syracuse Mayor Stephanie Miner, who has been mulling a primary challenge of her own against Cuomo, had perhaps the most straightforward take:
Schneiderman. Must. Resign.

— Stephanie A. Miner (@MinerNYS) May 8, 2018
At least one Republican senator, Robert Ortt, criticized Schneiderman - although he, like Cuomo, has an antagonistic history with the attorney general:
Republican lawmaker calls for a special prosecutor to investigate Schneiderman allegations pic.twitter.com/CeW89NnFme

— Nick Reisman (@NickReisman) May 8, 2018
Similarly, New York Republican Party Chairman Ed Cox said that "It's clear Mr. Schneiderman has no place holding any public office, let alone as the state's highest law enforcement officer. He must resign from office and be held accountable for his crimes."
Schneiderman's Republican opponent, Manny Alicandro, who officially announced his candidacy earlier on Tuesday, agreed: "I believe the accusers. He needs to resign his office immediately and the New York City Police Department needs to get to work."
Meanwhile, some women's groups expressed outrage:
Women's group calls for Schneiderman's resignation:
"Schneiderman must resign. Immediately. If he fails to do so, Governor Cuomo and the New York State Legislature must take immediate action to remove him from office." https://t.co/3q82bejIjT pic.twitter.com/j2AZxL7ect

— Joseph Spector (@GannettAlbany) May 7, 2018
Even Donald Trump, Jr. had something to add:
There is a tweet for everything! https://t.co/aU5I6z8SS8

— Donald Trump Jr. (@DonaldJTrumpJr) May 7, 2018
Powered By
NEXT STORY: Simcha Felder's state Senate stronghold