Joe Crowley
Some Democrats support challengers to ex-IDC members, but not Joe Crowley
Rep. Joe Crowley is backing Jose Peralta.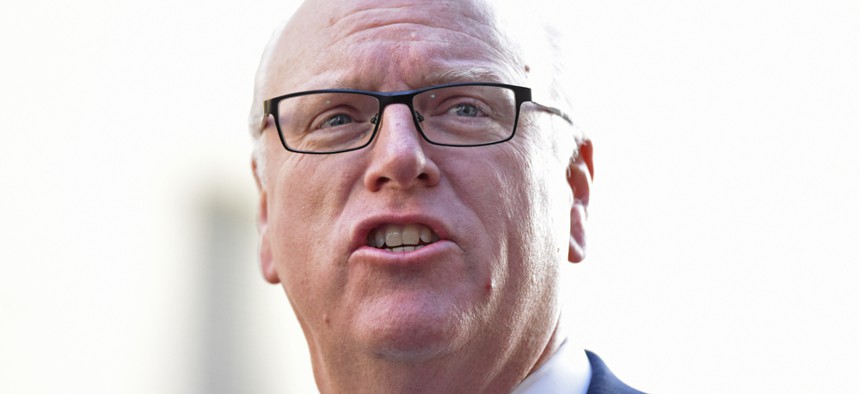 Depending upon one's read of "until April," Rep. Joseph Crowley is either good or terrible at issuing ultimatums and following through on them.
On Monday, the Queens County Democratic Party endorsed state Sen. Jose Peralta, a former Independent Democratic Conference member, over his progressive primary challenger, Jessica Ramos. Ramos has been endorsed by the Working Families Party and officials such as New York City Comptroller Scott Stringer and City Councilmen Costa Constantinides and Jimmy Van Bramer.
This endorsement of Peralta is especially notable because the Queens County Democratic Party is commonly seen in political circles as an extension of the political will of Crowley, the House Democratic Caucus chairman, county party chairman and a powerhouse in the borough.
In January, Crowley told the editorial board of the Queens Chronicle that the IDC would "suffer the consequences" if it did not return to the mainline Democratic fold.
"They have until April to come back, or they will face a head-on primary by everyone," Crowley said at the time, adding that if Peralta rejoined the caucus by then, "we've agreed that he would have the support of the apparatus."
"If he doesn't, he will have a primary sanctioned by me and the state apparatus, as well as working with our friends in labor," Crowley added.
The IDC agreed to reunite with the mainline Democratic Party on April 4.
A source who attended the Queens County Democratic Party's meeting where Peralta and another former IDC member, state Sen. Tony Avella, were endorsed for re-election said that Crowley and the Queens County Democratic Party were keeping to the deal brokered by the governor and the party's own promises of support if reunification occurred. "They dissolved the conference, the bitterness is behind," the source said about the IDC. "The organization (the Queens County Democratic Party) felt that because the IDC did what they did, they needed to oppose them, and when the IDC undid it, they needed to undo the opposition."
The source also said that the "until April" deadline set by Crowley did not mean March 31, but referred the special elections, which occurred on April 24.
When asked Crowley's opinion of the Queens Democrats' endorsement of Peralta, and whether he thought the IDC members fulfilled his ultimatum by rejoining the Democratic caucus in early April, a spokeswoman for Crowley replied with a statement by Queens County Democratic Party Executive Secretary Michael Reich. This same statement was included in a press release sent out by Peralta earlier on Monday morning. "New Yorkers want to see their public officials fighting to advance progressive values," Reich said in his statement. "The only way these goals will be accomplished is by working together to elect Democrats at every level of government."
One of the main criticisms the IDC challengers have against those former members is that by denying the Democrats a majority in the state Senate for years, they enabled the Republican Party to maintain control of the Senate and block progressive priorities from becoming law.
Some are skeptical of the IDC's sudden desire to reunite with mainline Democrats during an election year when many of them are facing primary challenges. In 2014, the IDC agreed to rejoin the Democratic fold if the Democrats gained an outright majority in the state Senate. This did not come to pass, and the IDC maintained its independence for another four years. The IDC also did not agree to rejoin the mainline Democrats until after the budget was negotiated. The budget left out progressive reforms supported by Gov. Andrew Cuomo and the Democratic-controlled Assembly, but were opposed by state Senate Republicans, such as expanding voting rights and implementing criminal justice reforms.
Referring to that timeline in a statement responding to the Queens County Democratic Party's Peralta endorsement, Ramos said that Peralta had "conveniently decided to join the Democratic Party once again," and that she would "never betray our district or our party."
Sean McElwee, a progressive writer and activist based in New York City, said that Crowley was acting as any Democratic leader would.
The Queens County Democratic Party's endorsement is also not happening in a vacuum. Most top state Democrats, including Cuomo, are eager to avoid divisive primaries that could take resources away from fighting for competitive House and state Senate seats – hence Cuomo personally brokering the deal that ended the IDC. Now that the IDC members are falling in line, the state Democratic Party and its county offshoots are not offering support to their primary challengers.
"The establishment is always going to do what it perceives to be as the safe option, and not what it thinks is best for progressives," said McElwee, adding that adhering to the establishment line is "in Crowley's DNA."
However, the Queens County Democratic Party's support for Peralta comes at a time when other current and former members of New York's congressional delegation have backed challengers to the former IDC members. Rep. Jerrold Nadler recently endorsed Robert Jackson, who is running against state Sen. Marisol Alcantara. Former Rep. Charles Rangel has also endorsed Jackson, and is supporting Alessandra Biaggi over state Sen. Jeff Klein, the former leader of the IDC.
The Queens Democrats' support for Peralta may be an indication of how Crowley would operate as a leader should he ever become House minority leader or House speaker. Crowley is often named as a potential successor to Minority Leader Nancy Pelosi. Early April could be seen as fulfilling the "until April" deadline imposed by Crowley, and now the congressman is keeping his word by not backing IDC challengers. The support for Peralta after Crowley's initial threat could show that he fulfills promises made to lawmakers and unites his party. But progressive critics might see it as proof that he backs down from enforcing ultimatums and cannot be trusted to punish disloyalty.
Crowley himself is also facing a Democratic primary challenger from the left, Alexandria Ocasio-Cortez.
In an interview with City & State earlier in May, Ramos, Peralta's challenger, said that she had known Crowley for a long time, and had spoken with him about the race.
"The congressman and I have known each other for many, many years. I am a former district leader right here in this Assembly district," Ramos said. "We have had numerous conversations, we continue to have conversations, to figure out how we're going to work together."
Those conversations may be coming to an end now that Peralta is the pick of the Queens Democratic establishment, but may resume if Ramos wins the primary.