New York State
The problem with Zephyr Teachout's prospective attorney general campaign
Zephyr Teachout's prospective attorney general campaign is hampered because the law professor isn't admitted to the New York bar.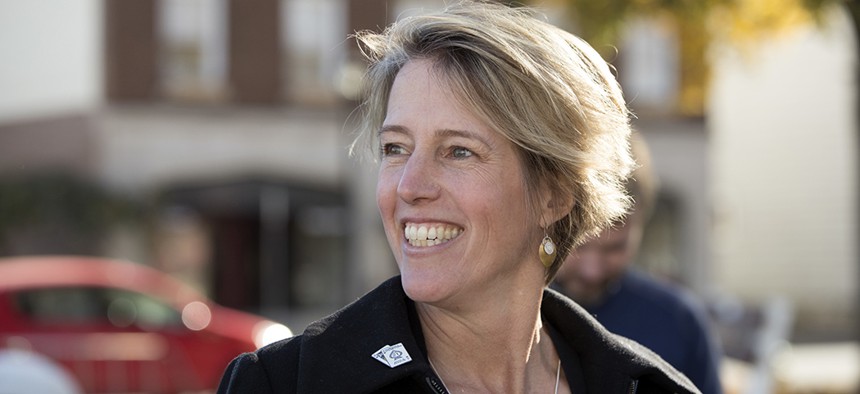 Zephyr Teachout, the Fordham Law professor, former gubernatorial and congressional candidate, and progressive icon in New York, is among the contenders to replace Eric Schneiderman as New York's attorney general. Teachout has expressed interest in the role, tweeting on May 8 that she was "seriously considering running for Attorney General." In a piece in The Nation titled "Why Zephyr Teachout Would Make a Great New York Attorney General," D.D. Guttenplan extolled her experience crusading on liberal causes, saying her advocacy on issues such as voter reform would make her the ideal candidate.
"In Zephyr Teachout, New Yorkers would have a candidate uniquely qualified not just to fill Schneiderman's shoes – both as a champion of women's rights and as a defender of civil liberties and the Constitution – but with the potential to surpass him," Guttenplan wrote.
However, in addition to the fact it would surely enrage her former opponent Gov. Andrew Cuomo, there is a significant issue with Teachout's potential bid that could derail her ambitions – she isn't licensed to practice law in the state of New York.
According to a search of records at the New York State Bar and a representative who searched the database, Teachout is not admitted to the bar in the state. She is licensed to practice law in North Carolina, where she graduated from Duke Law School and served as a death penalty defense lawyer, providing representation for inmates on death row.
New York's state constitution does not prohibit lawyers who are not admitted to the state's bar from serving as attorney general. However, election lawyer Sarah Steiner said that it could complicate matters if Teachout were to be appointed or elected attorney general without being admitted to the state bar, as Teachout would not be allowed to appear in New York courts.
"As a matter of practical reality, the idea of having someone under whose name all of the briefs are going to be submitted, who is the chief lawyer of the state, not be somebody who's allowed to go into court and appear, is difficult to envision," Steiner said, adding that the attorney general's office operates like a private law firm, with assistant attorneys general acting on the attorney general's behalf. "What do you do if the person for whom you are appearing isn't admitted to appear?"
New York and North Carolina have reciprocity, meaning that a person admitted to the bar in one state could apply "by motion" to join the bar in another state without retaking the bar examination. However, the process is arduous, and the state Board of Law Examiners requires that applicants seeking admission by motion must have "practiced for five of the preceding seven years." The Board of Law Examiners confirmed that being a practicing lawyer involves appearing in court.
When reached for comment by City & State, Teachout emailed a statement expressing confidence that she would gain admission to the New York bar. "I've been an active member of the North Carolina State bar since 2001, which has reciprocity with New York. Getting an admission on motion is fairly pro forma, and I've started the process," Teachout said. "I took the bar in North Carolina because I was working as a death penalty lawyer there in 2001. I've been teaching in NY for 9 years, and when involved in litigation, like the lawsuit against Trump we filed in the SDNY, it was not an issue." Teachout referred to a lawsuit filed on Jan. 27 by Citizens for Responsibility in Government in the Southern District of New York, claiming that President Donald Trump violated the emoluments clause. Teachout was one of the lawyers on the suit.
Although Teachout's lack of New York bar admittance was not an issue in her previous campaigns, she has had problems related to her residency before. In 2005, she was reprimanded and fined $50 by the Grievance Committee of the North Carolina State Bar in 2005 for moving out of the state in December 2002 while she was representing a death row inmate, and not informing the court or the opposing counsel. Teachout was allowed to withdraw as the client's attorney, and the bar found that her conduct had no influence on the case.
In 2014, Gov. Andrew Cuomo's campaign sought to disqualify Teachout from the primary ballot, saying that she did not meet the requirement of living in New York for the previous five years. Teachout had moved to New York from Vermont in 2009, but the governor's team argued that she had kept a mailing address in Vermont for a large portion of that time.
A state appeals court ruled in Teachout's favor, but Steiner said that issues with Teachout claiming various residencies at different times would be relevant to the New York bar – another reason that Teachout might not be able to be admitted in New York.
While there is no question Teachout is still legally qualified to be attorney general, the bar admittance issue may also be a political liability for her candidacy, as some voters might wonder if Teachout would be fully capable of doing the job.
With reporting by Frank G. Runyeon.
Powered By
NEXT STORY: Women's Caucus: Vance shouldn't lead Schneiderman investigation