Andrew Cuomo
You don't have to be that qualified to be attorney general
The state Legislature is interviewing candidates to replace Schneiderman, but the job's formal qualifications are minimal.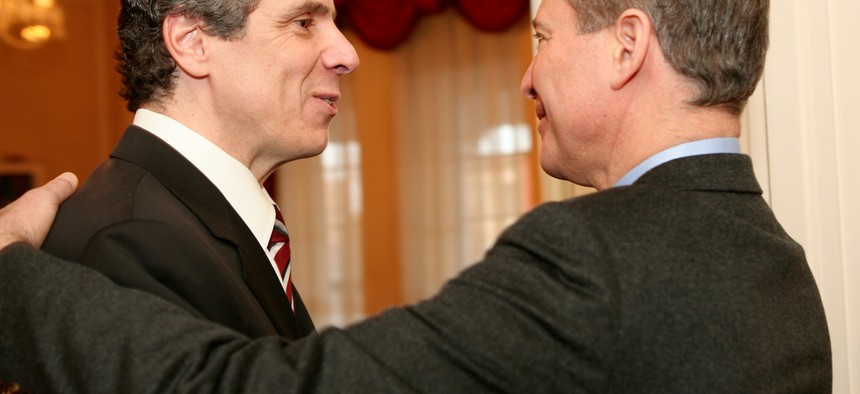 Are you 30 years old or over, a resident of New York for at least five years and looking for a job? The state attorney general's office has an opening, and you're qualified!
According to the state constitution, the only requirements for becoming state attorney general or comptroller are age, American citizenship and five years of residency in the state. As the state attorney general is an elected official, a candidate's specific legal qualifications may not be as important to voters as their managerial or political ideology.
The framers of the state constitution intended for the attorney general position to be independent from the governor, which is why it is an elected post, said Blair Horner, executive director of the New York Public Interest Research Group. This could be news to Gov. Andrew Cuomo, who has considered running on a ticket with possible attorney general candidate New York City Public Advocate Letitia James, and presumptive GOP gubernatorial nominee Marc Molinaro, who the Daily News claims dreams of running on a fusion ticket with Preet Bharara as the attorney general candidate.
The most important qualification for a prospective attorney general, however, is his or her ability to get votes.
"These are not technical positions, they reflect the will and the representative democracy of the people," Horner said. "The attorney general is not just the top lawyer, he's also or she's also the head of a department and a policymaker."
Although it's helpful to have legal experience, the state attorney general needs to know how to set an agenda and address the state's needs. The Office of the Attorney General includes over 650 assistant attorneys general – who are required to be a member of the bar in New York in good standing – and over 1,700 employees. This staff is qualified to handle the legal minutiae, and the attorney general can focus on making policy and politicking.
Former Attorney General Eric Schneiderman, who recently resigned in disgrace after allegations of abuse were made public, was an effective mouthpiece for New York's progressive values on the national level, bringing over 100 lawsuits against the administration of President Donald Trump.
However, while he had a background as a lawyer, Schneiderman did not necessarily have the highest legal qualifications among those who ran for attorney general in 2010. Schneiderman was a public interest attorney for a decade before becoming a state senator. He narrowly defeated then-Nassau County District Attorney Kathleen Rice, who had also served as a federal prosecutor and an assistant Brooklyn district attorney, in the Democratic primary in 2010. He then defeated Dan Donovan in the general election, who at the time was the Staten Island district attorney.
Schneiderman's predecessor, Cuomo, had served as an assistant district attorney during the 1980s, but at the time was most known for his tenure as a federal housing secretary during the Clinton administration and for his disastrous 2002 gubernatorial race. Eliot Spitzer, who had preceded Cuomo, had worked in the Manhattan district attorney's office.
Several of the candidates are currently seeking the attorney general position, or exploring a run, despite having little legal experience, such as Fordham law professor Zephyr Teachout, who never worked as a prosecutor.
This ultimately may not matter that much. "The effectiveness of the attorney general hinges on whether they're doing the job the public wants them to do," Horner said.
Indeed, the person voters choose to be their attorney general may have less to do with their legal qualifications than with the political atmosphere at the time. "Often the decision of who gets elected is in a context that maybe has very little to do with the attorney general's position directly. It could be a blue wave, it could be a red wave," Horner said.
It's widely agreed that Acting Attorney General Barbara Underwood is eminently qualified for her post. She was solicitor general of the state before her recent appointment, and the first female solicitor general of the United States. (Also, like all her competitors for the position, she is older than 30 and she has lived in New York for over five years.) However, her tenure is destined to end, and she will eventually be replaced by someone who may not have as long a legal resume.
"You don't necessarily have to be the top lawyer of the state to be attorney general," Horner said. "You just have to exhibit good judgment about how to protect the interests of the state in a legal setting."