Andrew Cuomo
A lawsuit, a bus tour and a budget deal
New York Attorney General files a lawsuit against the Trump Foundation, Governor Andrew Cuomo goes on a bus tour, a NYCHA settlement is reached and New York City has a budget deal in this week's top news.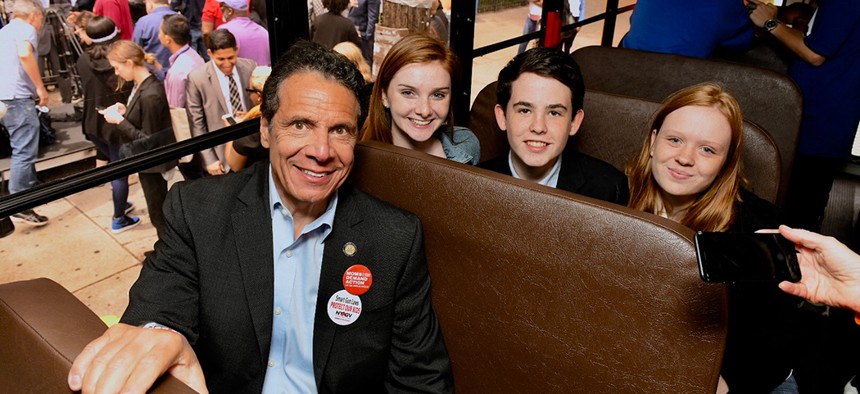 If you're planning to attend a minor league baseball game on Staten Island this summer, you may not be seeing the Yankees – it may be the Pizza Rats who take the field. Starting June 23, the Staten Island Yankees will change their name to the Pizza Rats for Saturday home games, replete with new merchandise featuring both pizza and the infamous rodent. But not everyone likes the name change, with some locals calling it an embarrassment. Perhaps they would have preferred the Staten Island Turkeys? More news in this week's headlines below.
 
Underwood shows her mettle
Despite Democrats' fears that the state attorney general's office would lose its bite without Eric Schneiderman, Attorney General Barbara Underwood has filed a new lawsuit against the Donald J. Trump Foundation after a two-year investigation. Trump, along with his children Eric, Donald Jr. and Ivanka, are named in the suit, which seeks to bar them from ever serving on a nonprofit again, as well as $2.8 million in restitution. The lawsuit accuses the foundation of campaign finance violations, self-dealing and coordinating with the Trump presidential campaign illegally. Trump immediately took to Twitter to dismiss the claims, and to say he wouldn't settle.
 
The budget handshake
New York City Mayor Bill de Blasio and the City Council reached an $89.2 billion budget deal on Monday evening. It included $106 million for the Fair Fares initiative pushed by Council Speaker Corey Johnson to provide half-price MetroCards to low-income New Yorkers. De Blasio had initially resisted the proposal, but he and the council eventually came to an agreement. The budget also includes more than $400 million for the MTA's Subway Action Plan, which de Blasio said will be a one-time payment.
The NYCHA settlement
After a lengthy investigation by the federal government, New York City agreed to a settlement over dilapidated conditions at the New York City Housing Authority. Federal prosecutors issued an 80-page civil complaint that accused NYCHA of systematic misconduct and deliberate lies, in particular regarding lead paint inspections. NYCHA acknowledging its faults in the consent decree, and the city agreed to spend at least an additional $1 billion to fix its public housing. The federal government will also put in place a monitor to ensure improvements are happening. Following the civil settlement, Council Speaker Corey Johnson called for the criminal prosecution of NYCHA officials who engaged in misconduct.
 
No white flag on 'red flag' bill 
Gov. Andrew Cuomo kicked off a statewide campaign for a "red flag" gun bill that would allow judges to take away guns from individuals deemed dangerous. The legislation passed the Assembly on Wednesday, but its future is uncertain in the state Senate. After initially saying he would review the legislation in exchange for the Assembly considering a state Senate package of school safety bills, state Senate Majority Leader John Flanagan quickly changed his tune, accusing Cuomo of choosing photo ops over governing.
 
Cuomo's strong lead
Cuomo has expanded his lead over primary challenger Cynthia Nixon to 35 points in a new Siena College poll. He leads her among Democrats 61 percent to 26 percent, a wider margin than Siena's last poll in April, when he led 58-27. The poll also showed Cuomo with a wide lead over Republican gubernatorial candidate Marcus Molinaro 56-37 in the general election. Other Democratic incumbents like U.S. Sen. Kirsten Gillibrand and state Comptroller Thomas DiNapoli were looking strong against their rivals in the poll, while New York City Public Advocate Letitia James, who is running for state attorney general, has an early lead – although the poll was conducted before Rep. Sean Patrick Maloney jumped into the race.
Powered By
NEXT STORY: Nastiness continues in the latest Grimm and Donovan debate