New York State
Can New York circumvent Trump's pardon power?
It would require a change in state law, but New York prosecutors have jurisdiction over many of Donald Trump's activities.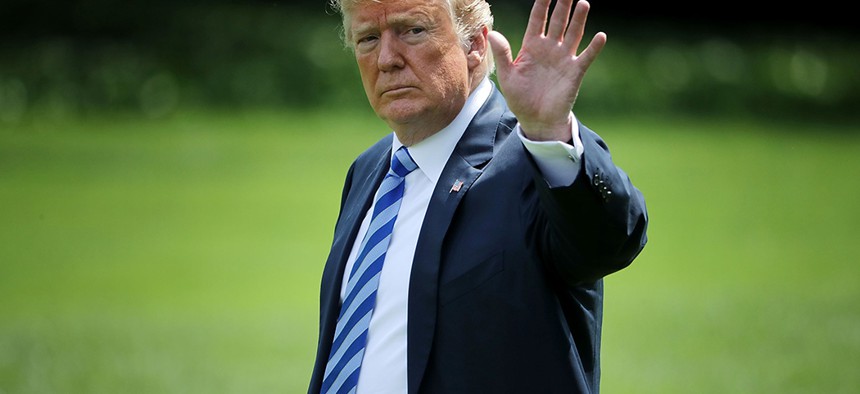 In what has become a morning ritual, President Donald Trump sent the political sphere into a tizzy with a series of incendiary tweets on Monday, including an assertion that he could pardon himself and an attack on Special Counsel Robert Mueller's investigation into possible collusion with Russia to interfere with the 2016 election and other potential wrongdoing by Trump and his associates.
"As has been stated by numerous legal scholars, I have the absolute right to PARDON myself, but why would I do that when I have done nothing wrong?" Trump tweeted. In fact, legal scholars are divided on whether presidents can pardon themselves, although some believe that the Constitution explicitly prevents it. Trump also called the appointment of Mueller "totally UNCONSTITUTIONAL," without providing any evidence or rationale for that unusual assertion.
If the president did choose to pardon himself, New York could play a starring role in what comes next. If the Democrats won control of the House of Representatives in the 2018 elections, Rep. Jerry Nadler could spearhead an impeachment effort as chairman of the House Judiciary Committee.
But Nadler, who hails from Manhattan's Upper West Side, is not the only New York Democrat who could pursue legal action against Trump. New York's law enforcement officials also potentially have the opportunity to investigate and even charge Trump and his family members, business partners and campaign officials – but it would require action by the state Legislature.
Last August, Politico reported that then-state Attorney General Eric Schneiderman was collaborating with Mueller to investigate Paul Manafort, Trump's former campaign chairman. Mueller filed new charges against Manafort in February, but did not include a raft of potential fraud and tax charges. As Vox reported, this omission could be a choice to create room for states to bring forward other charges should Trump pardon Manafort. The Manafort case could provide a blueprint for the state attorney general to prosecute Trump, even if the president pardons himself on federal charges.
However, Jennifer Rodgers, executive director of the Center for the Advancement of Public Integrity at Columbia Law School, noted to City & State that the state could only prosecute state crimes, not federal crimes. For example, if obstruction of justice charges were filed against Trump for his actions as president, for which he then pardoned himself, those would not apply in state courts. "It's a federal offense to obstruct a federal investigation, it's not a state offense to obstruct a federal investigation. You do have to have a state statute that is on point with the facts," Rodgers said. Trump, or one of his associates, would therefore have to committed a crime that could apply on the state level.
Presumably, another impediment to charging Trump in New York for anything he did as president is that New York cannot prosecute crimes that occurred in Washington, D.C. Crimes committed by Trump's New York-based family, employees, businesses and so on would remain fair game, however, as would crimes committed from Trump Tower.
The president could also potentially pardon Michael Cohen, his personal lawyer, whose Manhattan office and hotel room were raided by the FBI in April, which was authorized by the U.S. Attorney for the Southern District of New York. Federal agents are conducting an investigation into pre-election payments Cohen gave to Stormy Daniels, a woman who claimed to have an affair with Trump, which may have constituted an illegal contribution to Trump's campaign, as well as other business, legal and political dealings of Cohen's on Trump's behalf.  
Schneiderman had urged the state Legislature in April to create an exception in state law that would allow the state to continue prosecution even if the person has received a presidential pardon. The idea is to exempt the idea of "double jeopardy," the principle in state law that prohibits someone from being tried for the same activity twice. Article 40 of New York Criminal Procedure Law currently states that a person "may not be separately prosecuted for two offenses based upon the same act or criminal transaction." If the Legislature introduced an exception for presidential pardons, this would allow Cohen to be prosecuted for "offenses based upon the same act," as long at it also violated state law. For example, while federal campaign finance law does not fall under the New York Attorney General's jurisdiction, if Cohen lied to a bank in New York, which there some speculation he did regarding the payment to Daniels, then the same act would give rise to a state crime.
If passed, this could apply to any of Trump's aides who had been pardoned, as well as Trump himself. Legislation based on this recommendation was introduced in the Assembly and the state Senate, although it may not be passed by the currently Republican-controlled Senate. The legislative session is set to end on June 20.
Trump also recently pardoned Dinesh D'Souza, a conservative commentator, who in 2014 pleaded guilty to donating illegal campaign contributions to Wendy Long, a U.S. Senate candidate in New York. In a statement in response, state Attorney General Barbara Underwood urged state legislators to "close New York's double jeopardy loophole and ensure that anyone who evades federal justice by virtue of a politically expedient pardon can be held accountable if they violate New York law."
Even though Schneiderman stepped down in May, any investigations by the state attorney general's office are likely to continue without much of a hitch. Upon replacing Schneiderman, Underwood released a statement saying that the office "will ensure that our work continues without interruption." This, presumably, includes any ongoing investigation against Trump, his family or his company. The state attorney general's office declined to comment for this piece.
The Manhattan district attorney's office could also, in theory, investigate Trump should he choose to pardon himself. Manhattan District Attorney Cyrus Vance Jr. came under fire last year for telling his prosecutors in 2012 to drop an investigation into potential fraud by Donald Trump Jr. and Ivanka Trump. The Trumps have significant dealings in New York City, and if Trump gives and receives a presidential pardon, the district attorney's office could investigate him or his organization on charges separate from the ones he might receive from the special counsel.
The Manhattan district attorney's office declined to comment for this piece. The office also does not comment on whether such investigations exist.
If pardons are given out, the legal avenues available to the Manhattan district attorney and state attorney general will depend on whether the Republican-controlled state Senate approves a measure that threatens to hold a Republican president legally accountable. Of course, if Democrats win control of the body this fall, that would change everything, providing yet another reason the elections are pivotal for state and national Democrats.