New York City
New York's 2018 congressional primary election results
Tracking the winners and losers in each district.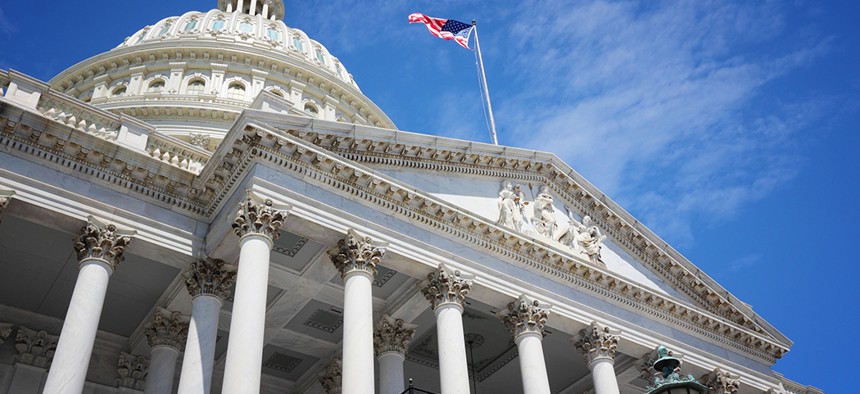 New York's congressional primary elections featured a huge upset, with upstart progressive Alexandria Ocasio-Cortez knocking off high-ranking Rep. Joseph Crowley, who was eyeing the House speakership. There were high-profile matchups, like Republican Rep. Dan Donovan beating his predecessor, Michael Grimm, a convicted felon who left office in disgrace. Other contests were notable for crowded Democratic fields, like the seven candidates seeking to oust first-term Republican Rep. John Faso. And many were relatively lackluster affairs, with few if any credible challengers trying to take on entrenched incumbents.
Here are all the outcomes with figures from the state Board of Elections and a preview of what's next in the November general elections.
 
U.S. Senate

U.S. Sen. Kirsten Gillibrand, a Democrat, did not face any primary challengers. She is also running on the Working Families, Independence and Women's Equality party lines. In the general election, she will face longshot challenger Republican Chele Chiavacci Farley, who also has the Conservative and Reform party lines.
 
Congressional District 1, Democratic Primary

Perry Gershon: 35.45%
Kate M. Browning: 30.22%
Vivian M. Viloria-Fisher: 16.26%
David Pechefsky: 11.90%
Elaine Di Masi: 5.92%
With 473 of 473 election districts reporting.

Businessman Perry Gershon emerged victorious in a crowded primary despite little name recognition, beating out second-place finisher Suffolk County Legislator Kate Browning for a plurality of the votes. Gershon has raised over $2 million, which gave him a big leg up in the race. He will now face Republican Rep. Lee Zeldin in November. The district went for Trump by a considerable margin in 2016, but the seat is considered to be slightly vulnerable according to national political rankings.
 
Congressional District 2, Democratic Primary

Liuba Grechen Shirley: 57.98%
DuWayne Gregory: 41.64%
With 524 out of 524 election districts reporting.

Political newcomer Liuba Grechen Shirley upset fellow Democrat DuWayne Gregory, a Suffolk County legislator, in the race for District 2. Endorsed by progressive groups like Indivisible and Our Revolution, Shirley's campaign was the embodiment of the grassroots "blue wave" campaign. Even without prior experience in politics, she became an effective fundraiser, outdoing Gregory by over $300,000. It also couldn't have hurt to receive the endorsement of Hillary Clinton before the primary. Rep. Peter King, the Republican incumbent, is not considered to be particularly vulnerable, but Shirley could catch the tailwind of anti-Trump sentiments of Nassau Country, which voted for Clinton in 2016.
 
Congressional District 3

Rep. Thomas Suozzi, a first-term Democrat, ran unopposed for the party nomination and will face Dan DeBono, a Republican who also has the Conservative Party line, in the November general election.
 
Congressional District 4

Rep. Kathleen Rice, a Democrat who ran unopposed for the party nomination, briefly considered a run for state attorney general. Instead, she'll face Republican Ameer Benno in November as she runs for reelection.
 
Congressional District 5, Democratic Primary

Gregory W. Meeks: 80.90%
Carl H. Achille: 9.60%
Mizan Choudhury: 8.77%
With 490 out of 492 election districts reporting.

Rep. Gregory Meeks won his Democratic primary race easily. There is no Republican running in the race.
 
Congressional District 6

Rep. Grace Meng, who is running unopposed for the Democratic nomination, also has the Working Families, Women's Equality and Reform party lines. She will face Green Party candidate Thomas J. Hillgardner in November.
 
Congressional District 7

Rep. Nydia Velazquez ran unopposed for the Democratic nomination.
 
Congressional District 8

Hakeem Jeffries ran unopposed for the Democratic nomination.
 
Congressional District 9, Democratic Primary

Yvette Clarke: 51.65%
Adem Bunkeddeko: 47.90%
With 528 out of 532 election districts reporting.

In a surprisingly close race, Rep. Yvette Clarke narrowly fended off a challenge from Adem Bunkeddeko. Although Bunkeddeko picked up an endorsement from The New York Times, the community organizer and Harvard grad still had no political experience and very little name recognition in the district. He attacked Clarke on the basis that she failed to pass any of her own legislation during her more than 10 years in Congress. Clarke, who has a progressive voting record, disputed the claim, pointing to one of her bills that pass in 2013 as well as amendments she passed as part of other legislation. Few expected the nail-biter of a race that happened, with the incumbent winning by only a little more than 1,000 votes. With her victory, Clarke is expected to win re-election against Republican Lutchi Gayot in the heavily Democratic district.
 
Congressional District 10

Rep. Jerrold Nadler ran unopposed for the Democratic nomination. He will face Republican Naomi Levin in November.

Congressional District 11, Republican Primary

Dan Donovan: 63.50%
Michael G. Grimm: 35.88%
With 489 out of 489 election districts reporting.

Rep. Dan Donovan successfully fended off a spirited challenge from his predecessor Michael Grimm, who left the seat after pleading guilty to tax fraud. Though the race was expected to be close, Donovan won by a comfortable margin. Donovan thanked President Donald Trump first and foremost during his victory speech to supporters, touting the president's successes. "This is just the beginning for Michael Grimm," Grimm told supporters while conceding defeat. He congratulated Donovan and emphasized the importance of keeping the seat in Republican hands. Donovan will face the Max Rose, the winner of the Democratic primary, in November. Both candidates had tried to paint themselves as the better ally to Trump in perhaps the most contentious primary in the state. An NY1/Siena poll had given Grimm a 10-point lead over the incumbent, and Grimm's support on Staten Island appeared strong. But Donovan received Trump's endorsement, and the party establishment rallied around Donovan as well.
Tremendous win for Congressman Dan Donovan. You showed great courage in a tough race! New York, and my many friends on Staten Island, have elected someone they have always been very proud of. Congratulations!

— Donald J. Trump (@realDonaldTrump) June 27, 2018

Congressional District 11, Democratic Primary

Max N. Rose: 62.65%
Michael DeVito Jr.: 18.42%
Omar Vaid: 8.43%
Radhakrishna Mohan: 3.78%
Paul Sperling: 2.29%
Zach Emig: 1.26%
With 489 out of 489 election districts reporting.

In an expected result, veteran Max Rose easily won the crowded primary. He far outraised his competitors in the district and was placed on the Democratic Congressional Campaign Committee's Red to Blue List, which identifies high-priority candidates and provides them with monetary and strategic support to try and flip Republican-held seats. Rose will face Rep. Dan Donovan, who won the Republican primary in the district, in November. Though he faces an uphill battle in New York City's lone Republican congressional district, the seat is considered competitive by The Cook Political Report, Sabato's Crystal Ball and Inside Elections with Nathan L. Gonzales.
 
Congressional District 12, Democratic Primary

Carolyn B. Maloney: 58.42%
Suraj Patel: 40.99%
With 563 out of 569 election districts reporting.

Rep. Carolyn Maloney defeated her primary competitor Suraj Patel, a former Obama campaign staffer, maintaining her hold on the seat she has held for 25 years. However, Patel fared well for a candidate running against what was considered a safe seat for Maloney. It has been a primary with a long list of accusations thrown at either candidate. Patel called out Maloney for her vote for the Iraq War and against the Iran deal as well as for her previous comments questioning the validity of vaccines. However, Patel faced his own problems, with the New York Post reporting he may have violated federal election law and facing heat for using dating apps to draw in voters. Maloney will face Republican candidate Eliot Rabin and Green Party candidate Scott Hutchins in the general election which she is expected to win.
 
Congressional District 13

Rep. Adriano Espaillat ran unopposed for the Democratic nomination. He will face Republican Jineea Butler in November.
 
Congressional District 14, Democratic Primary

Alexandria Ocasio-Cortez: 57.13%
Joseph Crowley: 42.27%
With 440 out of 449 election districts reporting.
In a stunning upset, 28-year-old political newcomer Alexandria Ocasio-Cortez handily beat the nearly 20 year incumbent Rep. Joseph Crowley. Ocasio-Cortez ran a grassroots progressive campaign that evidently that energerized her supporters to get out to the polls. The unexpected result will have a huge implication not just in New York, where Crowley has long controlled the Queens Democratic machine, but also on the national stage. Crowley is a powerful Democratic House member who many believed may have replaced Rep. Nancy Pelosi as the House party leader. President Trump even weighed in on the race on Twitter, suggesting that "Perhaps he should have been nicer, more respectful" to the president. If Ocasio-Cortez defeats Republican Anthony Pappas in November, which she is expected to in the heavily Democratic district, she would be the youngest person ever elected to Congress.
"I'm doing okay," Crowley told supporters at his campaign headquarters when he conceded the race. "It's not about me, it's not about my feelings … it's about America." Crowley added that Democrats have a great chance to flip the House in November and that he is still committed to that.
I want to congratulate @Ocasio2018. I look forward to supporting her and all Democrats this November. The Trump administration is a threat to everything we stand for here in Queens and the Bronx, and if we don't win back the House this November, we will lose the nation we love.

— Joe Crowley (@JoeCrowleyNY) June 27, 2018
 
Congressional District 15

Rep. Jose E. Serrano ran unopposed for the Democratic nomination. He will face Republican Jason Gonzalez in November.
 
Congressional District 16, Democratic Primary

Eliot L. Engel: 73.67%
Jonathan Lewis: 16.14%
Joyce N. Briscoe: 5.60%
Derickson K. Lawrence: 4.15%
With 719 of 732 election districts reporting.

Rep. Eliot Engel, who was first elected to Congress in 1988, overwhelmingly defeated his three primary challengers. His most prominent rival from the left, Jonathan Lewis, a Scarsdale businessman who put forth at least $650,000 of his own money towards his campaign, received significantly fewer votes. Engel, as the second-highest fundraiser among incumbents last quarter, seems to have seen his efforts paid off. Engel faces no Republican opposition in the general election.
 
Congressional District 17

Rep. Nita Lowey ran unopposed for the Democratic nomination.
 
Congressional District 18

Rep. Sean Patrick Maloney ran unoppposed for the Democratic nomination, although his candidacy is complicated by a bid for state attorney general at the same time. He will face Republican congressional candidate James O'Donnell in November.
 
Congressional District 19, Democratic Primary

Antonio Delgado: 22.00%
Gareth Rhodes: 17.86%
Pat Ryan: 17.72%
Brian Flynn: 13.18%
Jeff Beals: 13.18%
Dave Clegg: 11.08%
Erin Collier: 4.86%
With 436 out of 458 election districts reporting.

Attorney Antonio Delgado squeaked to victory in this highly contested primary, managing to win a plurality of votes while still receiving less than 25 percent of the vote. Going into election day, Delgado far outpaced his competitors in terms of fundraising, having raised over $2 million. He also went in with a key endorsement from the Dutchess County Democratic Committee, the only candidate to gain the support of a county committee in the district. Despite an endorsement from the Times and a Winnebago tour of the district, former Gov. Andrew Cuomo staffer Gareth Rhodes failed to pull out a victory. Voter turnout in the closely watched race was higher than it was in 2016. Delgado now will face incumbent Rep. John Faso in November for a seat considered a toss-up that is being targeted by Democrats.

Congressional District 20

Rep. Paul Tonko ran unopposed for the Democratic nomination. He will face Republican Francis Vitollo in November.
 
Congressional District 21, Democratic Primary

Tedra L. Cobb: 56.01%
Dylan Ratigan: 11.91%
Katie Wilson: 11.68%
Emily Martz: 10.37%
Patrick Nelson: 9.12%
Don Boyajian: 0.55%
With 513 out of 513 election districts reporting.

Tedra Cobb, a two-term St. Lawrence County legislator, towered over her competitors in the five-way race for her district. Though Republican incumbent Rep. Elise Stefanik has the partisan advantage in the general election, Cobb has shown some momentum through her primary turnout. Though Cobb was endorsed by the progressive grassroots organization Indivisible, whose stated mission is to resist the Trump administration, she has said she is running against Stefanik and not Trump. Influenced by her background as executive director of the St. Lawrence County Health Initiative, a community health services nonprofit, she says that health care policy is her top priority. 
 
Congressional District 22

Rep. Claudia Tenney, a freshman member of Congress, ran unopposed for the Republican nomination. One of the most vulnerable incumbent Republicans in New York, she will face Democratic Assemblyman Anthony J. Brindisi, who has fundraised nearly as much as Tenney.
 
Congressional District 23, Democratic Primary

Max Della Pia: 32.34%
Tracy Mitrano: 32.22%
Linda Andrei: 15.33%
Ian Golden: 13.44%
Edward Sundquist: 6.42%
With 451 out of 451 election districts reporting.

The one congressional primary that was too close to call on Tuesday night was the Democratic contest in Republican Rep. Tom Reed's district. Leading by just 26 votes in a race with 21,716 ballots cast was Max Della Pia, a military veteran, with Tracy Mitrano, a former university administrator and cyber security expert, close behind. Mitrano had the backing of the Working Families Party, Women's Equality Party and the Tioga County Democratic chairwoman, while Della Pia was endorsed by the Steuben County Democratic Committee chairman.Though Reed's is expected to win, Democrats have identified him as a target.
 
Congressional District 24, Democratic Primary

Dana Balter: 62.38%
Juanita Perez Williams: 37.23%
With 322 out of 322 election districts reporting.

In a race pitting the local political establishment against the national establishment, the local establishment prevailed. Dana Balter, who had the support of every county Democratic chair in the district as well as grassroots progressive groups, easily defeated Juanita Perez Williams, the former Syracuse mayoral candidate who received support from the national Democratic Party. Perez Williams entered the race late in the game and barely managed to make it onto the ballot after a large number of her petition signatures got thrown out. However, she was added to the Democratic Congressional Campaign Committee's Red to Blue list and a Siena College poll had her leading Balter by 13 points.
 
Congressional District 25, Democratic Primary

Joseph Morelle: 45.29%
Rachel A. Barnhart: 19.77%
Adam C. McFadden: 17.45%
Robin R. Wilt: 17.35%
With 346 of 346 election districts reporting.

Joseph Morelle, the majority leader of the state Assembly, beat three other Democratic contenders in the primary for for the late Rep. Louise Slaughter's open seat. Morelle was an unsurprising winner, as he had overwhelmingly out-fundraised his primary competitors, with total receipts of $635,363.42, and, with 30 years in elected office, had most of the backing from the party machine. Morelle will face Republican candidate Jim Maxwell, a neurosurgeon putting forth much of his own money into his campaign, in November.
 
Congressional District 26

Rep. Brian Higgins ran unopposed for the Democratic nomination. He will face Republican Renee Zeno in November.
 
Congressional District 27

Rep. Chris Collins ran unopposed for the Republican nomination. He will face Nathan McMurray, the Democratic town supervisor of Grand Island.
Powered By
NEXT STORY: Cuomo's whirlwind tour of cable news