Jose Peralta
Peralta campaign video doesn't mention IDC
State Sen. Jose Peralta emphasizes his experience in campaign video as he seeks re-election.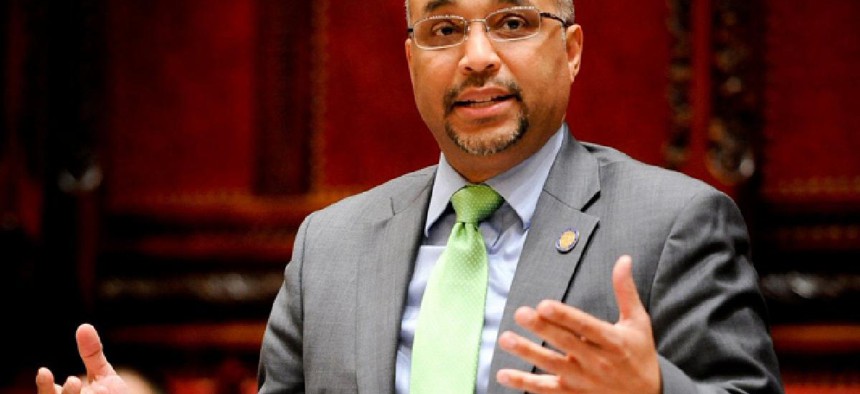 State Sen. Jose Peralta has released his first campaign video as he seeks re-election.
The 40-second video makes no mention of political parties nor of the controversial caucus he once belonged to, the Independent Democratic Conference, which shared power with state Senate Republicans. Rather, it heavily features Peralta out in his district, interacting with members of the neighborhood whom the video says are too often "invisible" and "discardable." Although it does not name any of his legislative accomplishments, the video alludes to Peralta's many years in Albany having developed his ability to be a voice for those people in his district.
Peralta, a four-term state senator and former IDC member, faces a primary challenge from Jessica Ramos, a former aide to New York City Mayor Bill de Blasio. Ramos has targeted Peralta's IDC membership, saying the group's power-sharing agreement with Republicans prevented progressive legislation like the New York DREAM Act (which Peralta sponsores in the state Senate) from being passed and ultimately hurt his constituents by keeping Republicans in power. Though the conference disbanded in April, Ramos continues the same line of attack.
Peralta has said he never regretted joining the IDC, pointing to progressive legislative victories like the $15 minimum wage, which he said passed because of the power-sharing arrangement with the majority Republican Party. He also said that his IDC membership provided him with more discretionary funding to use in his district for schools and charities than other Democrats.
Peralta already has several major endorsements, including from the Queens County Democratic Party, the Retail, Wholesale and Department Store Union, and Queens Borough President Melinda Katz.
Peralta and Ramos face off in a Democratic primary on Sept. 13.
Clarification: This article originally mischaracterized the IDC's power-sharing agreement with state Senate Republicans. In addition, the article has been updated to mention that Peralta is sponsoring the state DREAM Act in the state Senate.