New York State
What the nationwide primaries mean for New York
What the nationwide primaries mean for New York.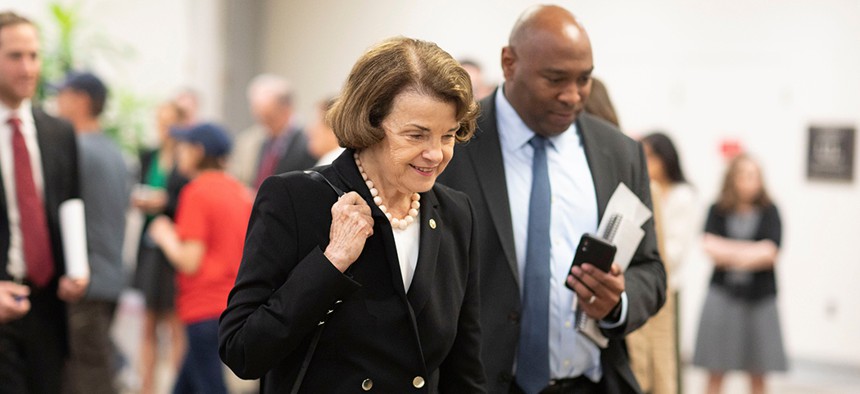 June is best known for the beginning of summer, but in New York, it is also the time for federal primaries. The state is only a few weeks away from its primary for congressional races on June 26.
Several states have already held their primaries and states throughout the country –  from California to Georgia to New Jersey, New York's neighbor – have shown similar trends in their primary results. Here are the major takeaways from those contests and what those trends could mean for New York's primaries.
 
The Democratic establishment is holding steady
The Democratic establishment has seen success in races across the country, while many progressive candidates opposed by the Democratic Congressional Campaign Committee have fallen short. In Texas, progressive activist Laura Moser lost to Laura Pannill Fletcher in a Democratic runoff, after the DCCC actively opposed Moser's campaign. Most Democratic primary candidates backed by U.S. Sen. Bernie Sanders have failed to win their races, with the exception of Jesus Garcia in Illinois.
California's primaries on Tuesday were by and large a victory for establishment Democrats, as significant spending by the DCCC prevented the party from being shut out in major congressional races. Most of the Democratic candidates who won their primaries hold views consistent with the party's mainstream, including U.S. Sen. Dianne Feinstein, who crushed her primary opponents – including state Sen. Kevin de Leon, who is challenging Feinstein from the left and managed to make it into the general election. (California holds a nonpartisan primary in which the top two vote-getters advance to the general election.)
While the Democratic Party may be divided between its progressive and centrist factions, the 2018 primaries are demonstrating that the party establishment still holds sway. That trend will likely extend to New York, where a few longtime incumbents are facing challenges from the left: Rep. Joe Crowley is facing a challenge from Alexandria Ocasio-Cortez, Rep. Carolyn Maloney is opposed by Suraj Patel, Rep. Yvette Clarke must win a primary against Adem Bunkeddeko, and Rep. Eliot Engel is facing Jonathan Lewis. The challengers are young and progressive, and they have a difficult path to victory. Feinstein defeated de Leon by a wide margin, and California is, if anything, even further the left than New York. Christina Greer, associate professor of political science at Fordham University, said that the political momentum was gathered around Democratic incumbents. "New York has such a strong incumbency advantage. I don't see many challengers being successful on June 26," Greer said.
If the strength of establishment candidates over progressive insurgents applies in the statewide elections in September as well, it could bode well for Gov. Andrew Cuomo, who is facing a progressive challenge from Cynthia Nixon.
In many parts of the state, including most of New York City, winning the Democratic primary is tantamount to winning the race. This will likely work in the favor of incumbent Democrats. "With June, we know that we're sending people to D.C. in districts where the primary is basically
the general election," Greer said. "If you can get to the primary, then November is a cakewalk."
 
The year of the woman?
Women are running for office at unprecedented numbers, and a fair amount of them are winning as well.
In New York, there are 27 women running for Congress. Several of them are incumbents, including U.S. Sen. Kirsten Gillibrand and Reps. Kathleen Rice, Grace Meng, Nydia Velazquez, Yvette Clarke, Carolyn Maloney, Nita Lowey, Elise Stefanik and Claudia Tenney. Clarke and Maloney are facing primaries, but are likely to defeat their challengers. The male members of Congress facing primary challenges will also probably cruise to victory.
Democratic women are looking to take on several Republican incumbents. Three women, Vivian Viloria-Fisher, Elaine DiMasi and Kate Browning, are duking it out in the Democratic primary on Long Island to face GOP Rep. Lee Zeldin in the fall. Upstate, Tedra Cobb, Emily Martz and Katie Wilson are vying to be the Democratic challenger to Stefanik. Tracy Mitrano and Lisa Andrei are two of the six candidates running for the Democratic nomination to take on Rep. Tom Reed, and Dana Balter and Juanita Perez Williams are seeking the Democratic line to face Rep. John Katko.
If the widespread success of women candidates carries over to New York's primaries, the victories will likely come from female incumbents and challengers to Republicans.
The Trump factor
Even though his name isn't on the ballot, President Donald Trump has become a punching bag for many Democratic candidates, and a flotation device for many Republicans.
"The president is the most popular Republican among Republican voters right now," said Nathan Gonzales, editor and publisher of Inside Elections and an elections analyst for Roll Call.
In some races, GOP incumbents are being challenged from the right by candidates who claim to be more aligned with the president's values. In North Carolina, Rep. Robert Pittenger lost his primary to one such candidate, and in Alabama, Rep. Martha Roby must now win a runoff against a candidate who accuses her of being anti-Trump.
"We're seeing Republican candidates try to get close to him, maybe emulate him, talk like him, wear red hats in trying to win the support those primary voters," Gonzales said. That strategy certainly applies to one primary challenger – former Rep. Michael Grimm, who is running against Rep. Dan Donovan.
Grimm's loyal base on Staten Island and Trumpian style may propel him to victory. Although the president has endorsed Donovan – a rare move in a primary – Grimm's brash personality leads some Republicans in the district to believe that he will be able to work better with Trump.
Former Rep. Steve Israel, chairman of the DCCC from 2011 to 2015 and a Long Islander, said that the race between Grimm and Donovan disproved the idea that Democratic election strategy is too focused on Trump.
"I know people sometimes criticize Democrats for having a lack of message, but this district takes the cake," he said. "You have two people running on Trump, and the one who says he's more faithful to Trump couldn't get endorsed by Trump."
 
It all comes down to turnout
Late June is not the ideal time to hold an election, especially since the ballot will not include choices for statewide office.
"It's 'all coming down to turnout' is both a cliche and an actual political analysis," Gonzales said. Recent primaries have been defined in particular by the level of Democratic turnout, as Democrats have had higher turnout in many states than in previous midterm elections. In Texas, for example, almost twice as many Democratic voters turned out in the primary compared to the last midterm election in 2014. However, Republicans have also seen a surge in voter turnout this year, showing that voters are engaged in an election which may be critical to the partisan balance of Congress.
In New York, the level of Democratic turnout will be especially significant in primaries upstate for candidates challenging Republican incumbents. This could indicate that Democrats in those districts will be motivated to turn out and vote against those candidates in November.
However, as a whole, the timing of the primary is complicated, because it occurs in the early summer and does not include statewide races.
"Who's paying attention June 26?" Greer said. "It's not like as a nation we're having one conversation about one particular Tuesday or are all galvanized to go vote together."
Powered By
NEXT STORY: Who could replace Rep. Sean Patrick Maloney?