New York State
What to expect from the final week of the state legislative session
As the New York legislative session draws to a close, education, sports betting, and gun control remain unresolved.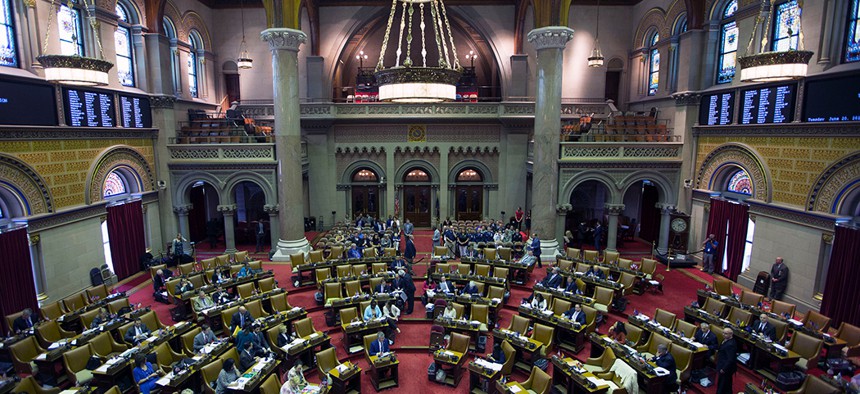 Barring serious disagreements – which, in Albany, are always close at hand – the state legislative session is set to close on Wednesday. The state Legislature has left a few major issues outstanding, and it is unclear whether these points of contention will be resolved, ignored or set aside for next year. Here is a guide to what to watch as the Legislature enters its final week in session.
 
The election calculus
Republicans currently have a shaky grasp on power in the state Senate, and their odds of keeping a majority in the 2018 elections are only getting slimmer. They have one member, state Sen. Tom Croci, recalled to active duty in the Navy, leaving Republicans with a 30-member conference plus one Democrat who caucuses with the GOP, and the Democrats with 31 members. The 63-member Senate requires 32 members to pass bills, meaning that Republicans have to find at least one Democrat to sign on to their initiatives for the remainder of the session.
Conventional wisdom dictates that 2018 is going to be a blue wave election across the country. If Republicans believe that they are about to lose their decades-long grip on power in the state Senate – except for a brief interregnum of Democratic power from 2009 to 2010 – they will have to make a calculation. Do they cooperate with Democrats to pass mutual priorities, bundle unresolved issues into a so-called "big ugly" bill, or allow the legislative session to end with a whimper, knowing that they've done all that they can?
 
Will the "red flag" bill get a green light?
A few weeks before the end of the session, Gov. Andrew Cuomo proposed a gun control measure that would allow educators to ask judges to remove firearms from the homes of students who present a risk to themselves or others. This bill has received serious opposition from the National Rifle Association and Republicans, but has passed in the Democrat-controlled Assembly.
However, the measure is unwelcome among Republicans in the state Senate. Senate Majority Leader John Flanagan criticized Cuomo for publicly promoting gun control instead of backing the state Senate's package of measures to address school shootings, such as a bill to place armed officers in schools. "In the final year of his second term as the state's chief executive, Andrew Cuomo is driven by two things: his extraordinary disdain for anyone who does not agree with him, especially the Legislature, and Cynthia Nixon," Flanagan said in a statement, adding that Cuomo "put politics ahead of the public interest."
Judging from Flanagan's comments, it's unlikely that Republicans will pass a Cuomo-backed gun control bill, especially not in an election year when they need all the support they can get from their base.
Education policy
New York City Mayor Bill de Blasio wants to overhaul how students are admitted to eight specialized high schools, doing away with the entrance exam. The state Legislature, however, would need to sign off on such a plan, and state lawmakers seem apathetic at best. Assembly Speaker Carl Heastie said that the issue will be be debated into next year, and brought up when legislators meet again in 2019. Gov. Cuomo also poured cold water on the idea.
Meanwhile, Republicans in the state Senate are attempting to tie an increase in charter schools to a bill that would remove standardized examinations from teacher evaluations. The bill, sponsored by Flanagan, would also give the state Education Department less oversight of non-public school curricula. However, while Republicans seem optimistic that a compromise can be reached, Assembly Democrats are skeptical. When asked if he would consider the Republicans' compromise a poison pill, Heastie called it "cyanide."
 
Off to the races, or maybe not
The U.S. Supreme Court recently legalized sports betting, leading some state lawmakers, lobbyists and gambling aficionados to hope that it would be on the legislative agenda before the end of the year. Several Senate Republicans are enthusiastic about the bill to introduce sports wagering to the state, but many Assembly Democrats remain uninterested.
"Members raised significant issues so I would say at this point there isn't enough support within the Democratic conference to go forward on the sports gambling" bill, Heastie said last Thursday. If sports betting is addressed this year, it may be as part of a bill that address critical issues.
 
Another Big Ugly?
Which brings us to the big ugly, Albany-speak for a massive bill that has all of the loose ends from the session tucked in and settled. If it comes to a big ugly, expect lawmakers on both sides of the aisle to grumble – but maybe be secretly pleased that they can get all the major issues settled so they can pack away for the summer.
Powered By
NEXT STORY: A lawsuit, a bus tour and a budget deal