Long Island
Will the blue wave obliterate the Long Island Nine?
If the Democrats want to retake the state Senate, they may need to undo decades of GOP control on the island.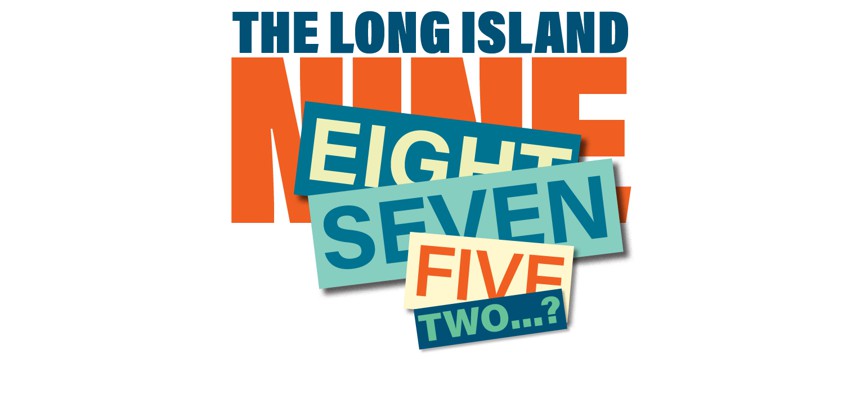 When Gov. Andrew Cuomo took the stage at the Long Island Portuguese American Club on a humid June evening in Brentwood for a "blue wave" rally, he was met with applause from about 150 Democratic Party activists. He greeted them with a wide grin.
"Wow, wow, wow!" Cuomo shouted into the microphone. "Monica Martinez, let's hear it!"
Martinez, a three-term Suffolk County legislator, had just walked off the stage after officially announcing her campaign for state Senate. She was recruited by Cuomo to run against Republican Assemblyman Dean Murray for the seat being vacated by state Sen. Thomas Croci in the 3rd Senate District.
Martinez was not the only person Cuomo urged into the ring. This year's elections, Cuomo said, are the most important elections Democrats have ever encountered.
"That's why I called Monica Martinez on the phone and I said, 'I need you to run,'" Cuomo said to cheers. "That's why I called Anna Kaplan on the phone and I said 'I need you to run, Anna.' That's why I called Lou D'Amaro and I said, 'I want you to run,' and he said, 'I don't want to run,' and I said, 'I don't care, you'll run for the Senate.'"
Kaplan, a North Hempstead councilwoman, is running against Republican state Sen. Elaine Phillips in the 7th Senate District, and D'Amaro, a former Suffolk County legislator, is taking on Republican state Sen. Phil Boyle in the 4th Senate District.
Democrats in New York are hoping to capitalize on a predicted national "blue wave" to flip Republican state Senate seats and regain control of the chamber. A big part of that battle is playing out on Long Island, where Cuomo has been asserting his influence to ensure strong candidates are in position to take advantage of the political momentum driven by opposition to Donald Trump's presidency.
"I have never seen a Democratic governor work as aggressively to recruit Democratic candidates to the Senate," said Patrick Halpin, the former Democratic assemblyman and Suffolk County executive, now managing director at lobbying firm Mercury.
Long Island has nine seats in the state Senate, often unimaginatively referred to as the "Long Island Nine." They constitute a powerful voting bloc in the chamber, usually voting together on local issues that are important on Long Island, such as the environment, property taxes and school aid. For the past seven years, a Long Island state senator has led the chamber as majority leader, beginning with Dean Skelos in 2011 and now with John Flanagan since 2015.
The nine have also historically been Republican.
RELATED: Who are the Long Island Nine?
For decades, the GOP held unwavering control of most of Long Island's state Senate seats, with the notable exception of the 9th District, the island's westernmost district. A Democrat often controlled that district, since it extended into the Democratic-leaning borough of Queens. However, shortly after redistricting removed the Queens portion of that district, Republicans won the seat in 1984, giving them complete control of the region for more than 20 years.
It wasn't until 2007, when Democrat Craig Johnson won the 7th District in a special election after then-state Sen. Michael Balboni was appointed state deputy secretary for public safety. Balboni's decision to take the post was seen as an unusual one, as he defied his party by leaving his seat to work for then-Gov. Eliot Spitzer, a Democrat. Johnson and his opponent, Maureen O'Connell, ran a hard-fought and closely watched race, with interjections from Hillary Clinton and Rudy Giuliani, both potential presidential contenders at the time.
The following year, Democrat Brian Foley was elected to the 3rd Senate District after defeating the 36-year incumbent Caesar Trunzo. According to Halpin, Foley was able to win in part because of his position as Brookhaven supervisor. Public outrage over corruption scandals ushered in Democratic leadership in the town, including Foley, for the first time in decades. His time as Brookhaven supervisor, which makes up a large portion of the 3rd District, helped propel him to victory.
Both Foley and Johnson lost their seats in 2010, turning Long Island all red again.
Today, state Senate Democrats once again hold two seats on the island, the 8th and 9th districts, and both directly correlated to corruption scandals within the Republican Party. State Sen. Todd Kaminsky, who was elected in an April 2016 special election, replaced Skelos in the 9th District after the former majority leader was charged with corruption and resigned. Kaminsky then won a full term in November's general election.
State Sen. John Brooks, in the 8th District, was elected in 2016 amid a corruption scandal in Oyster Bay that implicated then-Supervisor John Venditto, the father of incumbent state Sen. Michael Venditto. John Venditto was arrested on Oct. 20, just weeks before the election. The news completely shook up what had been a sleepy race and Brooks won by a razor-thin margin.
In each of the four instances in which Democrats picked up seats in recent history, some sort of unusual circumstance surrounded the election. And although no corruption cases loom over state Senate races this year, Democrats are once again hoping to capitalize on a shift in the status quo.
---
Long Island has been a stronghold for state Senate Republicans, who long held all nine seats in the region. Only four Democrats have been elected to the chamber from Long Island in recent history, and no more than two have ever sat at the same time. Below are maps showing the island's changing makeup.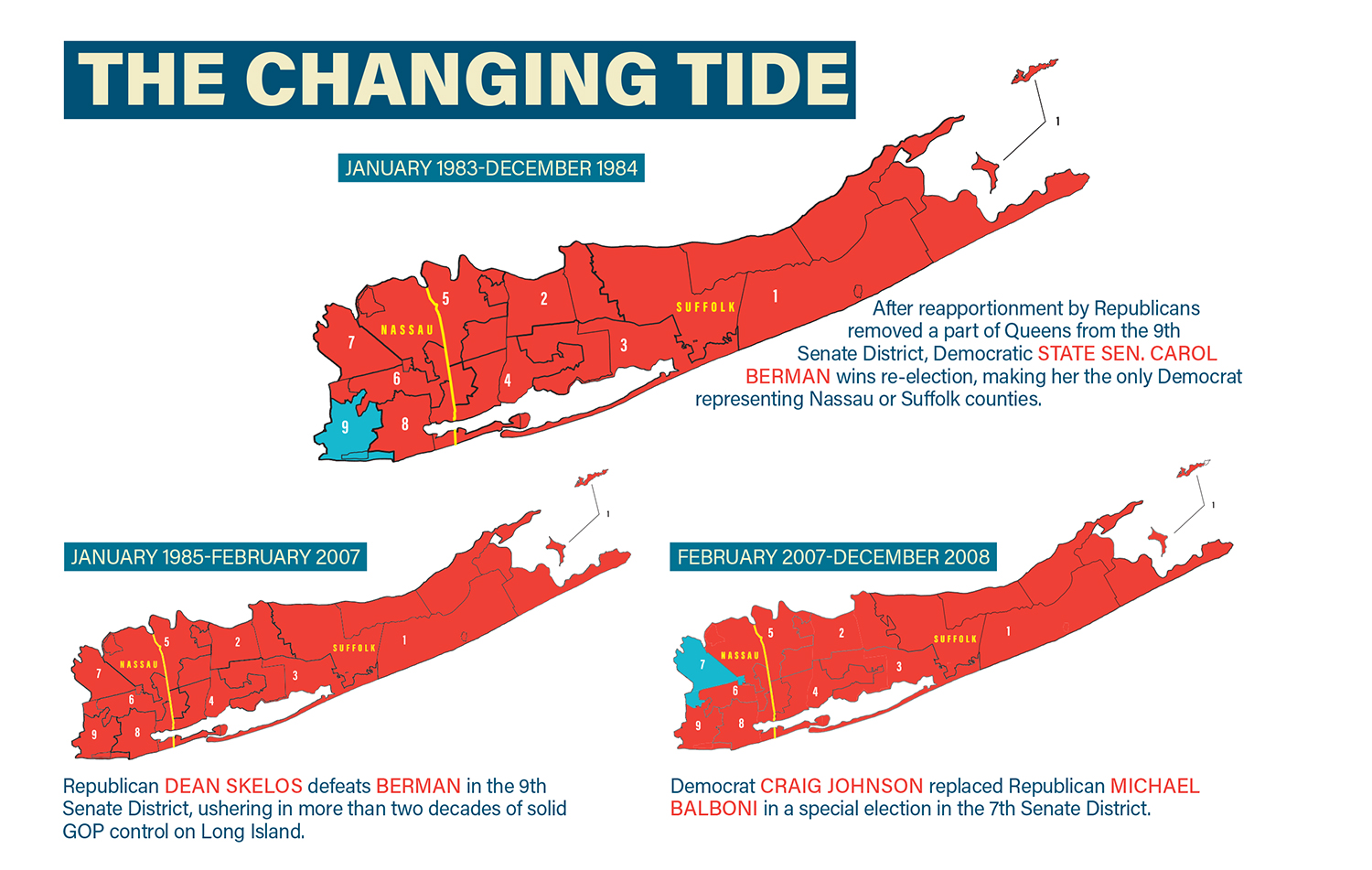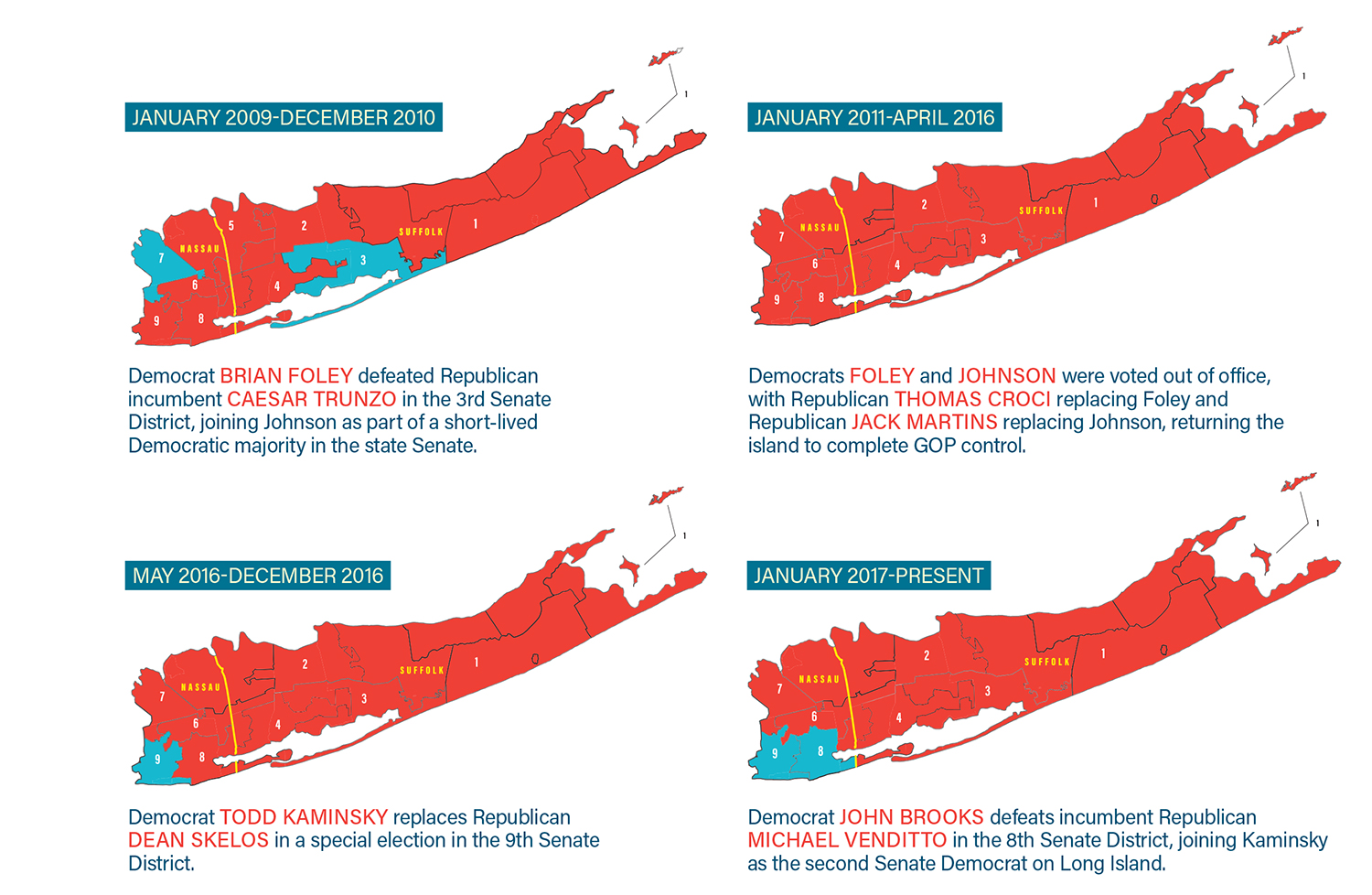 ---
Republicans currently have a tenuous hold on the state Senate – and Democrats like Cuomo are jumping at the chance to change the power dynamic in Albany. Since 2011, Republicans retained their majority by sharing power with the Independent Democratic Conference, a breakaway group of Democrats. However, due to pressure from Cuomo, statewide dissatisfaction with the Trump administration and facing primary challengers from the left, the IDC dissolved and its members rejoined the mainline Democrats. Though Democrats technically have a numerical majority right now, the decision by Democratic state Sen. Simcha Felder to caucus with the Republicans has allowed them to maintain the ruling majority – and Democrats have blamed that majority for the state Legislature's inability to pass progressive legislation like the state DREAM Act or the Child Victims Act.
All it would take for Democrats to win back the chamber is to flip one seat, so long as all of their incumbents get re-elected. They hope to capitalize on energy among their base and a so-called blue wave that is expected by some observers to happen nationwide during this year's midterm elections. The party has remained confident in its ability to take the chamber following its success in special elections earlier this year, which included a decisive state Senate win in Westchester County. However, Democratic momentum seems to have slowed on a national level.
A recent Siena College poll appears to indicate a blue wave in the state Senate may still happen. On a generic ballot with no candidates, 40 percent of likely voters said they would vote for a Democrat, with 31 percent going for a Republican. Similarly, 52 percent said they wanted Democrats to control the chamber, while 42 percent wanted Republican control – though these results must be taken with a grain of salt, since a lot can change in the next four months before the election.
And nowhere is the battle for the state Senate more visible than on Long Island, where Cuomo has been publicly campaigning for and supporting candidates. Democrats have targeted the region for years, without success, as an avenue to gain control of the chamber. Though voters almost always elect Republicans for the state Senate, the island has often been considered a battleground due to Democrats' voter enrollment advantage in several districts, as well as the influence of independent voters, whom Halpin said have a huge impact on Long Island elections. With the potential impact of national politics on these local races this year, Democrats hope they'll see some success where they haven't in the past.
"With your support, we can not only flip the state Senate, but we will bring the much deserved resources that our county needs," Martinez said as she concluded her announcement speech.
State Sen. Thomas Croci's decision to not seek re-election and return to the U.S. Navy Reserve has opened up one seat traditionally held by Republicans. He told Newsday at the time that he was not motivated by the fear that Republicans would lose their majority, and said he was confident the seat would remain under GOP control as long as they put up a strong contender. Should Democrats win, the victory would mark the second time the party took advantage of an opportunity to flip the district, the first being Foley in 2008.
Had Croci decided to stay, the district likely would not have been competitive. "It's not really a district a Republican should lose," said pollster and political analyst Mike Dawidziak, noting high Republican turnout in the district during off-year elections. "But this year, let's face it, 2016 rewrote the rules as far as politics is concerned."
"Let's face it, 2016 rewrote the rules as far as far as politics is concerned." – Mike Dawidziak, pollster and political analyst
Dawidziak, of course, was referring to the second massive shift in the status quo that Democrats want to jump on: the election of President Donald Trump. Though it is still too early to know exactly what effect his presidency will have on state Senate elections in November, political experts and party insiders alike agree Trump will likely have a major impact on the races.
"That's the variable of this entire election, in every election," said Lawrence Levy, executive dean of the National Center for Suburban Studies at Hofstra University. "Trump's approval rating is the X-factor in all these elections, whether people win or lose, or whether the elections turn out to be close or not."
Levy said that for Democrats to pick up a substantial number of seats on Long Island, any sort of blue wave would need to gain more momentum than most think it has now.
Croci's leave shakes up what would have been a relatively quiet election, though experts still see the district as a difficult one for Democrats to win. A competitive race could force Republicans to spend more time and energy on a campaign, spreading their resources away from other tough races, such as the one in the 5th Senate District.
Experts and leaders agree that the race in the 5th District will be one of the two most competitive races in November. The Democratic county chairmen on Long Island have both said that voting out state Sen. Carl Marcellino, the district's 23-year incumbent, is a top priority. Suffolk County Water Authority Chairman James Gaughran, the Democratic challenger, narrowly lost to Marcellino in 2016 by fewer than 2,000 votes. The two Democratic county leaders feel confident that Gaughran will perform better this time. In addition to involvement from Cuomo, who recently attended a fundraiser for Gaughran, and national political headwinds, Dawidziak said Marcellino's seat has slowly become more competitive over the years. Just in April, Democratic Assemblyman Steve Stern flipped the 10th Assembly District, which is part of Marcellino's district, for the first time in four decades.
"With Trump in office, people are paying more attention to politics, which will help get my message out," Gaughan told Newsday when he announced his run in February.
"Trump's approval rating is the X-factor in all these elections." – Lawrence Levy, executive dean of the National Center for Suburban Studies at Hofstra University
But Republicans don't hold all the vulnerable state Senate seats on Long Island. The final competitive race puts Democrats on the defensive, with Brooks' seat in the 8th District. The GOP put up a strong candidate: Jeffrey Pravato, the mayor of Massapequa Park. The Republican county chairmen see Brooks as a vulnerable freshman incumbent, elected amid a scandal that pushed him over the top to victory. Without corruption playing a role, Republicans are looking to take advantage of their voter enrollment edge and win back a district they think they never should have lost. The race is expected to be highly competitive and expensive.
Democrats acknowledge that Brooks is more at risk than Kaminsky, the island's other Democrat, who has already won two elections. Dawidziak said Kaminsky has already started to become entrenched, and that Republicans really only have this election if they want to unseat him. Levy added that no one he has spoken to believes Kaminsky is in any danger. However, they both agree that Brooks will face some trouble.
While looking to flip seats, Democrats on Long Island acknowledge the uphill battle they face to even keep their own incumbents in office. Suffolk County Democratic Committee Chairman Rich Schaffer said that re-electing Brooks is his No. 1 priority, with Nassau County Democratic Committee Chairman Jay Jacobs saying Brooks will need some help. Suffolk County Republican Committee Chairman John Jay LaValle said he could not point to any particular achievements by Brooks, and brought up a piece of political history that haunts Long Island Democrats to this day: the metropolitan commuter transportation mobility tax, or the MTA payroll tax, which placed a tax on businesses in and around New York City to help fund the Metropolitan Transportation Authority.
The tax passed in 2009, during Democrats' one-session stint in control of the state Senate. Both Johnson and Foley, Long Island's two Democrats at the time, voted for the tax. It was highly unpopular in the region due to the perception that the suburbs were being forced to pay for a New York City problem. The legislators paid for their decisions, which Halpin called "political malpractice," when they were voted out of office in 2010.
Ultimately, this is what the upcoming elections on Long Island will come down to – whether or not a Democrat will be able to present themselves as representing the needs of the region in the same way Republicans historically have, or if they will bow to pressure from New York City Democrats. Halpin said Long Islanders have long been happy with the setup of a Democratic Assembly and a Republican state Senate because it has worked for them, noting that ideological divides historically have not been as strong on Long Island as they are nationwide. Halpin added Democratic Assembly members like himself would make alliances with their Republican counterparts in the state Senate to ensure Long Island's interests were represented.
"As a Democratic member of the Assembly, I made it my business to make my Republican state senator, who was a conservative senator, Sen. Owen Johnson, my best friend in the Legislature," Halpin said. "And he never did anything to embarrass me."
"As a Democratic member of the Assembly, I made it my business to make my Republican state senator my best friend in the Legislature." – Patrick Halpin, former Democratic assemblyman
The decisions by then-state Sens. Craig Johnson and Brian Foley to support the MTA payroll tax, the result of a Democratic majority LaValle called a disaster for Long Island, remains fresh in the minds of many voters, according to experts. It represents a failure by the Democrats to adequately serve the interests of their constituents when they had control, a slight Republicans would not let them soon forget.
However, circumstances may be sufficiently unique this year, as they have been in previous elections when Democrats have been successful on Long Island, to allow Democrats to overcome the hurdle posed by the memory of the payroll tax. Trump's presidency is a wild card that Democrats hope will energize their base and spur above-average Democratic turnout. And Democrats like Martinez have come prepared for any anti-Long Island labels Republicans may throw at them.
"I know that our Republicans have their playbook. … They're going to accuse me of being an associate of the New York City Democrats," Martinez said, rolling her eyes during her campaign launch in Brentwood. "I do not let anyone tell me what to do."
Martinez said the last line with a defiant smirk, raising an eyebrow as she turned to look directly at her supporters. "I will make sure I fight for Suffolk County … and make sure that every single candidate who is here with me today, that we prove them wrong, that we are not just pushovers and we are going to protect our families here."
Democrats on Long Island are revving up for a fight, looking to ride favorable national political winds with the backing of a unified state party that sees control of the state Senate just beyond its grasp. Republicans appreciate all that's at stake, with both county chairmen preparing for an islandwide battle.
"For them, for the Republicans on Long Island, it's life and death," Halpin said.
Powered By
NEXT STORY: The polls got it wrong again! Or did they?