Has state Sen. Marty Golden sped too close to the sun?
State Sen. Martin Golden has been a mainstay of Brooklyn politics for 20 years. But, as a "blue wave" of Democratic turnout in November gathers force, could Golden's habit of stumbling into political minefields mean the senator's time in office is finally up?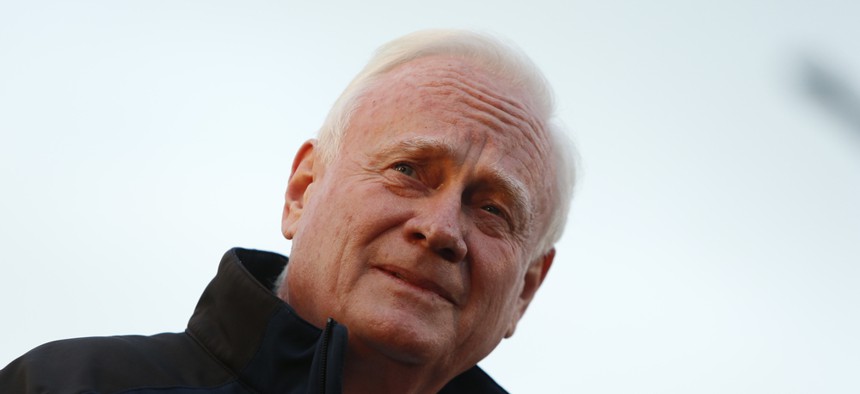 State Sen. Martin Golden has been a mainstay of Brooklyn politics for 20 years, first as a New York City councilman from Bay Ridge and then as a state senator representing the 22nd Senate District, which stretches around the borough's southwestern shore. But, as a "blue wave" of Democratic turnout in November gathers force, could Golden's habit of stumbling into political minefields – in a district where Democrats outnumber Republicans more than 2-to-1 – mean the senator's time in office is finally up?
Golden is a political survivor, having withstood years, including a challenge in 2012, that had higher Democratic turnout than any midterm election. Golden's strength in his district is so deep that Democrats did not even field a candidate to run against him in 2004, 2006, 2008 and 2016. This year, he will face either Ross Barkan, a New York political reporter, or Andrew Gounardes, counsel to Brooklyn Borough President Eric Adams, who faced Golden in 2012.
But potential opponents believe Golden would already have lost his seat if Democrats had tried harder to beat him. "He's weaker than he looks," Barkan told City & State. "I think Marty Golden has been vulnerable before but has literally run unopposed in four election cycles. And he has never, with the exception of Andrew (Gounardes' 2012) challenge even faced a remotely serious challenge."
Golden hasn't done himself any favors this year by continuing to court controversy. "All of the skeletons are falling out of the closet," said Kayla Santosuosso, former campaign manager for 2016 City Council candidate Khader El-Yateem and co-vice president of Yalla Brooklyn (a progressive political club El-Yateem started). "It's becoming too much, so that the person who would have sat back or voted in (Golden's) favor can no longer say 'Marty Golden is a good guy.'"
Some Republicans argue Golden's standing in the district is not as damaged as his opponents say. "Marty works like crazy," E. O'Brien Murray, a longtime Republican strategist, told City & State. "He takes nothing for granted." Recalling the many times he has come across Golden at events in the district, Murray said, "Marty works incredibly hard and the voters know that. They feel it. They see it."
In December, Golden menaced a cyclist while the driver of his car was trying to navigate around traffic in a bike lane, an incident that brought renewed attention to the senator's questionable driving record – including running over an elderly pedestrian in 2005, which put the woman into a coma before she died due to her injuries. According to the cyclist involved in the December incident, as reported by the New York Post, Golden leaned out of the front passenger window waving a parking placard and claiming he was a police officer before his driver ran a red light and drove into oncoming traffic to get away from the scene.
The Post noted that Golden's car has received "30 traffic violations over the last four years – including for running red lights, not feeding parking meters, standing in bus stops and for speeding in school zones." The focus on Golden's driving came at the worst possible time for the state senator, as it became intertwined with a push by street safety advocates to preserve and expand the number of speed cameras in New York City school zones. In 2013, Golden initially opposed creating the speed camera program.
Even though virtually every elected official from New York City, and Gov. Andrew Cuomo, backed the program, and the Assembly passed the program's renewal, the Republican-led state Senate refused to pass it, meaning the speed cameras are scheduled to be turned off on July 25.
Golden's messaging on speed cameras has been muddled. He opposed the program during the legislative session. After the session ended he co-sponsored a bill to replace the cameras with stop signs and red lights, while his deputy chief of staff John Quaglione insisted Golden would vote to extend and expand the speed camera program.
Street safety advocates accused Golden of backtracking on his commitment to expand the program and have spent their summer knocking on doors in Golden's district, asking his constituents to demand he go back to Albany and extend the program. Even more attention has been called to Golden's driving, such as reports that his car has racked up 14 speed camera tickets in school zones since 2014. Now, Golden is asking state Senate Majority Leader John Flanagan to reconvene the Senate for a vote on the speed camera bill, and advocates are keeping up the pressure on Golden until the legislative body actually reconvenes.
While pedestrian and bicycle advocacy organization Transportation Alternatives hasn't asked Golden's constituents to vote against him, its campaign for speed cameras has kept the issue on the minds of Bay Ridge residents. On a recent weekend in July, canvassers Melodie Bryant and Joan Dean, who could almost be described as weaponized grandmas, found residents willing to listen and support expanded speed cameras. "They should have them in all residential neighborhoods," one 78th Street resident told Dean, annoyed that the cameras could expire. "If something is working, why don't we keep it?"
"Issues around kids and education cut across party lines," said Charlie O'Donnell, a partner at Brooklyn Bridge Ventures, native to the 22nd Senate District and a fundraiser for Gounardes. "People are protective about the safety of their kids. And if you're seen as someone who doesn't care about the safety of children, they don't care if you're a Democrat or Republican, they're going to vote for the other person."
O'Donnell started this year with his own run-in with Golden, as he found the state senator parked in a crosswalk on New Year's Eve. O'Donnell said the parking violation has a larger symbolic implication. "My parents are Republicans, but Marty's actions and behaviors are really frustrating them," O'Donnell said. "My mom has a medical condition. Parking is something that is really important to her. And if someone parks in a crosswalk or handicap spot, it generally affects her and her standard of living. So to see someone just flaunt the rules like they don't pertain to him, that's when people start asking, 'How do we get this guy out?'"
Golden's constituents are also changing in ways that may make him more vulnerable. Predominantly white middle- and working-class neighborhoods in the district – Marine Park, Sheepshead Bay, Bensonhurst, Dyker Heights and Bay Ridge – are increasingly drawing immigrants from the Middle East, Asia and Latin America.
Democrats have claimed that demographic changes would oust Golden before, such as when Gounardes said in 2012, "We are attracting more minorities to Bay Ridge who have no prior attachments to Golden." But not all of the newcomers are more liberal than the Irish and Italian residents who are leaving for the suburbs. Immigrants are also coming to the district from Russia and Eastern Europe, and the growing ultra-Orthodox Jewish communities of Borough Park and Midwood are spreading south into the district. Moreover, many immigrants are not yet citizens and voters.
But the overall trend is clear: Comparing the five-year periods of 2006-2010 and 2011-2016, the area's white population decreased 5.4 percentage points, while the Hispanic and Asian populations rose 1.7 and 2.6 percentage points, respectively, according to the U.S. Census Bureau. "These are communities in actual pain from what they're seeing not only in Washington but from their local leaders," Gounardes said. "Marty Golden said nothing about family separation. People took that silence to mean something, and it's not a positive thing."
Golden's political opponents hope to capitalize on the demographic shift with an aggressive voter turnout operation. "We turned out 3,000 votes for the El-Yateem campaign, and those (votes) aren't going anywhere," Santosuosso said. "We're making sure we're keeping the Arab-American community abreast of what's going on with every single election in the district, and you can bet we're going to be turning out as many votes as possible to be voting against (Golden)."
There is also an incipient spillover of creative-class professionals moving into the district as they are priced out of brownstone Brooklyn. "My grandmother used to live in the neighborhood," O'Donnell said. "She passed away about 10 years ago and now we rent out her building to a same-sex couple who live in the apartment. That's someone who voted Republican their whole life, replaced by a couple who's definitely not going to vote for Marty."
Murray, the Republican strategist, doesn't think the demographic shifts are quite as stark. "Areas of Bay Ridge and the rest of that district haven't changed in decades," he said. "The butcher, the baker, the candlestick maker, they all know each other, and all the men and women who live there are generational."
Despite his unpopularity with street safety advocates, Golden's deep roots in the district and years of showing up at community events has endeared him to many other residents. "He's a neighbor; I like him as a person," Bay Ridge resident Frances Shahwan told City & State after she spoke with Bryant and Dean on her doorstep. "I don't always agree with what he does, but he's been around a long time, and he's a nice gentleman." Epitomizing the population shifts that may present a challenge for Golden, Shahwan wasn't sure if she would be in town to vote on Election Day, telling City & State, "At a certain age, you go to Florida."
Another wild card is that the district's many Democrats are not necessarily loyal partisans. In a year of heightened political divisions, they may close ranks, though. "I've always seen local Democratic district leaders either overtly or passively supporting Marty Golden. I don't see that this year," said Bob Capano, chairman of the Brooklyn Reform Party and a district resident.
Meanwhile, divisions in the Brooklyn Republican Party could weaken Golden's turnout. "I see a unified Democratic Party and a very deep split between Marty Golden and former chair Craig Eaton and people loyal to him," Capano said. While Capano didn't suggest the GOP civil war could throw votes to Barkan or Gounardes, he suggested it could sap enthusiasm among local Republicans, causing them to either stay home or not lean on family or friends to vote for Golden.
Capano, for his part, gave the Reform Party line to Gounardes. "Once Golden found out it would be a primary for the Reform line, he called me and said, 'Nope, I'm not participating,'" Capano said, taking Golden's response as a sign of nervousness that he might lose the primary.
An additional clue to Golden's fate could be found in last year's City Council race in Bay Ridge, where Justin Brannan beat Quaglione, Golden's deputy chief of staff. "Even though John Quaglione was Marty's guy, and spouts the same kind of pro-Trump rhetoric Marty does, he has a clean record and is known around the neighborhood," O'Donnell said. "So someone with Marty's politics and a clean record lost. Now take someone who doesn't have a clean and spotless record, it's only going to get worse for that guy." It's worth bearing in mind, though, that Brannan still won with just over 50 percent of the vote, and that while Bay Ridge has experienced more of an influx of nonwhite immigrants and young professionals than some other parts of the district, it may be more likely to swing Democratic than Dyker Heights or Gerritsen Beach.
Golden declined to be interviewed for this article, but issued a statement through a campaign spokesperson: "Elections aren't theoretical exercises, elections are choices our neighbors – real people – make between candidates. New Yorkers have a lot in common: we care about good schools, low taxes, access to quality healthcare, jobs, and public safety. My record on these issues speaks for itself, with accomplishments in Brooklyn, and in Albany. I'm proud of the neighborhoods I have the honor to represent, and proud to have their continued support. Remember – pundits have been writing the obituary for Republicans in the New York State Senate for over ten years, but voters throughout our state of diverse regions have, again and again, returned a balanced Legislature."
Brooklyn Republican Party Chairman Ted Ghorra also gave a statement to City & State that was strikingly similar to Golden's: "Elections are not decided based on theory or by pundits, but on the votes of real people – and in this district, those people know and will continue to support Senator Golden."
But Golden's re-election campaign is already troubled. His office has been dragged into one of his trademark odd controversies (all of which Murray said are too "hyper-inside politics" to resonate with most voters): his official Twitter account referred to Gounardes as "an angry Muppet" in since-deleted tweets.
That's just another reason liberals believe that – in a year that's been marked by progressive and anti-incumbent energy – as Santosuosso put it, "It's more and more possible to envision all of the people that could be sitting in that seat and doing a better job."