Andrew Cuomo
More trouble for NYCHA, verdict in Buffalo Billion and protecting Roe
This week's headlines: More trouble for NYCHA, a guilty verdict in Buffalo Billion and protecting Roe v. Wade.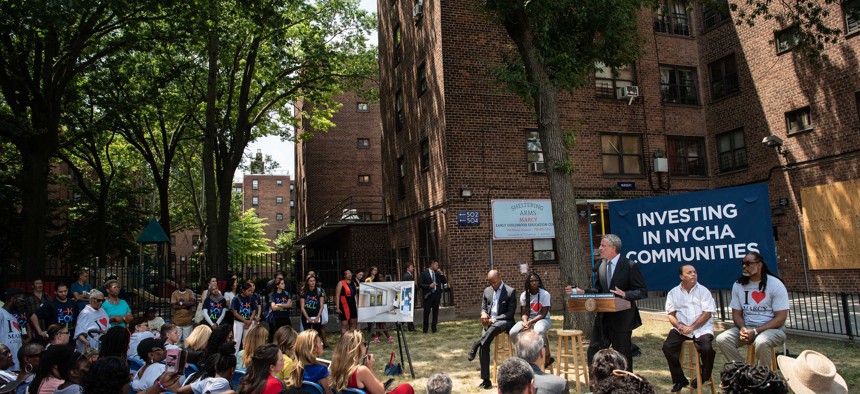 Alexandria Ocasio-Cortez is so popular, she's winning races she's not even running. In addition to winning the Democratic nomination for the 14th Congressional District, she also won the Reform Party line as a write-in candidate in the neighboring 15th Congressional District over Rep. José E. Serrano. She was surprised to learn the news and declined the nomination.
Ocasio-Cortez also had a spat with Rep. Joseph Crowley, whom she defeated in the 14th District, on Twitter regarding a different minor party. After Crowley said he will support Ocasio-Cortez but will not vacate the Working Families Party line, Ocasio-Cortez asserted that he was mounting a third-party campaign against her. Crowley directly responded on Twitter to say this was not the case, and one reporter tweeted that the congressman had already grown a "loser beard" marking the end of a career. But that has not stopped other Twitter users from attacking Crowley for his supposed lack of character.
More bad NYCHA math
New York City Mayor Bill de Blasio said lead paint may have been used in far more New York City Housing Authority apartments than the city initially said. Originally, the estimated number of affected apartments was about 50,000. Now, de Blasio said as many as 130,000 units could have lead paint, all of which he pledged to have inspected. When later asked why there has been so much delay on addressing the known issues with lead paint, de Blasio said that sometimes "it takes awhile for some new ideas to develop." Additionally, the agency was six months late in complying with new federal lead paint inspection guidelines.
Verdict in Buffalo Billion
Alain Kaloyeros, the former SUNY Polytechnic Institute president, was found guilty in the Buffalo Billion bid-rigging trial. Three executives at the firms Kaloyeros had been rigging construction bids to favor were also found guilty. The case revolved around Gov. Andrew Cuomo's Buffalo Billion economic development initiative, though the governor was never directly involved in the trial. The verdict marks the latest example of corruption close to Cuomo following the March conviction of his former senior aide Joseph Percoco.
Protecting Roe v. Wade
Cuomo signed an executive order requiring insurers to cover birth control and held several events emphasizing the need to update the state's abortion laws in the wake of President Donald Trump's Supreme Court nomination. He called on the state Senate to reconvene in order to pass the Reproductive Health Act and stated he would sue if Roe v. Wade gets overturned. Gubernatorial candidate Cynthia Nixon also held a rally on the need to codify abortion rights in state law and attacked Cuomo for failing to change the state law.