Chris Collins
Democrat Nate McMurray hails from an island of dreams
Democrat Nate McMurray has a realistic chance now to win the NY 27th Congressional District.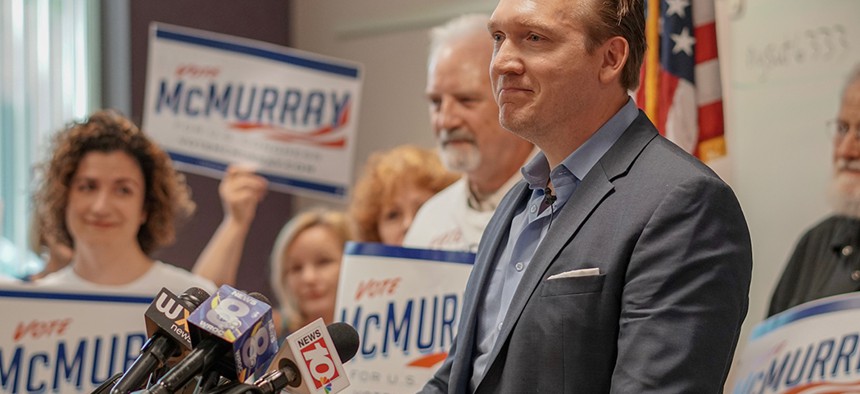 Grand Island, right next to Niagara Falls on the Canadian border, has fed many grandiose dreams.
There was the early 19th century plan to establish the area as a Jewish homeland. Then came an idea to place what would become part of the U.N. headquarters there – the job instead went to New York City.
And this year Grand Island Supervisor Nate McMurray believes he has a chance to represent the deep red 27th Congressional District that lies just beyond the blue waters of the Niagara River.
His campaign appeared doomed to remain a dream until this month, when McMurray, a Democrat, awoke to find out that three-term Republican Rep. Chris Collins had gotten arrested on charges of insider trading. Now the 43-year-old has gained national attention, campaign donations and the increasingly serious chance to get the national party to invest in winning a district that went for Donald Trump by 24 points two years ago.
McMurray, who grew up in North Tonawanda, which is in the neighboring 26th Congressional District, said he tripled his fundraising total to about $250,000 in the days immediately following Collins' arrest. The Democratic Congressional Campaign Committee is looking at pouring resources into the race and The Cook Political Report changed its assessment from "noncompetitive" to "likely Republican."
Among the other benefits: McMurray does not have to pull off stunts he once thought he had to in order to get his message to voters. "Before this whole story broke, I was so desperate to get attention, to get people's eyes on (the campaign) that I actually signed up to be in the Erie County smash-up derby," McMurray said in a telephone interview.
The demographics of the district, from the Buffalo suburbs to the outskirts of Rochester, appear as Republican-friendly as it gets. The population of about 720,000 is 91 percent white, relatively affluent and rural, according to census data. Collins won his two re-election campaigns by more than 35 percentage points each time. "Nate was going to get smoked," Michael Madigan, a Republican critic of McMurray on the Grand Island town council, said in a telephone interview. "He ran at the very polar opposite end of the spectrum of what is popular with the voters in that district."
"Nate was going to get smoked. He ran at the very polar opposite end of the spectrum of what is popular with the voters in that district." – Michael Madigan, Republican on the Grand Island town council
Although McMurray wants "Medicare for All," legalized marijuana, restrictions on assault weapons and supports abortion rights, according to his campaign website, he thinks Collins' implosion offers an opening for him to win over Republicans. Donald Trump won the district by appealing to voters' yearning for national political affirmation of rural and Rust Belt areas' social and cultural value. "If you look at my message, that message is exactly identical," McMurray said. "I am saying to them, 'I'm one of you.' I worked dead-end jobs in this district. I still cut my grass. I have family members that can't get diabetes medicine, because it's too darn expensive."
Thus McMurray is trying to do everything he can to display some Western New York bona fides. That means keeping his commitment to appear in a black Cadillac at the "world's largest demolition derby" on Aug. 19, as well as all the potlucks, house parties, door knocking and small town parades he can find. He wants voters to see a native son who "used to sneak our friend's father's guns out on the weekend and go out and shoot pop cans," he said.
But McMurray's life after attending a local community college and the University at Buffalo would take him far away from his modest Mormon upbringing. He concedes that critics might call him a corporate lawyer carpetbagger (Grand Island, like his hometown of North Tonawanda, is in the neighboring 26th District) who graduated from the same Chinese university as President Xi Jinping after getting a law degree from the University of California, Hastings College of the Law in San Francisco. After graduating, he lived in South Korea nearly a decade.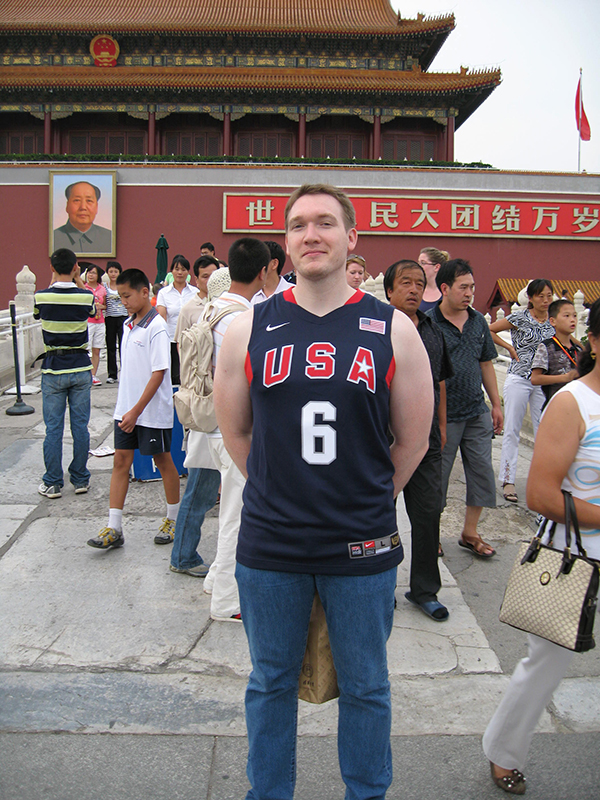 McMurray points to his tenure as supervisor in Grand Island as evidence that he can eke out a narrow Democratic win in a heavily Republican area. But his critics allege his actions in office illustrate that his ambitions supersede the needs of his constituents – though they declined to say so on the record. McMurray is quick to highlight how a video he made featuring a cat pushed Gov. Andrew Cuomo to commit to installing cashless tolls on bridges leading into town, but residents still have to pay $1 each time they leave, for example. A minor scandal emerged earlier this year when he used his town email during business hours to explore a congressional run.
Then there was the time that he faced an unprecedented "pitchfork-style anger," according to Vienna Haak, a 30-year resident of the island. At issue was whether an eight-mile stretch of road along the western shore of the island would become a bike path. Opponents said they feared additional traffic and diminished property values, and they directed their anger at McMurray, who was backing the state project, which is slated to be completed in the next few months.
McMurray's supporters counter that he is forthright and, while that might alienate those who disagree with him, that he is always willing to work toward a compromise. "A lot of people don't like his style that he is going to say what he thinks, but I've always been able to sit down with Nate," Beverly Kinney, a member of the town council, said in a telephone interview.
"I was so desperate to get attention that I actually signed up to be in the Erie County smash-up derby."
The bike path also illustrates a personal touch that may help McMurray win over Republicans, according to Paul Leuchner, a resident who last supported a Democrat for town supervisor in the 1990s but would back McMurray for re-election. It was among a dozen projects that Leuchner, a member of a local parks advisory committee, hoped McMurray would take up as supervisor. They went out kayaking on the river so that McMurray could see how a heron rookery and wetlands could become a new anchor of the local economy. "Once he saw that and how important and dramatic it was, he bought into it instantly and made it a part of the fabric of Grand Island," Leuchner said.
McMurray cannot go kayaking with every voter in the district, but "the only way he really can succeed is being face-to-face," said Haak, a Republican. "If I never met him I wouldn't vote for him, (but) every six people he meets he'll get 36 votes out of that."
In keeping with Grand Island's grand tradition, McMurray has ambitious plans for what he would do in Congress. If elected, he says he will get an infrastructure bill on the floor within 30 days and a health care bill within 60.
And he ultimately harbors bigger dreams of going far beyond Grand Island or even Washington, D.C. "Don't send Donald Trump to go negotiate with Kim Jong Un. Send me. I'll do it in his language," he said.
Correction: An earlier version of this story incorrectly stated the congressional district for McMurray's hometown of North Tonawanda. It is in the 26th Congressional District.
Powered By
NEXT STORY: Real estate spending heavily on attorney general race