Andrew Cuomo
Six takeaways from the Democratic gubernatorial debate
At the 2018 Democratic gubernatorial primary debate, Gov. Andrew Cuomo pledged not to run for president, while challenger Cynthia Nixon went on the attack.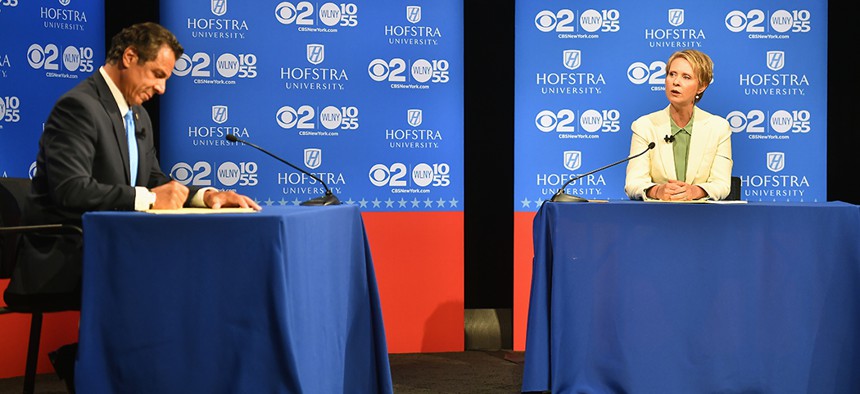 Gov. Andrew Cuomo and Cynthia Nixon faced off on their first, and likely only, debate before the Sept. 13 primary. The pair sparred over taxes, the subway system and whether or not Nixon is a corporation. While it was heavy on attacks from both sides and featured a few zingers, it lacked substantive policy discussion and failed to hit on a number of hot issues in the state. Here are the key takeaways from what did – and did not – get discussed at the debate.
 
Cuomo pledges not to run for president
Debate moderator Maurice du Bois asked the governor point blank whether he could promise the people of New York that he would not run for president in 2020. There has long been speculation that Cuomo has aspirations for higher office and he is widely considered a possible 2020 contender. Cuomo responded by saying, "Yes, yes, yes and yes," before launching into an attack on the current president. When asked to clarify that he promises to serve a full four-year term should he get re-elected, Cuomo said yes – "but the only caveat is if God strikes me down."
 
Nixon goes on the offensive
Nixon used the debate to attack Cuomo on everything from his taxes, to the state's failure to pass the Reproductive Health Act, to his extensive real estate and corporate donations. She touted her outsider status, saying, "I think experience doesn't mean that much if you're not actually good at governing."
Several times throughout the debate, Nixon interrupted Cuomo to address what she considered to be lies. "Can you stop interrupting me?" Cuomo asked at one point. "Can you stop lying?" she retorted.
Nixon seized every opportunity she had to take aim on Cuomo's record, his shifting positions on progressive policies, the crumbling New York City subway system, and corruption. "We have either incompetence or corruption," Nixon said when Cuomo once again denied knowing about the actions of his former top aide Joseph Percoco, who was found guilty of pay-to-play corruption. She spent the majority of her speaking time in this fashion, often putting Cuomo on the defensive and forcing him to rebut.
However, the governor largely kept his cool, often pointing to how he has been able to get things done while Nixon has no proven track record. He often framed it as "fact" compared to "fiction." When Nixon brought up Cuomo's first campaign and how he pledged to go on the offensive against unions, the governor turned to address the crowd. "How am I with labor?" He was met with cheers.
 
Cuomo fires back
The pair often veered off question to bicker back and forth, sometimes shifting to topics that had not even been mentioned by the moderators. In attempt to shift the attention away from questions about corruption in his administration, Cuomo called Nixon a "corporate donor" to New York City Mayor Bill de Blasio who used her status to ask for favors for her friends. Apparently taking on the role of the moderator for a moment, Cuomo asked Nixon if she is a corporation, referring to her "Fickle Mermaid" corporation she filed taxes through. "I am a person," Nixon responded and denied asking favors of de Blasio.
During responses for another question regarding moving upstate troopers into New York City, the two candidates pivoted to fighting about how has been more transparent with their tax returns. Cuomo accused Nixon of not being transparent with her taxes. "Only Donald Trump has done less transparency on his taxes than my opponent," he said. Nixon shot back that she released one year of taxes when she first entered the race, more than Cuomo did in 2010. "I released four more years recently, it's a big nothingburger and that's all he has to say about it," she said. The moderators allowed the crosstalk to continue uninterrupted.
 
Targeting Trump
Right off the bat, Cuomo brought up the president and his own role in fighting the policies imposed by the White House, calling Trump the biggest threat to the state. "He is trying to change the rights and the values of New Yorkers and the first line of defense is New York and the governor leads that fight." That theme persisted throughout, with the governor often bringing up the his role in fighting Trump, including through their Twitter exchanges. He touted the state's many lawsuits against the presidents and New York's reputation as being the progressive stalwart in the fight against Trump's agenda.
The president served as a reliable line of argument for the governor as he fended off Nixon's attacks against his progressive bona fides. "We don't need a corrupt, corporate Democrat in Albany as his main opposition," she said at one point. Cuomo responded that no one has been more aggressive against Trump than him, and at a later point added, "There is only one corporate Democrat on this stage. It's my opponent, not me."
 
Scant policy details
The debate focused little on substantive policy questions, with Cuomo touting his infrastructure achievements and Nixon outlining how to accomplish single-payer health care in the state. The debate was light on the matter of ethic reforms in Albany, with Cuomo mainly hitting the usual talking points of closing the LLC loophole and eliminating outside income for state lawmakers. The back-and-forth barely touched upon Nixon's plans to achieve universal rent control and made no mention of schools, a key tenet of Nixon's campaign and the topic she is most well-versed in. Criminal justice reform was not mentioned once.
Nixon was not asked to explain what exactly it meant to be a democratic socialist, but did say she would forfeit the salary of the governor given her identification as one. Cuomo and Nixon disagreed on sports betting, with the governor remaining open to legalizing it and Nixon opposing it outright, though neither had the chance to offer more detail. A rare mention of upstate came in a question about state troopers. There was also discussion over the name of the name of the former Tappan Zee Bridge, now the Governor Mario M. Cuomo Bridge, and how they would make sure children will not use marijuana if it gets legalized for recreational use.
 
Who loves de Blasio?
Cuomo told moderators that he "love(s) Mayor de Blasio," and thinks the mayor loves him too, despite the fact that Cuomo once again in the debate blamed New York City for failing to pony up money for the Metropolitan Transportation Authority and insisting the city owns the subway. But would not say whether or not he wants an endorsement from the mayor, asserting that de Blasio makes "his own political decisions." While this is not surprising, given the pair's very long and public political feud, Nixon's response to the same question raised a few eyebrows – she too would not say whether she wants the endorsement. "This is a race that I'm running on my own," she said. "This does not have to do with any particular endorsement that I've gotten or haven't gotten."
Powered By
NEXT STORY: Unanswered questions from the state attorney general debate