Cynthia Nixon
Candidates are rejecting corporate donations. What does that mean?
Some candidates are pledging not to accept corporate contributions to their campaigns. But it's unclear what that means.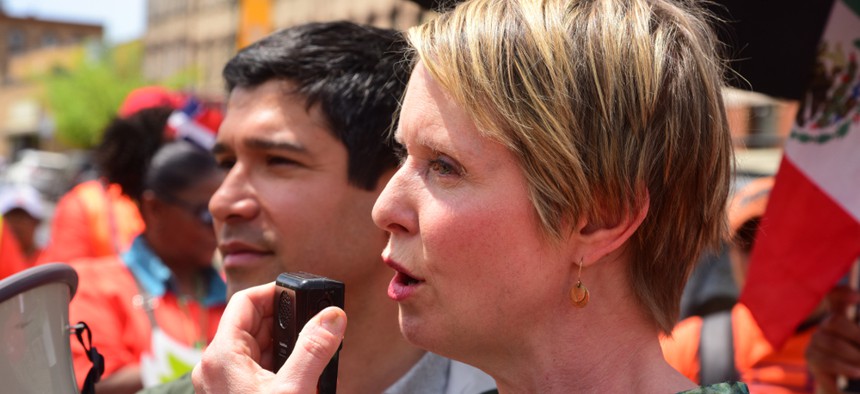 Democrats across the country have begun swearing off corporate PAC money in upcoming races. These candidates have largely been running in federal elections, but in New York, several statewide and legislative candidates have also promised not to accept corporate donations.
Perhaps most notable among these is Democratic gubernatorial candidate Cynthia Nixon, who promised not to accept any money from corporate donors and limited liability companies, or LLCs. In fact, according to campaign spokeswoman Lauren Hitt, Nixon has a blanket policy of accepting only individual donations attributable to people, with a few exceptions for candidate political action committees, or PACs. She was later joined by her running mate Jumaane Williams who, after initially accepting corporate donations, some of which landed him in hot water, pledged to accept no more.
In the state attorney general race, only Fordham Law professor Zephyr Teachout has said she would not accept money from corporate donors or LLCs in her race as well. Her competitors have continued accept those contributions, with New York City Public Advocate Letitia James and Rep. Sean Maloney raking in piles of money from real estate interests.
LLC money plays a large part in how corporate interests peddle influence in state politics. In New York, many corporations take advantage of what is called the LLC loophole, which allows them to evade campaign contribution limits by donating through multiple LLCs.
According to state campaign finance law, corporations are only allowed to donate $5,000 per calendar year to political candidates. While it may still seem like a large amount of money, it pales in comparison to the amount of money that individuals may donate – $44,000 for statewide office in the general election and more if a primary is involved. LLCs are not bound by the same regulation that corporations are and have the same contribution limit as individuals.
However, campaign pledges against corporate donations can get a little complicated. Rejecting corporations and LLCs would also imply that a campaign would not accept donations from small business that file as corporations, or from legitimate LLCs. This happened in the case of Assembly candidate Catalina Cruz, who pledged not to accept any corporate donations. According to financial disclosure reports, she technically accepted three contributions from corporations, though she explained that they were local businesses and she was referring to major corporations and real estate developers.
Similarly, there is no hard and fast rule about what is and is not "corporate" money. It could mean Wall Street money, real estate money, or even lobbying money. However, Blair Horner, executive director of the New York Public Interest Research Group, said that when candidates refer to not accepting "corporate" money, they likely use it as a shorthand to mean what Cruz did. "They're really staking out a policy position, my guess, that they will not be beholden to big business," Horner said. "And that's what they mean when they boil it down to a bumper sticker and that's why people don't wordsmith too much in politics."
But boiling a policy down to a bumper can lead to problems, as has recently happened with Teachout. Despite her pledge not to take Wall Street money, the Daily News reported that she had accepted large donations from individuals who are part of the financial sector, making up 11.5 percent of her total money raised. Teachout responded by claiming that those donations came from people, not corporations, and are therefore acceptable.
On the surface, the difference appears somewhat arbitrary, while also highlighting an aspect of campaign finance the corporate money pledge seems to gloss over. Individuals and LLCs are capable of giving the same amount of money. Considering big businesses are made up of many individuals, often who have disposable income to spend, "corporations" are still more than capable of influencing politics through the actions of the people running the business. As long as donors are not reimbursed for contributing, this is still a perfectly legal way to donate. After all, corporate interests are ultimately the interests of the people running those businesses.
However, since there is no clear-cut definition of what the corporate pledge entails, Teachout offered the defense that "Corporations aren't people. Period." But individual people can have plenty of influence through big donations as well.
One example is when the Winklevoss twins donated a combined $100,000 to Cuomo less than a month before the state approved the brothers' cryptocurrency exchange, and another $30,000 afterward. Though it would be difficult to prove anything more than correlation between the two, such activity can give the appearance of pay-to-play corruption. Cameron and Tyler Winklevoss are people, not corporations.
Nixon too has accepted large donations from celebrity friends with money to spare. While she has kept her pledge regarding corporate money, LLCs and individual contributions, she has still accepted large contributions from celebrities like Rosie O'Donnell, who has given $21,000, and Alec Baldwin, who donated $16,000. This is not to say that Nixon will necessarily be influenced by that money, but where there is big money, there is the possibility for corruption.
In the end, the corporate money pledge helps build the narrative of the reformer who is advocating change and who won't be bought. It presents that image in an easy to digest way. In most instances, the candidates making the promise are outsiders who are unlikely to receive such support anyway. "God bless them, right? If they want to make pledges that they believe is in the public interest, that's fine. But what matters is policy change," Horner said.
Candidates making the promises this cycle in New York have not had the opportunity yet to implement the change they are advocating, so only time will tell if it will help clean up Albany.