Andrew Cuomo
Cuomoland crises, Collins keeps running and an ex-IDC candidate concedes
Gov. Andrew Cuomo faced crises in a continued controversy over a campaign mailer and Joe Percoco's sentencing, while Rep. Chris Collins is now running for another term while under indictment and state Sen. David Valesky conceded defeat in his primary.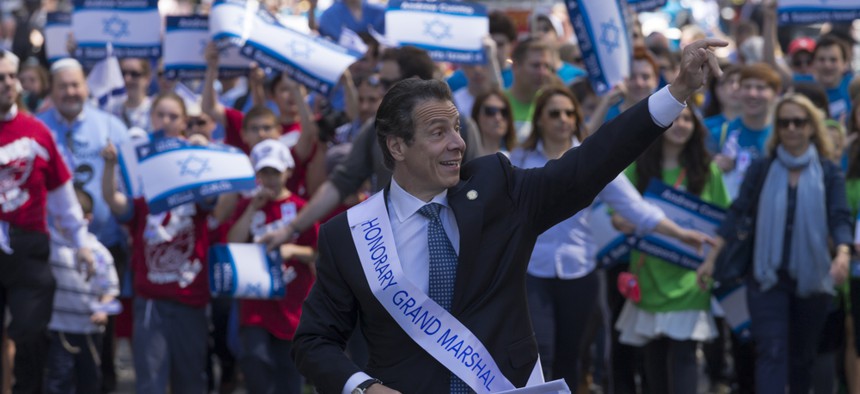 Rachel May, the candidate who challenged former Independent Democratic Conference member state Sen. David Valesky, has now officially won and declared victory in their Democratic primary. Valesky conragulated May on her win, but said he has not yet made a decision about continuing to run a third party campaign. He could do that – he will still appear on the Independence Party and Women's Equality Party lines. Other former IDC members could potentially also mount third party campaigns, and so far, only two others of the six who lost have conceded. There had been talk that state Sen. Jeff Klein, who founded the IDC and was defeated in his primary, might get nominated for a judgeship. That didn't happen this week, and Klein has remained mum about his future plans. New York is never simple. Keep reading for other complicated matters in this week's headlines.
More drama in Cuomoland
Gov. Andrew Cuomo's landslide victory in the Democratic gubernatorial primary has not made his anti-Semitic mailer scandal disappear. In the latest revelations about the campaign literature that falsely painted his opponent Cynthia Nixon as an anti-Semite, the New York Post reported that two top Cuomo aides were looped in before it was sent out – campaign manager Maggie Moran and Executive Deputy Secretary Jill DesRosiers. The campaign denied their direct involvement in the language of the mailer. Cuomo's former top aide Joseph Percoco also got sentenced to six years in prison for corruption. The governor himself may have avoided any repercussions, but Percoco's judge said she hopes the sentence will serve as a warning for other public officials.
Collins stays on the ballot
In a surprise decision by indicted Rep. Chris Collins, the congressman will remain on the ballot. And he plans to actively campaign and would continue serving if re-elected. Collins had suspended his campaign and county leaders from his district were contemplating how to remove him from the ballot and who to select as his replacement. Contenders threw their hats into the ring, most notably former Republican gubernatorial candidate Carl Paladino. Instead, Collins is following the lead of Michael Grimm – the former Staten Island congressman who ran for re-election while under indictment – while leaving Erie County Republican Party Chairman Nick Langworthy feeling like "a jilted groom at the altar."
He's running (maybe)
After speculation in the media, and a pledge to spend $80 million to flip the House in the midterms, former New York City Mayor Michael Bloomberg is once again mulling a run for president – this time, as a Democrat. Bloomberg has not made any decisions, but he is actively considering the possibility. However, his favoritism toward big business and his stances on issues like the #MeToo movement and stop and frisk stand in stark contrast to the progressive movement sweeping the Democratic Party.
Begrudging endorsement
After consciously remaining silent during the Democratic gubernatorial primary, New York City Mayor Bill de Blasio finally threw his support behind Cuomo at a Democratic rally. The pair sat next to each other in the crowd and hugged on stage. De Blasio quipped about the "greater good," while Cuomo introduced de Blasio as the "great mayor of the city of New York" – proof that the two political rivals can still manage to be civil if circumstances demand it.