Nonprofits
How the AG contenders would run the Charities Bureau
How would the Democratic Attorney General candidates would run the Charities Bureau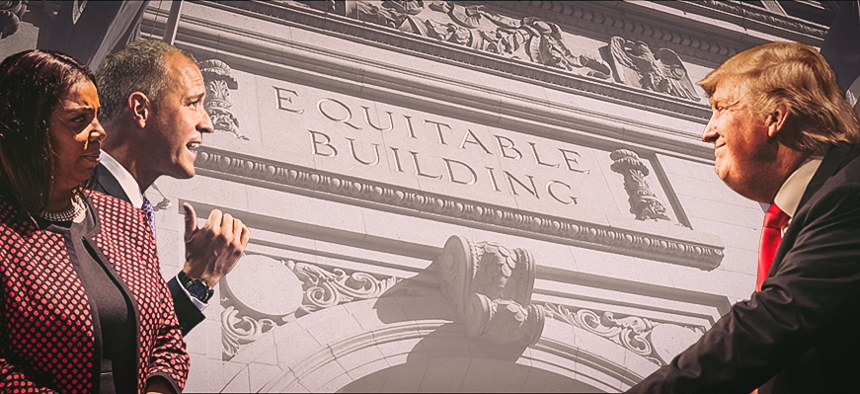 The New York state attorney general can sue the federal government, police Wall Street and influence state policy on a wide range issues, from civil rights to auto insurance. But arguably one of its biggest roles is among its lowest profile: overseeing an estimated $150 billion nonprofit sector that includes everything from social service providers like foster care and homeless shelters, to philanthropies, universities and museums.
There are essentially three roles involved in the attorney general's oversight of such nonprofits, which is carried out by the office's Charities Bureau: education, regulation and law enforcement.
But even though the state has tens of thousands of nonprofit organizations that collectively employ about a fifth of the state's workforce, and despite the Charities Bureau's outsized importance among the nearly two-dozen subdivisions of the Office of the Attorney General, the Democratic primary candidates have said very little about how they would approach this part of the job. And when candidates have referenced the bureau's work, dominating the discussion is the Trump Foundation, which state Attorney General Barbara Underwood sued early this summer.
Among the attorney general candidates, Fordham Law professor Zephyr Teachout leans on her expertise in corruption in promising to wield the office as a legal weapon against President Donald Trump. New York City Public Advocate Letitia James and Leecia Eve, a Verizon executive, present themselves as the candidates with the right mix of experiences to confront the Trump administration, while Rep. Sean Patrick Maloney dreams of defending the state against the president with a "baseball bat,"
Judging by such comments made on the campaign trail, it appears that the Charities Bureau has yet to receive much attention from the four candidates as they battle each other before the Sept. 13 primary election. Candidates have made appearances at nonprofits such as The Fortune Society to discuss their positions on issues such as the criminal justice system, but that has not translated to detailed public discussions in how they would regulate the sector as a whole.
The Teachout and Maloney campaigns did not respond to requests for comment by publication time. New York City Public Advocate Letitia James, a former assistant attorney general who ran the Brooklyn regional office, said in an email that, if elected, she would crack down on nonprofits with "questionable charitable purposes," like crisis pregnancy centers and the National Rifle Association, and pursue cases against elected officials who "have gotten caught steering money to charities under their control."
While James has aligned herself with Cuomo's re-election campaign, she hinted that she might have gone another way than he did in squeezing funds out of the sale of the nonprofit Fidelis Care to a for-profit health system as a way of shoring up state revenues in the future. "The power to approve or disapprove dissolutions and the resulting distribution of assets should and will be informed by a deep concern for the impact on the affected constituency," James said in the email. She added that she is "deeply aware that small, grassroots nonprofits often struggle to keep updated on changes in the law and need advice to remain in compliance," but she did not elaborate on what the bureau could do to help.
Leecia Eve said an email that the biggest role she would take in the nonprofit sector as attorney general would be "ensuring charitable organizations who are the beneficiaries of New Yorkers' hard earned resources are in fact conducting themselves in a manner that is consistent with the law and the mission they've represented," but she did not add any specific proposals on how she would manage the bureau.
Both Eve and James said they would sue the federal government if the Trump administration realizes its campaign promise to repeal the Johnson Amendment, a longstanding federal rule that limits the political activity of nonprofits. "It would further erode our electoral system to permit tax-deductible contributions to organizations that, in turn, can advance their issues through political gifts," Eve said in the email.
Besides the case against the Trump Foundation, the recent civil subpoenas of all eight Catholic dioceses in New York by Underwood – an investigation instigated by the Charities Bureau – highlight the power of the office to command headlines and confront powerful political interests. But there are other challenges looming within the Charities Bureau, according to sector insiders.
"I've seen no comments from any of the candidates," Doug Sauer, CEO of the New York Council of Nonprofits, said in a telephone interview, on the regulatory issues that face nonprofits. He added that much of the illegal activity that happens in nonprofits comes from a lack of understanding of all the laws and regulations that govern their establishment, operation, fundraising and other activities – rather than high-profile cases of intentional wrongdoing.
"It's easy to talk about the corruption or go at what they're doing to the Trump Foundation and some high-profile things," he said. "(But) most problems in the not-for-profit community are not the scandals that you see. Most are because people aren't informed, or they don't know how to best operate and they don't understand the law."
The state's Nonprofit Revitalization Act of 2013 did much to simplify how New York regulates nonprofits. An example of this was dropping an old requirement that nonprofits seek approval from both the courts and the attorney general in order to pursue dissolutions or mergers. But the law also added requirements on organizations – such as conflict of interest and whistleblower policies – that are aimed at combating corruption, like that which took down former state Sen. Pedro Espada, who was convicted in 2012 of stealing from a group of nonprofit health clinics he founded. But the 2013 law also created an ongoing task for the bureau – explaining how it all works in practice for nonprofits big and small.
James Sheehan, the current chief of the Charities Bureau, has received credit from nonprofit leaders for taking a proactive approach to educating organizations about what they need to do to stay on the right side of the law. But educating nonprofits can be a daunting task considering that even small mistakes on paperwork can lead to weeks if not months of delays in approving mergers, asset sales and other organizational changes. With about two dozen attorneys on staff, the mistakes of one set of paperwork can snowball into delays for other organizations. This in turn can affect the ability of nonprofits to do what they need to do, whether that involves raising money, delivering services or seeking new contract opportunities.
As just one part of an attorney's general's office that has about 700 attorneys at its disposal, "what a Charities Bureau chief is looking from an attorney general are resources and support," said Sean Delany, a former chief of the bureau who now runs the nonprofit Lawyers Alliance for New York. "Resources, that there is enough staffing and resources to do the job, and support in the sense of appreciating the important of the bureau's mission and not perceiving the bureau as a burden rather than an opportunity."
That the candidates who aim to replace Underwood would want to follow in her footsteps in filing big legal actions does not come as a surprise to sector insiders who say that they are used to the Charities Bureau taking a backseat during election season to the more public roles of the office. But as most nonprofits continue to struggle financially, often dependent on state and local contracts to survive, nonprofit leaders say that one of their top priorities is receiving the attention that the sector is due considering its pivotal role in delivering the services that government promises.
This can involve discussing the nuts and bolts of nonprofit operations on the campaign trail, but just as easily could be simply rethinking the name of the Charities Bureau to something that better reflects its role in regulating massive human services agencies and grassroots organizations alike.
"The term 'charity' is very problematic and should be something like the 'Office of Philanthropic Giving and Nonprofit Oversight,'" said Allison Sesso, executive director of the Human Services Council of New York, a coalition of 170 organizations. "Charity suggests handouts, rather than a system critical to the economic and social health of our state – which is what it is."
Correction: Sean Delany's name was spelled incorrectly in an earlier version of this story.