Why voters ignored the flood of bad press about Julia Salazar
Politics is different in the Trump era and foibles are forgivable.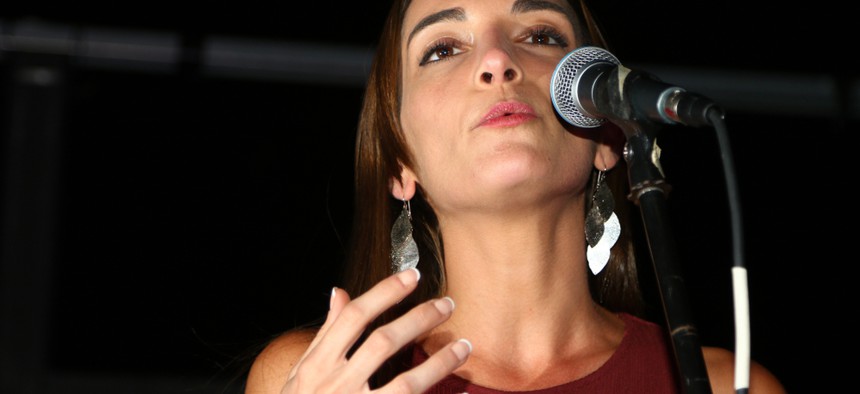 What does it feel like to withstand an avalanche of negative press coverage and win anyway?
More than a handful of politicians have not been able to survive scrutiny from New York City's voracious press corps over their personal lives or political beliefs. The twin comeback candidacies of Anthony Weiner and Eliot Spitzer withered under an entanglement of extramarital sexting and prostitute profligacy a mere five years ago.
But politics is different in the Trump era and foibles are forgivable.
Just ask Julia Salazar, the 27-year-old novice candidate and self-described democratic socialist who steamrolled a 16-year incumbent in one of the primary night's most remarkable victories.
She navigated countless critical stories that questioned how she described her family's financial background (she admits she "inadvertently misrepresented" her family's history in claiming she was working-class when she had a trust fund), where she was born (Miami, not Colombia), whether she completed college, her religious upbringing (she embraces her progressive Jewish identity although she grew up a politically conservative evangelical Christian), why she was arrested and compelled to file a defamation lawsuit in a bizarre saga involving Mets legend Keith Hernandez and his wife (Salazar said she never had an affair with Hernandez and the case was settled in her favor), and her claim that Israeli Prime Minister Benjamin Netanyahu's spokesman David Keyes assaulted her (which he denies).
What had been a quiet state Senate primary six months ago drew national coverage thanks to Salazar's dramatic origin story, her evolving politics, and the media's thirst to find the next Alexandria Ocasio-Cortez (this was literally a New York Times headline).
Salazar's muddled biography and arrest record surprised her campaign staff, but they said they weren't worried.
"Tomorrow we'll see what wins, the media or the field," Nick Rizzo, a Brooklyn Democratic state committee member and campaign volunteer, recalled saying before Election Day.
Campaign workers spent five months visiting voters – Rizzo estimates that they knocked on 100,000 doors in the district or roughly 20,000 homes – while Salazar's opponent, state Sen. Martin Dilan, spent heavily on campaign mailers.
"I heard misgivings from a lot of people who all went on to vote for her," Rizzo told City & State after Salazar won. "But people just wanted a change. Marty is old, male, and extremely status quo. He had bad votes that favored real estate and we hit him on them."
Then there was the news cycle itself. A wave of profiles introduced Salazar to many Democrats after Ocasio-Cortez's surprising victory, but the deluge of stories combing over her family life, religion and abuse she suffered in her past helped spur a backlash against the glowing coverage.
"The big stories in the final week are all stories blaming her for being a victim," Rizzo said. "She didn't do anything wrong and these horrible things happened to her."
Salazar, who got her start in politics organizing with Jews for Racial and Economic Justice, was an active leader within the Democratic Socialists of America, whose millennial members embraced her candidacy – and stuck by her when the race got rocky.
She also got a crucial boost of volunteers from North Brooklyn community groups including Make the Road Action, New York Communities for Change and Churches United for Fair Housing, whose members remember the scars left when the late former Assemblyman Vito Lopez, a Dilan ally, ruled Bushwick as the party's Democratic boss. A representative for Churches United for Fair Housing said that it did not endorse Salazar or support her as an organization.
"People care about the issues that affect their lives and Salazar's policies are what people want," said Salazar campaign volunteer and longtime North Brooklyn politico Elana Levin, who worked on multiple state Senate campaigns against Dilan. "In retail politics, that outweighs sexist opposition dumps by a real estate industry-funded machine candidate."
In the end, Brooklyn Democrats shrugged off any concerns they had. Her victory margin wasn't even close.
Salazar hauled in 20,603 votes out of 35,000 cast en route to a 58 to 41 percent drubbing. Turnout more than doubled statewide from 574,000 four years ago to 1.5 million. In Salazar's district, which includes Williamsburg, Bushwick, Greenpoint and Cypress Hills, turnout nearly quadrupled from 2014, when fewer than 10,000 people voted.
At Salazar's election night party in Williamsburg, it was so crowded you couldn't move.
Hundreds of raucous supporters clad in scarlet t-shirts emblazoned with Salazar's name had flooded the Well, the site of a former German brewery, in anticipation of a victory.
They only had to wait only 45 minutes after the polls closed for The Associated Press to call the race. A raucous celebration ensued and revelers chanted "DSA!" after Salazar spoke.
"Voters see past attempts to personally attack candidates and instead are smart and know that they want to elect legislators that will fight for them," Salazar told NY1.
And maybe the press coverage doesn't count so much in the age of Trump when the battle lines are quickly drawn for both parties.
"People are very conscious of who is on their side and who is not their side, and it is extremely hard to flip people from one side to another," Rizzo said. "There isn't a lot of persuasion that's happening in politics right now and that factor helped her."
Correction: An earlier version of this story incorrectly said Make the Road New York provided volunteers; it was actually Make the Road Action, the group's political arm.