Bill de Blasio
Bombs in New York and a governor's debate
Pipe bombs were sent to a number of prominent Democrats and progressives across the country, including several in New York, and to CNN's Columbus Circle headquarters.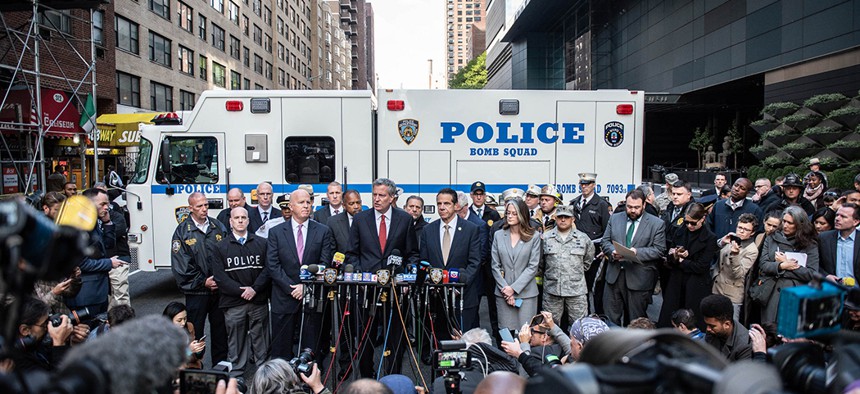 New York City Transit President Andy Byford weighed in what foods are and are not acceptable to eat on the subway: roast chicken is out, but snacks are just fine. Is a ban necessary? Maybe not, but there's a case to be made that New Yorkers should be more polite. Byford's comment sparked a lively Twitter debate about dining when surrounded by fellow commuters. The general consensus: Publicly shame anyone who breaks the unspoken rules of subway etiquette. And according to Daily News transit reporter and subway food expert Dan Rivoli, one unspoken rule is not to "eat anything with an aroma that exceeds your physical space, except pizza."
Bombs in New York
Pipe bombs were sent to a number of prominent Democrats and progressives across the country, including several in New York, and to CNN's Columbus Circle headquarters. On Monday, a suspicious package was found at the Westchester County home of billionaire philanthropist George Soros. Two days later, similar packages were found at the Westchester home of Bill and Hillary Clinton, and at CNN in Manhattan. A day later, another explosive device was sent to actor Robert De Niro, a vocal critic of President Donald Trump. In all, at least a dozen devices were found, including those sent to former President Barack Obama and former Vice President Joe Biden. Federal authorities have arrested one suspect so far, Cesar Sayoc.
False scare for Cuomo
According to some early reports, the New York City office of Gov. Andrew Cuomo received a suspicious package on the day that multiple explosive devices were sent to other prominent Democrats. A spokesman for Cuomo denied the reports. But soon after, while giving an update on the bomb situation at a press conference, Cuomo said that his office had indeed received a "device." However, the device turned out to be a flash drive with information on right-wing group the Proud Boys and was unrelated to the other packages.
Top dog vs. underdog
Cuomo and his Republican gubernatorial opponent Marcus Molinaro squared off in their first and likely only debate two weeks before the election. The pair officially agreed to the get-together only a day before. The back-and-forth quickly turned into a shouting match with little focus on policy and even less discussion of upstate New York. Cuomo continued to tie Molinaro to Trump, a key argument for the governor's campaign so far. Molinaro got the debate he wanted, but in the end, little else.
Corrupt pols behind bars
Two corrupt former New York lawmakers were sentenced this week. First on the docket was former state Senate Majority Leader Dean Skelos, who was sentenced to more than four years in prison following a guilty verdict in his retrial. This is slightly less than the original five-year sentence after his first conviction, which was overturned. Former Assemblywoman Pamela Harris got much less time behind bars, with a sentence of six months for defrauding the federal government and pocketing New York City Council discretionary funds.
Jumaane enters the fray (again)
Far from being put off by falling short in his bid for lieutenant governor, New York City Councilman Jumaane Williams announced that he will run for New York City public advocate. He is one of a few candidates to jump in early, since the position is technically not up for grabs yet – Public Advocate Letitia James needs to win the state attorney general race first. Williams said the reason for the early announcement was to end outside speculation and let his supporters know where he stands.