New York State
Do Republican voters care about Chris Collins' indictment?
Will Chris Collins' indictment keep Republicans from maintaining their stronghold of New York's 27th District?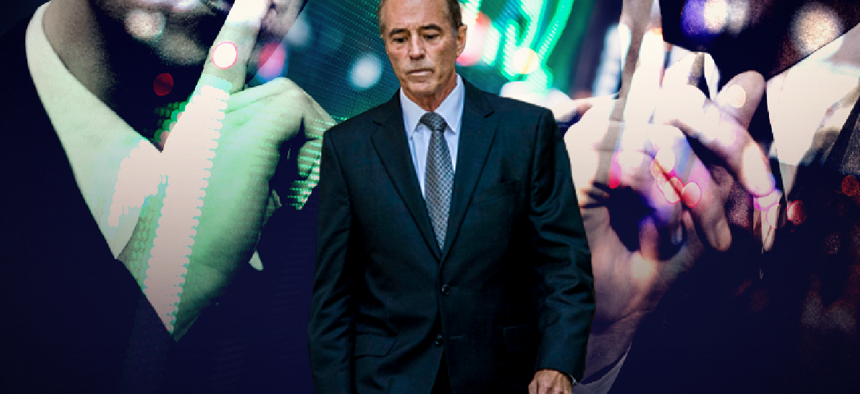 Republican voters have proven in recent years that they can look past the scandals of their party's candidates so long as they deliver on issues such as judicial nominations, economic deregulation and tax cuts. President Donald Trump and former Rep. Michael Grimm illustrated this phenomenon in past years, as this year the indicted California Rep. Duncan Hunter still has a clear lead over his challenger. Yet Republican voters appear to be less forgiving of Rep. Chris Collins, who is on the cusp of losing in the reddest congressional district in New York.
Collins was cruising towards reelection before he was indicted for insider trading on Aug. 8.The charges immediately transformed the race from a sure thing for Republicans to a new target in Democrats efforts to retake the House of Representatives. Though he has denied the charges against him, Collins was stripped of his committee assignments in Congress and money began pouring into the coffers of Democrat Nate McMurray, the supervisor of Grand Island who had previously been thought as a long shot candidate at best.
More than two months later, Collins had just a three-point edge over McMurray in an Oct. 16 Siena College poll – well within the margin of error – in a district that Collins won two years ago by 35 points, even though a majority of voters in the district approve of Trump and want to see Republicans retain control of the House. What makes the race so tight is not independent voters – who split their support 46 to 45 percent in McMurray's favor – but Republicans. While they outnumber Democrats in the district by roughly 40,000 registered voters, about a quarter of Republicans in New York's 27th District say they will vote for McMurray on Nov. 6. In typical elections, voters tend to stick to their parties candidate somewhere around 85 to 90 percent of the time, but fewer than half of Republicans in the district have a favorable view of Collins – and that could cost him a fourth term in Congress.
McMurray offered the self-serving explanation that voters in the rural area have higher moral standards than Republican voters elsewhere. "They value integrity," McMurray said of his high support among Republicans.
But Collins' response to his indictment for allegedly giving family members inside information on stocks may be his undoing among Republicans. He chose to run for reelection when he knew he was under investigation for securities fraud. Though he later suspended his campaign following his September federal indictment, he then re-entered the race just as local Republican leaders were about to agree on a replacement candidate, further antagonizing Republicans whose loyalty to Collins has been more transactional than personal over the years, according to Kevin Hardwick, a Republican Erie County legislator and associate professor of political science at Canisius College.
"It's one of those cases where his support in the past has been a mile wide and a foot deep," Hardwick said in an interview. "There was respect. There was support, but I don't think it was love, and now there is the additional element of resentment. People were looking forward to the prospect of voting for an up-and-comer who could win that race."
Collins' lead might even be more narrow now than the poll suggests. McMurray was the only Democratic candidate endorsed by the New York Post over the weekend, and the Siena poll came out before he started a TV ad campaign that is introducing him to an electorate where he is still relatively unknown. The Democratic Congressional Campaign Committee reacted to the latest poll and the announcement that McMurray had raised more than $500,000 by adding him to its "Red to Blue" slate of targeted races. A representative of the Collins campaign declined to comment when reached by City & State.
Democratic enthusiasm and a Republican lack thereof may lead to Democrats doing better than their polling numbers indicate, and that phenomenon may be especially true in a district where Democrats are especially eager to oust an incumbent and once-reliable GOP voters might stay home this election, endangering Republican candidates up and down the ballot.
And there are other reasons to believe that McMurray has pulled ahead in the race, especially given what supporters describe as a spirited campaign that has pivoted towards the political center in the general election by distancing himself from national Democratic leaders such as House Minority Leader Nancy Pelosi and efforts to impeach Trump. McMurray has been barnstorming the district like "a ball of fire," according to Livingston County Democratic Party Chairwoman Judith Hunter, and it reminds her of the last time that Democrats won a congressional election in the district. "I haven't seen excitement like this since Kathy Hochul's special election," she said, referring to the 2011 election in which Hochul, the Democrat who is now lieutenant governor, won the seat of former Republican Rep. Chris Lee, who resigned following revelations that he had solicited a woman via Craigslist by sending her a shirtless photo of himself.
To be sure, Collins still has a chance. Though he raised just $80 in his district after his indictment, he's independently wealthy and has about $700,000 on hand for the campaign, according to campaign filings with the FEC. Local Republican leaders have not abandoned him. Erie County Comptroller Stefan Mychajliw has appeared alongside Collins on at least 10 occasions after the indictment, according to The Buffalo News. Former advisor to President Trump Steve Bannon will headline an event on Oct. 24 that will aim to rally the party's faithful to turn out on Election Day.
Perhaps fearing the stigma of endorsing a candidate under criminal indictment, some Republicans might tell pollsters they are backing McMurray but will actually pull the lever for Collins, said Ontario County GOP Chairwoman Trisha Turner.
"The Republicans I'm talking with understand the war we're in now," she said in an interview. "I think you're going to see a Trump effect with Collins." Likely voters might be telling pollsters that they are supporting McMurray when they are secretly planning to vote for Collins out of loyalty to Trump, whom most election observers assume will face new investigative scrutiny and legislative barriers if Democrats were to win the House. Collins has not been proven guilty of anything and "a lot of people aren't necessarily saying aloud how they feel, but the people I talk to behind the scenes are saying they're sticking with Congressman Collins."
Tucked between the lines of the Siena poll is some evidence suggesting that Collins, like Trump in 2016, has hidden support among the electorate, according to Jacob Neiheisel, an associate professor of political science at the University at Buffalo. About 10 percent of voters in the poll said the did not know who they would support in the upcoming election. "Sometimes 'don't know in those surveys mean 'I really don't know' and sometimes that means 'I have an unpopular opinion and I'm not going to tell you,'" Neiheisel said. That phenomenon may have been at play when Trump prevailed two years ago despite polls that showed Hillary Clinton with a lead going into Election Day.
Collins has shown before that he can win tough elections, but he has lost elections before as well. His first campaign was in 1998 when he challenged 24-year incumbent Democratic Rep. John LaFalce and lost by double digits in what was then the 29th Congressional District. But his business background found a more receptive audience nearly 10 years later when he won a 2007 election to become Erie County executive with 63 percent of the vote, a position he then lost four years later by six points. He bounced back in 2013 by eking out a win by about 4,000 votes against incumbent Rep. Kathy Hochul. Whether he can defy expectations once more now rests in whether he can retain the same voters who have kept him in office ever since.
There is also the possibility that Collins' district is less tolerant of corruption allegations than Republicans elsewhere might be. Western New York has had its share of political corruption scandals in recent years in both parties and voters might be punishing Collins for it, according to Ontario County Democratic Chairman John Hurley. There was the Buffalo Billion scandal, involving charges of bid rigging in state development project, that has rocked the administration of Gov. Andrew Cuomo. Two years ago, Republican former Assemblyman Bill Nojay killed himself rather than face charges of fraud related to a trust fund he oversaw as an attorney. And as Siena was conducting its poll, Assemblyman Joe Errigo, also a Republican, made his first appearance in federal court on Oct. 10 on charges of accepting bribes and wire fraud. The September guilty plea of former Erie County Democratic Party Chairman Steve Pigeon may also be weighing on voters' minds.
While some Republicans have won despite legal troubles – including Nojay, who won a Republican primary posthumously – Collins might not be so lucky, unless somehow GOP voters decide that holding him accountable is less important than stopping Democrats from controlling a seat in a heavily Republican district. One thing is certain: If McMurray does flip the seat, it's only because of Collins' legal troubles that it was even a possibility. "If he wins, it's because he supports the president," said Hardwick. "If he had dropped out we wouldn't be having this conversation because the race would be over."
Powered By
NEXT STORY: Tweets show Molinaro cozying up to the Trumps