Andrew Cuomo
Proud Boys brawl, Dems raise cash and Cuomo leads in the polls
Proud Boys brawl in Manhattan, Dems perform well in congressional races and Cuomo leads in the polls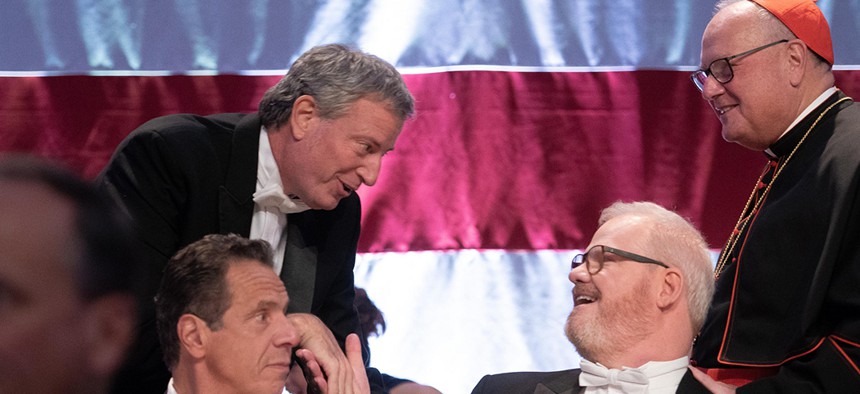 Democratic congressional candidates across the state had a banner week. A new poll has Nate McMurray neck and neck with Republican Rep. Chris Collins, plus the challenger finally garnered the national support he had been hoping for. Fundraising numbers from Antonio Delgado show he raised a whopping $3.8 million in the third quarter. Liuba Grechen Shirley continues to outraise Rep. Pete King, causing political prognosticator FiveThirtyEight to move that race slightly more in her favor. And Max Rose has five times as much cash on hand compared to Rep. Dan Donovan for the homestretch of their contest. We'll have to wait a couple weeks to see if any of it makes a difference.
 
Brawl in Manhattan
Following an appearance by Proud Boys founder Gavin McInnes at a Republican club in Manhattan, brawls broke out between the far-right group and anti-fascist protesters. The violence spotlighted the self-described "Western chauvinist" Proud Boys, which the Southern Poverty Law Center designates as a hate group. While condemning vandalism at the Metropolitan Republican Club ahead of McInnes' visit, Gov. Andrew Cuomo said the club was wrong to invite him in the first place, calling the Proud Boys "hate mongers." GOP gubernatorial candidate Marc Molinaro also said McInnes should not have been at the club. Initially, police arrested several protesters, and later said there was enough evidence to charge nine more.
 
Civic disengagement
New York City Mayor Bill de Blasio's new DemocracyNYC office, established to increase civic engagement in the city, is not off to a promising start. It sent out 400,000 letters to "inactive" voters that were so confusing that many people thought the letter was a scam to discourage them from voting. And in some cases, active voters erroneously received the letter, causing them to fear they had been purged from the voter rolls. DemocracyNYC got the flawed voter information from a Chicago-based analytics firm, instead of going directly to the city Board of Elections.
 
Outside City Hall without Errol Louis
De Blasio garnered rare praise from his rival Cuomo after he decided to forgo his weekly "Inside City Hall" appearance on NY1 in solidarity with striking Charter Communications workers. The strike has been going on for 19 months, but this is the first time de Blasio deliberately skipped the segment. His spokesman said this would have been the first time the mayor would have had to cross a picket line, which he did not want to do.
 
Cuomo still leading
In a new Quinnipiac University poll, Cuomo leads Marc Molinaro by a comfortable 23-point margin with less than three weeks before the election. Molinaro slightly outperforms the governor with likely voters upstate, but Cuomo makes up for that shortcoming with overwhelming support in New York City and a lead among independent voters. Despite the strong numbers in has favor, Cuomo still has not agreed to a debate with Molinaro.
Powered By
NEXT STORY: Why nobody's debating this election season