Tony Avella's longshot state Senate bid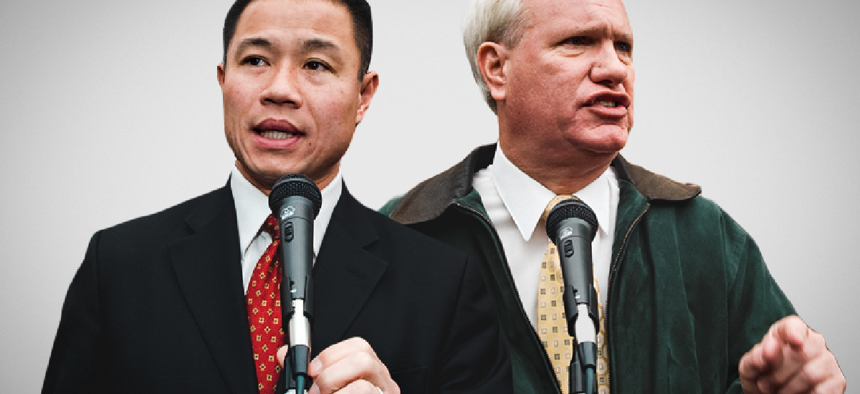 Last Monday, former Independent Democratic Conference member state Sen. Tony Avella announced that he would continue to seek re-election, despite losing to John Liu in September's Democratic primary. Avella will mount an independent campaign, appearing on both the Independence Party and Women's Equality Party lines. With Avella's decision, the race becomes a four-way battle between him, Liu, Republican Vickie Paladino and Conservative Party candidate Simon Minching.
So does Avella have a chance of winning?
The state senator has been in office for about eight years, first getting elected against a Republican incumbent. Since then, he has successfully fended off both primary and general election challenges. But that was when he had a major party behind him, and now, with three weeks to go until the election, the odds are stacked heavily against him.
The first disadvantage Avella likely must contend with is a strong Democratic turnout in November. If the primary – when more than double the number of voters from 2014 participated statewide –  is any indication, then turnout will be high. In Senate District 11, primary turnout did not quite double this year, but there was still a significant increase in voters compared to Avella's last primary against Liu in 2014. A large number of Democrats would, presumably, help the candidate appearing on the Democratic ballot line, which will be Liu. "The results of the primary throughout the state reinforced the essential truth that we live in a highly partisan environment," Democratic political consultant Evan Stavisky told City & State. "In many districts, including the 11th Senate District, the best thing you can have going for you is to be the Democratic nominee."
Democrats have a nearly 70,000-voter advantage in the district. Although District 11 had a history of electing Republican state senators before Avella, Stavisky said redistricting in 2012 changed the partisan makeup, making it far more Democratic.
Adding to the challenge for any non-Democratic candidate in that district, especially in what is expected to be a "blue wave" election year, is the fact that Avella won't be the only candidate to Liu's right on the ballot, with Minching and Paladino splitting the opposition vote.
Avella also has very little cash to spend in the homestretch. According to his most recent filing, he has only about $17,000 on hand and he took in no contributions since the end of the primary. This filing came out before he announced he would campaign and he may well have had a sudden influx of money in the week since. Avella did not respond to multiple interview requests for this story.
Liu has about $190,000, while Minching, the Conservative candidate who was once the favorite of the Republican establishment, still has about $74,000 despite losing the GOP primary and continuing on a minor party line. Avella does, however, have more cash than Republican nominee Paladino, who only has $2,700.
History offers some insight about Avella's chances for an independent run, though that history is not in his favor either. In 2013, Republican state Sen. Mark Grisanti voted in favor of the the SAFE Act, the state's landmark gun control legislation that Republicans opposed. In 2014, Grisanti lost his primary, but decided to continue running on a third party line. He ultimately lost in the general election.
Like Grisanti, Avella lost his primary because his party's base felt that he had betrayed them, in Avella's case through his allegiance to the IDC, which helped to empower Republicans in the state Senate. Avella was one of six former members of the now-defunct IDC to lose a primary because of a wave of progressive activism targeting their seats.
Not only has Avella lost the support of a major party, he does not even have the support of one of the third parties that nominated him. The Women's Equality Party said in a statement that it was unable to remove Avella from their line, but that it supports Liu in November. The WEP was started in 2014 by Gov. Andrew Cuomo, who remained neutral during Avella's and other former IDC members' races. Now, spokeswoman Lis Smith said in a statement that the governor supports Liu and that Avella should "respect the will of the Democratic voters."
Avella paints a very different picture, in which he is backed by Democrats and Republicans. In a YouTube video announcing his decision to keep running, he said he was "honored to received such bipartisan support from everyone in the district" since the primary.
In an emailed statement announcing his general election run, he namechecked an organization called Families for Tony Avella. The group held a rally at the end of September urging Avella to continue running. Phil Wong, a spokesman for the group, told City & State that Families for Tony Avella started as a group of people interested in keeping the Specialized High School Admission Test, which Avella supports – an important issue to many Asian-American voters in the district. Wong said the group's 40 to 50 members are in an email chain. "We're just a bunch of parents getting together, no official titles, just doing the work," Wong said.
However, Wong told City & State that he does not actually live in Senate District 11, so he will not be able to vote for Avella in November, despite organizing support for him. He insisted that the other members of the group are parents who do live in the district. One Queens Democratic insider who asked to remain anonymous said that while he is not familiar with Families for Tony Avella, he has encountered a group from Flushing, much of which is outside the district, that was vehemently against Liu during the primary, and suggested that Families for Tony Avella may be similar.
Neither Liu nor Paladino seem concerned about Avella's continued presence in the race. In a statement emailed to City & State, Paladino said Avella "has no chance to win as an independent candidate." Liu offered a stronger opinion. "We vanquished him the primary and we will obliterate him in the general," he told City & State.