New York State Senate
Does the NY GOP need new leadership?
Losses in last week's elections have Flanagan and Cox's rivals angling.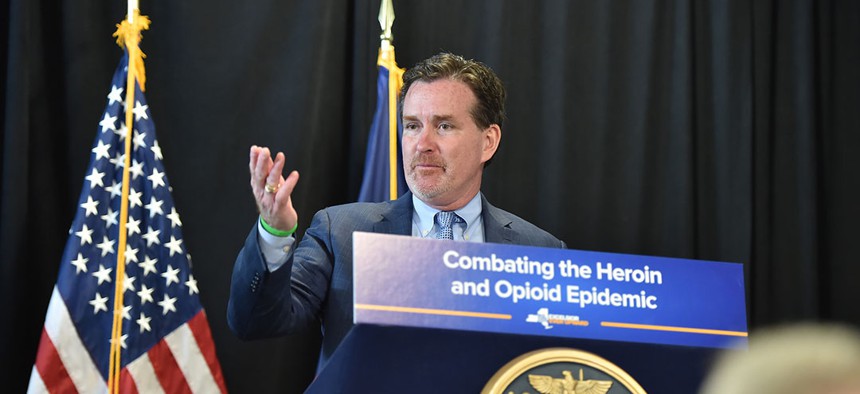 In the aftermath of last week's devastating losses for Republicans in the state Senate, as well as losing three House seats in New York, some in the party have begun calling for a change in leadership in both the state Senate and in the state GOP. The Wall Street Journal reported Sunday the conference is discussing leadership changes after last week's election, while The Buffalo News reported yesterday of mounting calls for new statewide party leadership.
But changing leadership just for the sake of having someone new may not be the best path forward for the party, and laying the blame at the feet of the current leadership for last week's statewide and state Senate failures is not necessarily fair.
Given the party's dire straits in the Empire State, there is broad agreement that some kind of change is likely necessary for the party moving forward – what that would look like, however, has not been decided. David Catalfamo, a Republican consultant, said that there may be room for someone new to take the helm of the now-minority conference in the state Senate outgoing state Senate Majority Leader John Flanagan.
But, before that, Catalfamo thinks the party must first digest the results of the election, figure out what went wrong and consider how to move forward, something it still needs to do. More important than whether it is Flanagan or a challenger, Catalfamo said, is that the Republican state Senate leader should have something new to offer.
As of now, state Sen. Catharine Young appears to be the strongest challenger to Flanagan, with support from outside groups and one fellow member, state Sen. Rich Funke, so far. But Catalfamo said she has so far not articulated what she would do differently. "Is it necessary? Perhaps, maybe even likely," Catalfamo said, of a leadership change. "(But) only by understanding what we did in the past can we understand what to do in the future."
Other insiders think the reasons behind the big losses are obvious and largely attributable to two factors: the unpopularity of Donald Trump in the state and a national blue wave. Republican consultant Bill O'Reilly, who worked on the gubernatorial campaign of Marcus Molinaro, said that trying to blame Flanagan or state Republican Committee Chairman Ed Cox is like "pointing fingers after Hurricane Sandy," and that the losses Republicans suffered had little to do with any particular failure in their leadership. He said that the debate about how to improve is healthy, but talk of personnel change is more of a knee-jerk reaction following major losses.
O'Reilly added that Flanagan has been fairly popular among his fellow Republicans in the state Senate and represented an improvement over former state Sen. Dean Skelos, who left following a conviction on corruption charges. But Flanagan may face some difficulty going forward as a Long Islander, given that the six of the nine seats in the long-time GOP stronghold are now held by Democrats. Upstate Republicans may be more inclined to support a fellow upstater like Young, the reasoning that Funke used when he announced his support for Young.
State Sen. Fred Akshar, who is supporting Flanagan, believes the Flanagan should fill out other leadership positions with people upstate to ensure there is a continued line of communication regarding issues of importance in that part of the state. "For me personally, John has proven himself a good leader – he's a good communicator," Akshar told City & State. "He has the skills to bring people together, especially in tumultuous times."
Akshar's name had been floated as a possible successor to Flanagan, but since he quashed those rumors, he is now considered a top contender to replacing the outgoing state Sen. John DeFrancisco as deputy conference leader. Although Akshar said he has not spoken to Flanagan about the possibility yet, he is open to serving in whatever way would be most beneficial to the conference and his district.
Despite supporting Flanagan, Akshar thinks there is room for a change in the state party led by Cox, saying it is still using an outdated playbook. Others calling for Cox's resignation are New York City Councilman Eric Ulrich, former gubernatorial candidate Carl Paladino and Onondaga County Republican Chairman Thomas Dadey. Potential successors, Erie County Republican Chairman Nick Langworthy, have been floated, though they have made no moves publicly yet.
N.Y.'s GOP needs emergency surgery: Start by getting rid of Chairman Ed Cox https://t.co/4trhRCgpDJ

— Eric Ulrich (@eric_ulrich) November 10, 2018
However, Cox told City & State that he is not concerned by the calls and remains confident that he is guiding the party in the right direction. He said that despite the most recent election results, Republicans put up a very strong slate of candidates that performed well considering constraints in place. He even argued that despite calls for his ousting, among the rank-and-file, the party has never been more united. "We are very well positioned to be a party in opposition," Cox said. "Now that we are a party fully in opposition, we can really stand up on where we think the state should go, and do it really effectively."
When it comes to fundraising, which is a large part of the job of the state chairman, O'Reilly said he could think of few who could do a more effective job than Cox, who has held the post for nearly a decade. O'Reilly added that while there is certainly plenty of room for the party to grow and reinvent itself in order to find success in the future, he sees no reason why that change cannot come about under Flanagan and Cox if they come up with good ideas.
"The party needs to know what it is, and that's kind of the crisis going on state-by-state around the country," O'Reilly said. "What are we now?"
Outside groups have begun to try to exert influence on the state Senate GOP leadership race in support of Young, and the effect of the groups, like the Real Estate Board of New York and the Rent Stabilization Association, could be a wild card. Catalfamo called their involvement "unprecedented" and Akshar said he is "deeply discouraged and disappointed" that outside groups are trying to play a role.
However, the final decisions will ultimately fall into the hands of just a few people. In the state Senate, the remaining 23 lawmakers will vote on who they want to lead the conference at the start of the next session. In the state committee, GOP county leaders will vote on its leadership in 2019. But if there will be some shake ups, former state Senate Republican spokesman John McArdle suggested they be sorted out quickly. "The sooner they deal with this, the better, so they can get re-organized and move forward," McArdle said. "But I don't think there's any clarity as we speak right now."
Powered By
NEXT STORY: Simcha Felder fades into insignificance