Andrew Cuomo
Five takeaways from New York's elections
Democrats sweep, New Yorkers ascending to power in Congress, and women making history.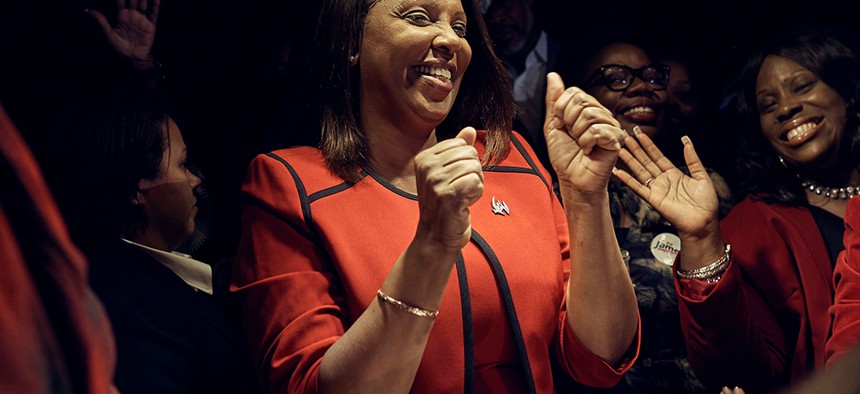 The blue wave came to shore, flipping Republican seats to Democrats across the state. The Democrats are poised to win a solid majority in the state Senate for the first time since 2010, multiple Democratic challengers beat incumbents in the U.S. House and all of New York's statewide positions remained in Democratic hands, led by a resounding re-election victory for Gov. Andrew Cuomo. In Albany and Washington, D.C., New York Democrats will be ascending to new positions of power. Here are five major takeaways from Tuesday's results.
Democratic sweep in Albany
Democrats last controlled the state Senate during the 2009 and 2010 sessions, but it was a period marred by in-fighting, with Albany being thrust into utter confusion for a month during a leadership coup. This time around, Democrats are planning for a cohesive majority under the steady leadership of state Sen. Andrea Stewart-Cousins of Westchester County, who has led the conference since 2012. Her conference will have many new faces, thanks in part to six former members of the Independent Democratic Conference losing in the primaries, and all seem eager to pledge allegiance to Stewart-Cousins.
Some races were yet to be called as of midnight, but Democrats would pick up the one seat they needed for a majority if Andrew Gounardes beats Republican incumbent Marty Golden in southern Brooklyn. (At the time of this writing, Gounardes was in the lead but Golden pledged to fight on.) Democrats nabbed additional seats on Long Island where Democrats Anna Kaplan and Jim Gaughran bested state Sens. Elaine Phillips and Carl Marcellino. They also picked up open seats upstate: Democrats James Skoufis and Jen Metzger replaced retiring Republican state Sens. William Larkin and John Bonacic, respectively.
Cuomo returning to a different Capitol
Gov. Andrew Cuomo easily won a third term as expected, alongside Lt. Gov. Kathy Hochul and state Comptroller Tom DiNapoli. Democrat Letitia James became the first woman to be elected Attorney General, as well as the first woman of color elected to a statewide position in New York. And U.S. Sen. Kirsten Gillibrand easily won re-election, keeping her in the national conversation as a potential presidential candidate in 2020.
But the real story is how Cuomo will govern with a Democratic government. He had a Republican state Senate majority for his first eight years in power, which served Cuomo's moderate tendencies just fine. Now that the Assembly and state Senate are both blue, the sky's the limit for progressive causes such as codifying the right to an abortion in state law, legalizing cannabis and outlawing cash bail. Cuomo may have to serve as a moderating force to the newly energized state Senate majority if he wants to keep his centrist credentials.
Women of color making history
Women of color broke several historic barriers: Attorney General-elect Letitia James became the first woman of color to win statewide office in New York and state Senate Minority Leader Andrea Stewart-Cousins will become the first woman of color – or first woman at all – to be majority leader of a chamber of the state Legislature. Alexandria Ocasio-Cortez, at 29 years old, also became the youngest woman ever elected to Congress, topping her soon-to-be colleague in Congress, North Country Republican Rep. Elise Stefanik, who was first elected when she was 30.
New Yorkers rise in the House
New York Democrats pulled their weight in flipping the House of Representatives to Democratic control, thanks to victories from Max Rose over Rep. Dan Donovan, Antonio Delgado over Rep. John Faso and Anthony Brindisi over Rep. Claudia Tenney.
But the Republicans who lost were all relative newcomers to Congress. The state's longest-tenured members of Congress in both parties won re-election and several on the Democratic side are likely to be appointed chairs of some of the body's most influential committees. Rep. Jerry Nadler is in line to be chairman of the House Judiciary Committee, where he would lead some investigations into President Donald Trump and his appointees, and possible – though unlikely – impeachment proceedings.
Other New Yorkers are in position to get chairmanships, including Rep. Nita Lowey who could lead the powerful Appropriations Committee, Rep. Eliot Engel, who could chair the Committee on Foreign Affairs and Rep. Nydia Velazquez, could take over the Committee on Small Business. Rep. Carolyn Maloney will likely be named chairwoman of the Joint Economic Committee. Though it's a boon for New York Democrats in the House, the state's moment in the spotlight could have been much greater – Rep. Joe Crowley was the fourth-ranking House Democrat, and widely considered a strong candidate for House Speaker if his party won the majority, before he lost his re-election bid to Ocasio-Cortez.
Yes, yes, yes in NYC
All politics is local, and even as New York City residents eagerly awaited the national results, the three ballot measures pushed by New York City Mayor Bill de Blasio's Charter Revision Commission passed by large margins. That means the city will have lower contribution limits for New York City elections, a new civic engagement commission and community board members will be limited to four two-year terms.
The wins are a small victory for de Blasio and the good government groups who backed him, and a slight disappointment for 2021 mayoral hopefuls like New York City Comptroller Scott Stringer and Brooklyn Borough President Eric Adams, who opposed some of the measures. Most criticism of the civic engagement commission centered on the fact that it would be doubling up on the responsibilities of the New York City Board of Elections, such as helping voters who aren't fluent in English. But after city voters faced numerous problems on Election Day like broken ballot scanners and long lines, New Yorkers seemed to be eager for change.
Powered By
NEXT STORY: New York's 2018 statewide general election results