New York State Senate
How state lawmakers could get a salary hike in January
A primer on the state's latest legislative pay commission.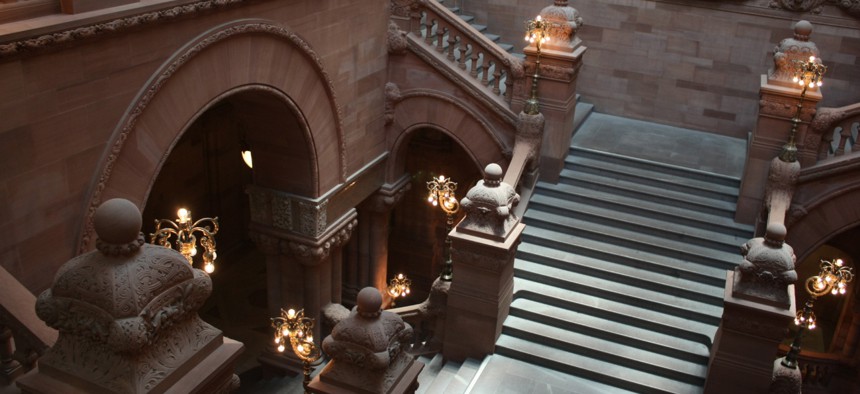 A state compensation commission met for the first time this week to decide whether to make a binding recommendation to give state senators and Assembly members a higher salary.
And in a radio interview on Friday, Gov. Andrew Cuomo argued that any pay hike should be linked to a ban on outside income – although other stakeholders say that's not within the scope of the commission's work.
Here's an explainer on what the commission can and can't do – and answers to other questions that invariably come up when policymakers consider how much in taxpayer dollars to pay to public servants.
Do they need a raise?
Lawmakers most often point to the fact that their base salary of $79,500 hasn't been raised since 1998. The 150 Assembly members and 63 state senators actually make an average north of $91,000 when you include additional leadership stipends known as "lulus," according to Politico New York. Then there's the $175 per diem they get every day they're in Albany, which can add up to as much as $23,000 a year for the more eager travelers. On top of government income, many have other jobs, with 56 of them making more than $15,000.
But as lawmakers made the case to City & State this week, two decades without a raise is arguably unfair, especially in an expensive state like New York. Low salaries may be discouraging some of the state's best and brightest from running. Or they may be encouraging politicians to run for other offices, like the New York Cty Council, which raised its pay to nearly $150,000 in 2016.
Those crooks want more money?
Yes, many stakeholders have brought up state legislators' unsavory history of corruption in response to talk of a pay raise. That includes Gov. Andrew Cuomo, who told WAMC on Friday that legislators should get a pay raise, but it should come with ethics reforms. "I do believe there should be a banning of outside income like the Congress, like the New York City Council," he said. "Because I do believe that is a fundamental conflict of interest."
So ethics reforms could be required?
That's a matter of dispute. The state law creating the pay raise commission says that any salary increase "will be conditioned upon performance of the executive and legislative branch and upon the timely legislative passage of the budget for the preceding year." Cuomo apparently took "performance" to mean that reforms could be required, and so did the Daily News, which wrote an editorial calling for a pay raise only if lawmakers eliminate lulus and ban outside income.
Asked in a Friday radio interview whether he was backing away from his earlier insistence that a pay raise should be linked to a ban on outside income, Cuomo said he had not changed his mind. "I do believe there should be a banning of outside income, like the Congress, like the New York City Council, because I do believe that's a fundamental conflict," Cuomo said, adding that he expects the commissioners to be "responsible" and that he would "support them doing a pay raise with the reforms."
But it's not at all clear that the commission could require the state Legislature to pass laws as a condition of a salary increase. Michael Whyland, a spokesman for Assembly Speaker Carl Heastie, said in an email that linking specific reforms to a pay raise "is not within the commission's purview."
Additionally, a staff member for New York City Comptroller Scott Stringer, who sits on the commission, said that the office's reading of the law is that the commission can make recommendations to increase lulus, but not decrease or eliminate them.
The office of State Comptroller Thomas DiNapoli, who also sits on the commission, declined to comment. The state Attorney General's office – the lawyer for the state – didn't immediately respond to a request for comment.
Wasn't this a problem the last time?
Yes. A separate state legislative pay commission met in 2016, but didn't approve a raise. Heastie and state Senate Majority Leader John Flanagan then released a joint statement saying it was "completely unacceptable" to "demand legislative action in exchange for an increase in compensation."
So what's different this time?
That 2016 commission was heavily influenced by Cuomo, who appointed two of the members. Another two members were appointed by the state's chief judge, who was appointed by Cuomo. This new four-member commission – made up of DiNapoli, Stringer, SUNY Board of Trustees Chairman Carl McCall and CUNY Board of Trustees Chairman Bill Thompson – is meant to be more independent. Notably, DiNapoli, Stringer and McCall all used to be state legislators.
Sounds like good news for the lawmakers.
It does, and everyone is expecting this commission to approve a raise. How much is unclear, but the commission has to submit a binding report by Dec. 10 – which means that the commission's recommendations will go into effect without any action by the state Legislature – and any changes would go into effect on Jan. 1, 2019. Given that timeline, the state Legislature would presumably have to hold a special session to take any action before a hike goes through, including passing any ethics reforms or officially weighing in on the commission's recommendations.