New York State
New York House general election results 2018
How Democrats perform in the Empire State will signal whether the party can take the House.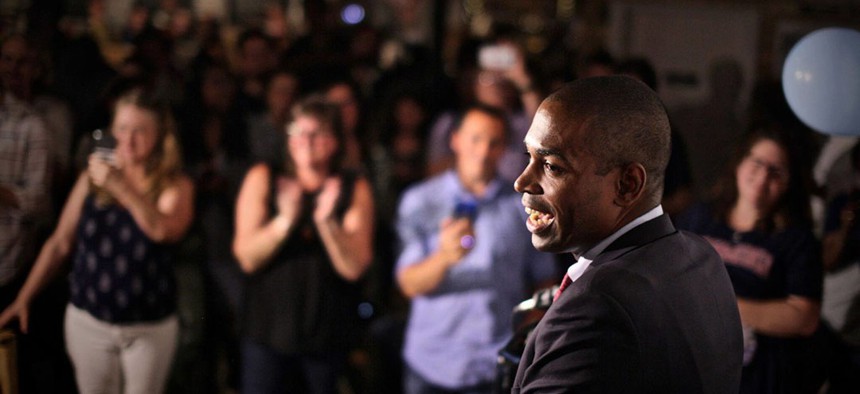 Three Republican congressional incumbents have fallen in New York as part of a "blue wave" that has powered a Democratic takeover of the House.
Democrats prevailed in closely watched races in Staten Island and central New York but fell short of winning an upset in Western New York, where Republican Rep. Chris Collins – who is under federal indictment for alleged insider trading – managed to beat back a challenge from Democrat Nate McMurray by a thin margin. Republicans also held their own in races where they appeared to have the advantage going into Election Day, including seats in the Southern Tier, North Country, central New York and Long Island. It remains to be seen how large the Democratic majority in the House will be, but at least 28 seats have flipped from Republican to Democrat as of early Thursday morning.
Republican losses in New York congressional races show the growing peril of running as either a moderate or die-hard conservative alike in a state that has increasingly become a Democratic stronghold. Rep. Claudia Tenney narrowly lost re-election to a second term against Anthony Brindisi despite her close relationship with President Donald Trump. First-time candidate Max Rose, meanwhile, easily defeated Rep. Dan Donovan, who has a reputation as a moderate despite highlighting his relationship with Trump in his primary versus former Rep. Michael Grimm. Rep. John Faso also lost to Democratic challenger Antonio Delgado in a race where Republicans were accused of stoking racial animus. These three wins add to Democratic victories in the races for governor, attorney general and comptroller, as well as a Democratic takeover of the the state Senate.
Though the U.S. Senate grew its Republican majority, flipping the House is no small matter, with Democratic control likely to bring a significant check on President Donald Trump's ability to pass legislation, control the budget and escape investigative scrutiny. 
Here's a final tally of New York's competitive congressional races.
 
District 11
▉ Dan Donovan (incumbent): 46.3%
▉ Max Rose: 51.9%
With 489 out of 489 election districts reporting.
Democrat Max Rose has defeated incumbent Rep. Dan Donovan in a close race to represent Staten Island and a slice of southern Brooklyn. With about 90 percent of precincts reporting, Rose is leading by about 5 percent. Rose will be the first Democrat to represent the district in nearly 10 years.
Rose, an Army veteran and first-time candidate, has been generating a lot of press and aims to flip New York City's lone Republican House district. Compared to the Faso-Delgado and Tenney-Brindisi races, this one has been less contentious. In Rose's first television ad, he attacked New York City Mayor Bill de Blasio more than his own rival, asserting the mayor has ignored the needs of Staten Island, the entirety of which is in the district.
At one point, CNN forecasted that the race was too close to call, suggesting the race is closer than other forecasters expected it to be. However, that forecast has since changed, predicting Donovan to be the winner, albeit by only a 3-point margin.
Rose has a slew of endorsements from national figures, including former Vice President Joe Biden, and he's part of the Democratic Congressional Campaign Committee's Red to Blue list, which offers national support and money to Democrats across the country to flip key seats.
District 19
▉ John Faso (incumbent): 46.4%
▉ Antonio Delgado: 49.3%
With 619 out of 619 election districts reporting.
Democrat Antonio Delgado has defeated incumbent Rep. John Faso in a big Democratic win in central New York. 
The race was contentious to say the least, with polling in the final weeks showing the race to be a dead heat. Faso had taken aim at Delgado over his past as a rapper, calling his lyrics "offensive." The conservative Congressional Leadership Fund also released multiple ads that included snippets of Delgado's raps and questioned his American values. At least one Faso supporter said that the rural parts of the district Delgado wants to represent don't identify with that "part of American culture," although Faso's focus on the issue has resulted in accusations of race-baiting.
Delgado, however, won in the end with the help of the DCCC, which had targeted the race as part of its Red to Blue list.
District 22
▉ Claudia Tenney (incumbent): 48.9%
▉ Anthony Brindisi: 49.5%
With 565 out of 565 election districts reporting.
With all precincts reporting, Democratic Assemblyman Anthony Brindisi has apparently narrowly defeated Rep. Claudia Tenney in her central New York district. However, the difference is within a percentage point, and Tenney has not conceded, announcing that there "might" be a recount.
Tenney has leaned on her relationship with Trump more than any other endangered New York congressional incumbent in her bid to fend off a strong challenge from Brindisi. Donald Trump Jr. made an appearance on her behalf just before the election, and she has also had NRA President Oliver North, Ivanka Trump, Eric Trump and the president himself make appearances during the campaign. Her loss however, showed that Trump may not be as popular as he thought he was in rural upstate New York, which he won with 55 percent of the vote in 2016.
Brindisi had distanced himself from the national Democratic Party and has said that he would not support Rep. Nancy Pelosi for House speaker. Despite this, the DCCC supported Brindisi as one of its Red to Blue candidates. He held a slight lead in polls leading up to the election, but Tenney had a one-point edge in a poll released the day before the election. 
In the end, the moderate Democrat managed to win by running a centrist campaign focused on local issues.
District 27
▉ Chris Collins (incumbent): 48.2%
▉ Nate McMurray: 47.1%
With 580 out of 581 election districts reporting.
Rep. Chris Collins appears to have narrowly won re-election in a Western New York district that only became competitive after his indictment earlier this year on federal charges of insider trading. The development gave Grand Island Town Supervisor Nate McMurray an opportunity in a district that went for Trump in 2016 by a large margin. 
Collins initially suspended his campaign and Republican leaders in his district began discussing how to get him off the ballot. McMurray's chances, while still slim, got better little by little as Republicans scrambled to figure out how to put a replacement on the ballot. The race truly became competitive once Collins made the surprising decision to not only remain on the ballot, but to actively campaign, despite the indictment. If he gets convicted while in office, however, he would be forced to resign. This revelation further shook up the race and put the odds more in McMurray's favor. However, Collins managed to pull off a victory, much like former Rep. Michael Grimm did when he won re-election under similar circumstances in 2014. McMurray demanded a recount early Wednesday morning.
District 1
▉ Lee Zeldin (incumbent): 52.5%
▉ Perry Gershon: 45%
With 473 out of 473 election districts reporting.
Republican Rep. Lee Zeldin has won re-election in a race that showed that the "blue wave" fell short in Long Island.
Suffolk County is still solidly Trump country, and Zeldin, one of the president's earliest and most ardent establishment backers, had touted that support as one of the key pillars of his campaign. Zeldin has voted in line with Trump nearly 87 percent of the time, with the notable exception of the federal tax cuts, which will negatively affect many of his constituents thanks to the cap on state and local tax deductions.The race appeared competitive enough as it drew to a close that the DCCC upgraded it from its second tier of targeted races to its top tier, making Gershon the fifth New Yorker added to its Red to Blue list.
District 2
▉ Pete King (incumbent): 52.3%
▉ Liuba Grechen Shirley: 45.8%
With 524 out of 524 election districts reporting.
Incumbent Republican Rep. Pete King won re-election in a race that until recently had been considered safely Republican by national forecasters. 
The 13-term incumbent has cultivated an independent image over the years by publicly criticizing members of his own party and occasionally diverging from the party line. He criticized fellow House Republicans when they failed to act on a support bill for New York in the aftermath of Superstorm Sandy and voted against last year's federal tax cuts, which are expected to negatively affect the state. But the Democrats' strength grew in the age of Trump, providing an opening for Liuba Grechen Shirley, who made national headlines before she won her primary when she successfully advocated to use campaign funds for child care to help stay-at-home parents run for office. She attacked King for voting to repeal the Affordable Care Act and ran an outsider campaign, one that had been compared to the successful campaign of Alexandria Ocasio-Cortez, but it was not enough in the end to topple King.
District 21
▉ Elise Stefanik (incumbent): 55.9%
▉ Tedra Cobb: 41.2%
With 551 out of 556 election districts reporting.
Incumbent Rep. Elise Stefanik won by a double-digit margin in a race that had appeared to be competitive in the final month of the campaign. In October, the Cook Political Report moved the district from "Safe Republican" to "Likely Republican," noting Tedra Cobb's impressive third-quarter fundraising and the fact that Stefanik appeared to be taking the challenge seriously. But it was not enough in the end to help Cobb pull off the upset.
District 23
▉ Tom Reed (incumbent): 53.8%
▉ Tracy Mitrano: 44%
With 566 out of 566 election districts reporting.
Incumbent Rep. Tom Reed won re-election by single digits in a Southern Tier district that he won by double digits two years ago. Democrat Tracy Mitrano had presented herself as a moderate and ran a surprisingly competitive race against Reed, who faced criticism over a debt collection company he founded. However, the district went strongly for Trump in 2016 and Reed has touted his efforts to work with Democrats as the chairman of the bipartisan Problem Solvers Caucus.
District 24
▉ John Katko (incumbent): 52.2%
▉ Dana Balter: 46.1%
With 613 out of 613 election districts reporting.
Republican incumbent John Katko won re-election in a district that went for Hillary Clinton by a thin margin in 2016. Challenger Dana Balter had run as a progressive in a notable contrast to other Democrats in upstate New York who had distanced themselves from the left wing of their party. Although the DCCC originally supported Balter's primary opponent, Juanita Perez Williams, it threw its backing behind Balter when she won, adding her to its Red to Blue list. Though the district has a slight Democratic voter registration advantage, it was not enough to defeat Katko who has cultivated a reputation as a moderate during his first two terms in the House.
District 18
▉ Sean Patrick Maloney (incumbent): 53%
▉ James O'Donnell: 43.2%
With 618 out of 618 election districts reporting.
Rep. Sean Patrick has won re-election in what had been Republicans' sole pick-up opportunity in New York. Maloney represents a swing district that voted for Trump in 2016, but he has cultivated a reputation as a moderate. His decision to run for state attorney general after Eric Schneiderman resigned raised questions about his congressional bid, which he never suspended. While he ultimately lost the attorney general primary, it did not seem to be too much of a drag on his campaign against Republican James O'Donnell.
Non-competitive races
Democratic Rep. Tom Suozzi won in District 3. Democratic Rep. Kathleen Rice won in District 4. Democratic Rep. Gregory Meeks won unopposed in District 5. Democratic Rep. Grace Meng won in District 6. Democratic Rep. Nydia Velázquez won in District 7. Democratic Rep. Hakeem Jeffries won in District 8. Democratic Rep. Yvette Clarke won in District 9. Democratic Rep. Jerrold Nadler won in District 10. Democratic Rep. Carolyn Maloney won in District 12. Democratic Rep. Adriano Espaillat won in District 13. Democrat Alexandria Ocasio-Cortez won in District 14. Democratic Rep. José E. Serrano won in District 15. Democratic Rep. Eliot Engel won unopposed in District 16. Democratic Rep. Nita Lowey won in District 17. Democratic Rep. Paul Tonko won in District 20. Democrat Joseph Morelle won in District 25. Democratic Rep. Brian Higgins won in District 26.
Powered By
NEXT STORY: Reports of broken scanners, long lines on Election Day