New York City
NYC Charter Revision Commission: The three ballot questions explained
New York City Mayor's Charter Revision Commission seeks to reform campaign finance, boost civic participation and set term limits for community board members through three ballot proposals.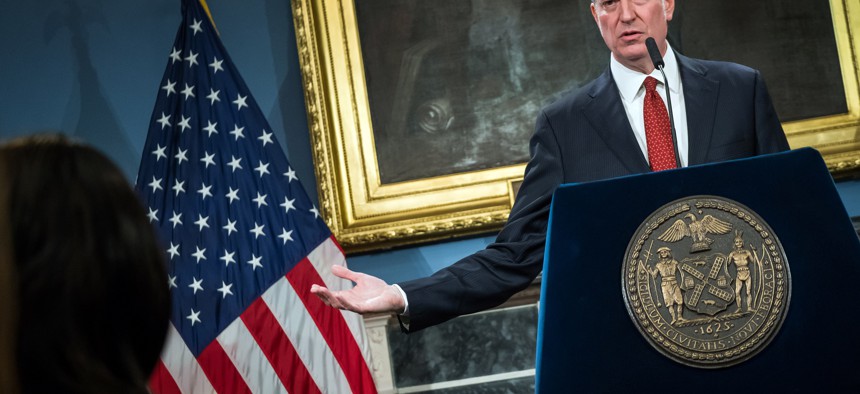 When New York City voters head to the polls on Tuesday, they'll have an opportunity to substantially revise the city's charter for the first time in nearly 30 years. On the back of each ballot are three initiatives announced last month by Mayor Bill de Blasio's charter revision commission. Question 1 would aim to reduce the influence of money in politics, question 2 is intended to increase civic participation and question 3 would set term limits for community boards members, in an effort to make the boards more reflective of the communities they serve.
The measures from de Blasio's commission – not to be confused with the New York City Council's charter revision commission, which will draft questions for the 2019 ballot – have drawn overwhelming approval from the city's Democratic lawmakers, such as City Council Speaker Corey Johnson, with a few exceptions. Manhattan Borough President Gale Brewer opposes questions 2 and 3, as do Bronx Borough President Ruben Diaz Jr., Queens Borough President Melinda Katz and New York City Comptroller Scott Stringer. Not coincidentally, this is essentially the list of likely mayoral aspirants, along with Brooklyn Borough President Eric Adams, who supports questions 2 and 3 but opposes question 1. Staten Island Borough President James Oddo, a Republican, is also against questions 2 and 3.
If adopted, the measures would take effect on April 1, 2019. Here's exactly what each initiative would do and what the major arguments for and against each one are:
 
Question 1
This amendment would lower campaign contribution limits from $5,100 to $2,000 for mayor, comptroller and public advocate, from $3,950 to $1,500 for city council members. The limits would be slightly higher for candidates who do not participate in the city's public financing program. It would also increase public matching funds for small contributions from six to eight times the donated amount.
Pros: Supporters say the measure would strengthen the electoral process and diversify the pool of candidates, reducing the influence of money in politics.
Cons: Some critics, such as Adams, oppose it from the left, arguing it doesn't go far enough: they want full public financing of all campaigns. Others, such as Oddo, oppose it from the right, arguing that campaign contributions should not be more strictly limited. 
Question 2
This amendment would establish a Civic Engagement Commission tasked with enhancing language access at polling sites, including providing language interpreters to assist voters with limited English proficiency, promoting awareness of city services and increasing civic engagement. The commission is also expected to implement a citywide participatory budgeting program, a mechanism designed to give residents more say in how council funds are used. The commission also would provide experts to help community boards address complex land-use issues
Pros: Supporters, noting the city's low voter turnout and the Board of Elections remarkable incompetence, argue that the measure would boost civic participation and bring more people to the polls. 
Cons: Critics see it as one more layer of bureaucracy and a "power grab" by de Blasio.
Question 3
Community board members are currently permitted to serve for an unlimited number of two-year terms without limit. This amendment would create term limits for board members appointed after April 1, 2019, limiting them to four consecutive two-year terms. However, it would not prevent board members who served four consecutive terms from being reappointed after one term out of office. 
Pros: Supporters argue that this measure would add diversity to the community boards, which tend to skew old and white, making them more reflective of the communities they represent. 
Cons: Critics say the measure would weaken community boards, many of which rely on the experience of longtime members. At the same time, it would create an opportunity for lobbyists and stakeholders with real estate interests to gain a foothold in community discussions. (Supporters counter that, if Question 2 passes, community boards would have access to experts who could help them navigate complex land use issues.)