Antonio Delgado
Riding congressional coattails to the state Senate
Candidates on both side of the aisle could benefit from surges in voter turnout inspired by congressional races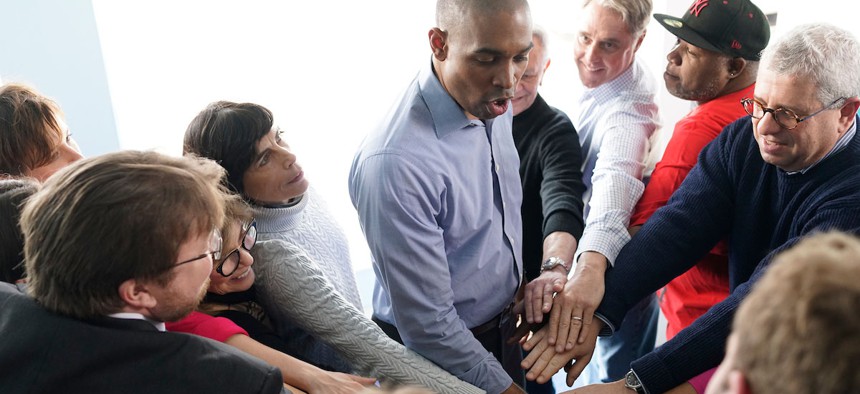 New York's competitive congressional races could affect down-ballot state Senate races. But given how close many of the congressional races are, it remains difficult to tell who will benefit from surges in voting spurred by the excitement of tight races and the intensely polarized, passionate politics of the Trump era.
Historic Democratic voter turnout in the September primaries and other signs of progressive enthusiasm, such as strong candidate recruitment and fundraising, give Democrats reason to believe their side will come out to fight President Donald Trump in Congress – and vote the party line while they're in the voting booth. And as the Daily News' Kenneth Lovett noted Monday, "Insiders on both sides agree that a high turnout favors Gov. Cuomo and the Democrats. A low turnout could help Republicans."
But it may not be so simple: close races can boost turnout on both sides, Republican enthusiasm has increased since the confirmation of Supreme Court Justice Brett Kavanaugh and President Trump's efforts to rally support for his party. In general, Republicans historically turn out in larger number than Democrats in off-year elections.
Siena College pollster Steve Greenberg said there is strong evidence to suggest that there will be higher turnout than in an average midterm election. But, until the returns come in on election night, it is very difficult to predict who those additional voters are. "Is it young, enthused Democrats who are upset with the President?" Greenberg wondered. "Or is it Republicans who think things are going well and they're afraid of the Democrats impeaching Trump and they are energized to come out. Or is it both?"
In the case of the 19th Congressional District, where Democrat Antonio Delgado is challenging Rep. John Faso in one of the most closely watched races in the nation, Greenberg said a win of four points or greater in either direction would likely help the state Senate candidates who are members of the winning party in districts that overlap with the congressional district. "It is a coattail effect in the sense that, let's say Faso turns out more Republicans to outnumber Democrats," Greenberg said. "Presumably, turning out those Faso voters will have helped whoever the state Senate or Assembly Republican candidates are because more Faso-like voters showed up." The same would be true in a reverse scenario where Delgado wins with a four point or more margin.
There are eight total state Senate seats at least partially within NY-19 that the congressional race could affect, including the seats vacated by the retiring Republican state Sens. John Bonacic and Kathleen Marchione, as well as competitive challenges to Republican state Sens. Sue Serino and George Amedore. Democrats Jen Metzger and Aaron Gladd are competing for the empty seats against Republicans Anne Rabbitt and Daphne Jordan. Karen Smythe is challenging Serino, while Pat Strong is taking on Amedore.
Greenberg also said that in swing districts such as NY-19, elections often come down to the independent voters rather than partisan ones. He said that these are the type of voters who do not necessarily vote a straight party ticket. If the congressional race is determined by a large turnout of non-affiliated voters, rather than energized Republicans or Democrats, there may be less of a coattail effect for candidates in competitive state Senate races to ride.
However, Grant Reeher, a political science professor at Syracuse University, offered a slightly different assessment for the effects another congressional race could have on a contested state Senate race. He said that the race between John Mannion and Bob Antonacci, competing for the Central New York seat vacated by Republican state Sen. John De Francisco, may come down to how well Democrat Dana Balter performs against Rep. John Katko in the 24th Congressional District. Reeher said that Balter – who is expected to lose, potentially by a double-digit margin – does not need to win in order to have a positive effect for Mannion, the Democrat in the state Senate race. "Let's say Dana Balter loses, but she loses by four points, then something has shifted dramatically in the area, and that could be enough to help Mannion down ballot," Reeher said.
On Long Island, where there are several competitive state Senate races and the congressional seats are seen as less likely opportunities for Democratic pickups, Hofstra University's Dean of Suburban Studies Larry Levy observed that irregular voters who come out specifically because they're inspired to vote in the congressional race may not even cast a ballot for the state legislative seats. "If for some reason, a lot of Democrats are motivated to come out for Congress, there's a good chance that they're just going to vote in that race," Levy said. He argued that voters' feelings about Trump on Election Day will have the most influence on how they vote, more than energy for a particular congressional candidate.
So while a coattails effect is possible, it will be impossible to tell just what that might look like until the votes are counted on Nov. 6.
Powered By
NEXT STORY: Five things to watch for on Election Day