New York State
Seven state Assembly contests to watch
The lower chamber isn't up for grabs, but it features plenty of compelling races.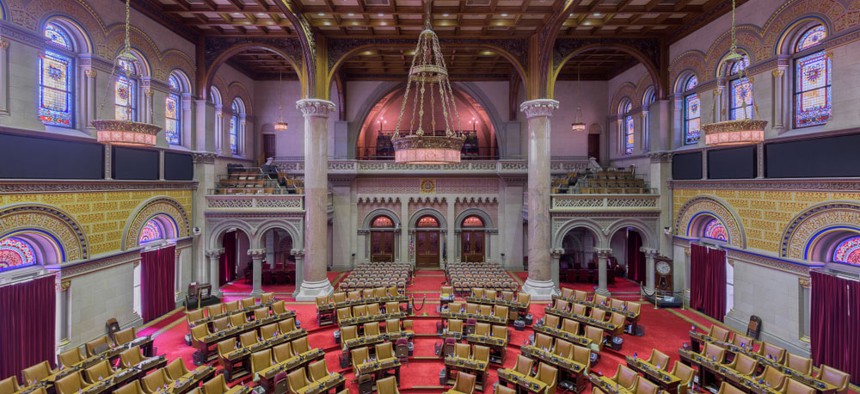 In this week's state legislative elections, all eyes are on the the state Senate, where Republicans are at risk of losing control of the chamber. There's less at stake in the state Assembly, where Democrats have an insurmountable majority – but there still are a number of races that are worth watching.
Here's a list of some of the most interesting races, which feature competitive districts, third party lines and longtime incumbents will be challenged by political rookies.
District 3
Democratic candidate: Clyde Parker
Republican candidate: Joseph DeStefano
Instead of running for re-election, Republican Assemblyman Dean Murray is running for the seat being vacated by state Sen. Thomas Croci, a fellow Republican, in the 3rd Senate District. With the district having nearly the same number of Democratic and Republican voters enrolled, it's uncertain which Democrat Clyde Parker or Republican Joseph DeStefano will prevail, although DeStefano also has the Conservative, Independence and Reform party lines.
District 10
Democratic candidate: Steve Stern
Republican candidate: Jeremy Williams
In a special election in April, Steve Stern, a former Suffolk County legislator, defeated his Republican rival and flipped this historically red seat to blue – by an impressive 59 percent to 41 percent margin. The GOP had held the seat for decades until Republican Chad Lupinacci resigned to become the supervisor of Huntington last year. This time around, Republicans are running first-time candidate Jeremy Williams.
District 20
Republican candidate: Melissa Miller
Democratic candidate: Juan Vides
Juan Vides is taking on freshman Republican Assemblywoman Melissa Miller, and it could be a competitive race since Miller won her seat by only 5 points in 2016. Bronx Assemblyman Marcos Crespo recently told City & State that Vides is a strong candidate whose victory would signify political empowerment for the Latino community.
District 66
Democratic candidate: Deborah Glick
Working Families candidate: Cynthia Nixon
Cynthia Nixon of "Sex and the City" fame lost the Democratic primary for governor, and to free up the Working Families Party ballot line for Gov. Andrew Cuomo she was added to the ballot for this Assembly seat. Assemblywoman Deborah Glick has represented the 66th Assembly district since 1990, and Nixon has made it clear she's not actually seeking the seat, but her name recognition could still net her a number of votes.
District 101
Republican candidate: Brian Miller
Democratic candidate: Chad McEvoy
The 101st Assembly District has a Republican voter enrollment advantage, but Democratic challenger Chad McEvoy has declared that if he beats Assemblyman Brian Miller, he will redraw it to have fairer representation of political parties. "The 101st is a monstrosity of gerrymandering that disenfranchises voters and weakens representative democracy in upstate New York," McEvoy wrote in an op-ed for The New York Times.
District 133
Democratic candidate: Barbara A. Baer
Republican candidate: Marjorie Byrnes
Independence and Reform candidate: Joseph Errigo
In October, Assemblyman Joseph Errigo was charged with accepting a bribe of at least $5,500. He's still in the running for the 133rd Assembly district seat, but on the third party line since he lost the Republican nomination to Marjorie Byrnes Byrnes in the primary. The three-way race could also create an opening for Democrat Barbara Baer in this Republican-majority district.
District 142
Democratic candidate: Patrick Burke
Republican candidate: Erik Bohen
Assemblyman Erik Bohen won a special election in April on the Republican line, but he is a Democrat. Now that he's in Albany, Bohen's fellow Assembly members have questioned his loyalty and been reluctant to include him in the conference. He'll face a rematch against Patrick Burke, the Democratic nominee who also has the Working Families and Reform party lines. 
Powered By
NEXT STORY: Why Liuba can't lose