Somos conference sponsor also gave $2.5m to pro-Trump PAC
PhRMA is a major donor in Albany and Washington.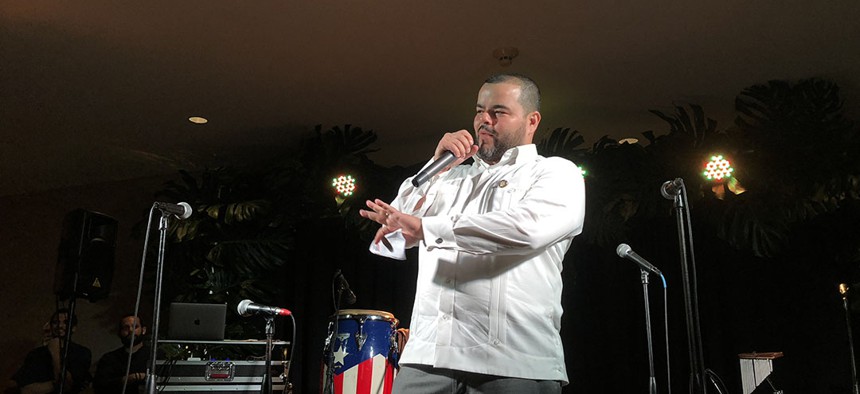 A pharmaceutical lobbying group that was one of the top sponsors of the Somos conference in Puerto Rico – a gathering of some of New York's most prominent elected officials – gave $2.5 million last year to a pro-Trump political action committee.
Pharmaceutical Research and Manufacturers of America, or PhRMA, supported America First Policies Inc., where Trump's former deputy chief of staff Katie Walsh serves as a senior advisor. The PAC adopted President Donald Trump's signature nativist phrase for its name and its listed priorities align with the president's, including "ending job-killing regulations," "repeal and replace Obamacare" and "holding China accountable." An ad on America First Policies' homepage praises Trump before telling viewers to call your Congressman and tell them to "build the wall now." 
The donation was first reported by online political publication Capital & Main, with documents obtained by Maplight, a nonprofit tracking money in politics.
PhRMA's major financial support for Trump's policies clash with the politics of the attendees at the Somos conference – almost all of them Democrats vocally opposed to Trump. The annual conference was just held from Nov. 7-11 in Puerto Rico. It's focused on building Latino political power in New York, and dozens of elected officials – Latino and non-Latino alike – attended the conference, including Assembly Speaker Carl Heastie, state Sen. Andrea Stewart-Cousins, who is expected to be the next majority leader, and Rep. Nydia Velázquez. The conference is organized by Somos Inc., a nonprofit organization aligned with the Puerto Rican/Hispanic Task Force, a group of Assembly members and state Senators. 
Somos, Inc. did not immediately respond to a request for comment about conference funding. Neither did Assemblyman Marcos Crespo, who serves as the conference's unofficial host in his role as chairman of the task force.
Sponsors pay Somos Inc. for the opportunity to attend the conference and get their name, agenda and employees in front of the lawmakers and staffers who attend the conference. PhRMA really seized the opportunity. Of the more than 50 conference sponsors in its official program, PhRMA was one of just four top sponsors at the "presenting level," along with T Mobile, Uber and the Montefiore Health System. PhRMA was the presenting sponsor of a Friday morning conference breakfast, and the pharmaceutical group used the conference to announce a new mobile health screening program along with Crespo. It's not clear how much PhRMA paid to Somos, since records weren't made available and PhRMA did not immediately respond to a request for comment.
Despite PhRMA's support for pro-Trump policies, it's no stranger to the Democrat-dominated New York political scene. The group paid seven government affairs firms more than $500,000 total to lobby state government in the first six months of 2018, according to reports from the Joint Commission on Public Ethics. PhRMA listed interest in more than 100 bills in its latest lobbying disclosure, including bills dealing with Medicaid funding, medical use of cannabis, and insurance law.
PhRMA has also been a major campaign donor to New York politicians of both parties. Republican Reps. Chris Collins and Elise Stefanik each got $2,000 this cycle from PhRMA's political action committee. Democratic Rep. Jerry Nadler got $1,500 and Rep. Yvette Clarke got $1,000. PhRMA donated $45,000 to the Democratic Assembly Campaign Committee in February, and $5,000 last November to the North Bronx Democratic Club, a political club aligned with state Sen. Jeff Klein, the former leader of the Independent Democratic Conference. 
The Somos conference has many sponsors, ranging from retail companies like Walmart and Juul to labor unions like the Uniformed Firefighters Association and 1199SEIU. But conference leaders have previously shown discretion when a sponsor's politics became too controversial. Somos rescinded Charter Communications' sponsorship of the conference this year because of an ongoing labor dispute with some of the cable company's unionized workers.
Update: Somos executive director Jose Paulino provided a statement to City & State after this story was published:
"SOMOS is very proud of its decades of service and the work it has accomplished. In 2017, over 30% of our revenue was dedicated to charitable causes. At our last conference, our presence allowed our registered participants to contribute to the redevelopment of Puerto Rico through 20 efforts organized during our Day of Service. SOMOS has served as platform for discourse that is critical in focusing attention on the Latino agenda across NYS and beyond."