New York State
What are New York politicians REALLY thankful for?
This Thanksgiving, reflect on the political gifts given in the past year.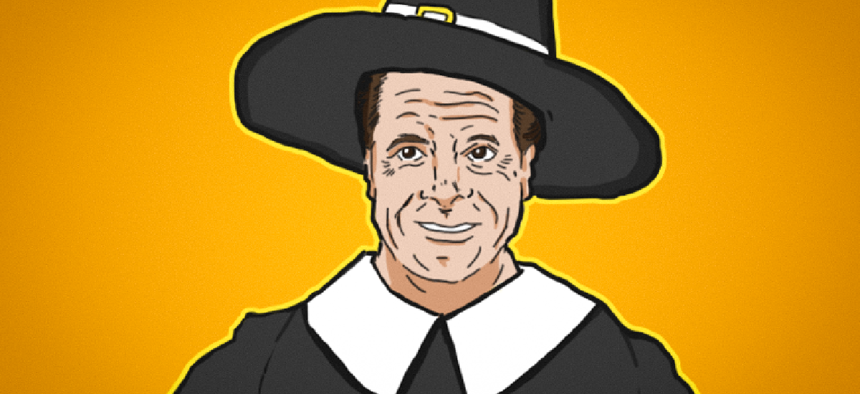 After the Election Day rush and a working *wink* vacation in Puerto Rico, New York politicians can take a break and think about what they're thankful for this holiday season. We have some suggestions, in case they're too busy kneeling at Jeff Bezos' feet.
Amazon CEO Jeff Bezos: thankful for ANDREW CUOMO
What do you give the man who has everything? Tax breaks. So Jeff Bezos must be beaming over the $3 billion package that New York cobbled together to bring half of the tech giant's second headquarters to Cuomo's home borough.
Brooklyn Borough President Eric Adams, Bronx Borough President Ruben Diaz Jr., New York City Comptroller Scott Stringer: thankful for TISH JAMES
Letitia James' state attorney general victory presumably takes her out of the New York City mayor's race for 2021, and the top three candidates for Gracie Mansion all must think her victory is a boost to their campaigns. Who actually benefits? Ask us again in three years.
Rep.-elect Alexandria Ocasio-Cortez: thankful for VIRGINIA REAL ESTATE
Amazon isn't the only one with a second home in Virginia. And could the soon-to-be Queens congresswoman have pulled off the upset of the decade if her opponent, Rep. Joe Crowley, was knocking on doors in the district instead of spending time in Arlington?
Rep. Hakeem Jeffries: thankful for ALEXANDRIA OCASIO-CORTEZ
Not that the Brooklyn rising star would ever say it, but Alexandria Ocasio-Cortez's stunning upset of Crowley also opens up the position of House Democratic Caucus chair – and now Jeffries is a front-runner for the job, which is the No. 4 position in the conference.
Reps.-elect Antonio Delgado, Max Rose and Anthony Brindisi: thankful for NANCY PELOSI
She's not just a boogeyman for the Republican Party. She also was a convenient foil for fellow Democrats seeking to flip House seats – including this trio of moderates who have refused to support her return to the speaker's office.
Rep. Chris Collins: thankful for TRIAL DELAYS
Right to a speedy trial? No thanks for the recently re-elected Republican member of Congress. His insider trading trial isn't scheduled until February 2020, and with some luck and inevitable delays, he may be able to serve his entire two-year term before appearing in court.
State Senate Democratic Leader Andrea Stewart-Cousins: thankful for DONALD TRUMP
Democrats have been blocked from the state Senate majority for years by the thinnest of margins – and by state Sen. Simcha Felder and those IDC turncoats. What finally turned the tables to give them a huge majority? Voters fired up by the widely despised president.
State Sen. Phil Boyle: thankful for LOU D'AMARO'S POLICE RECORD
Political smear or a lack of character? Whatever it was, a 1997 police report alleging Democratic challenger Lou D'Amaro threatened an ex with "bodily harm" likely helped state Sen. Phil Boyle be one of only three GOP Long Island senators who kept their seats.
Chirlane McCray: thankful for FAMILY
We know son Dante played a big role in getting New York City Mayor Bill de Blasio elected, but Chirlane McCray is flying high in her husband's second term, traveling from sea to shining sea on the taxpayer dime to promote her mental health support program.