New York City
Alicia Glen's tenure by the numbers
New York City Deputy Mayor Alicia Glen leaves a mixed legacy. Here are the ups and downs.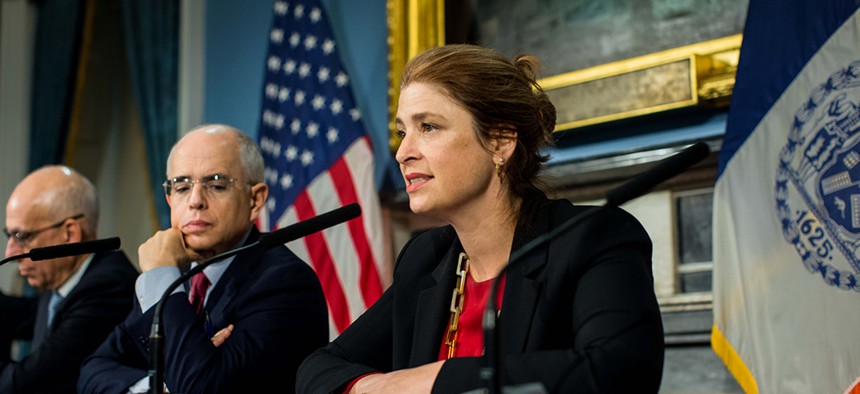 New York City Deputy Mayor Alicia Glen will be departing the de Blasio administration in the coming months, City Hall confirmed on Wednesday, leaving a mixed legacy after overseeing housing and economic development in the city in the midst of a once-in-a-lifetime economic boom. Glen is an alum of the investment bank Goldman Sachs, so it's only right to judge her by the cold, hard numbers that defined her term.
5
Years with de Blasio
Appointed as deputy mayor before New York City Mayor Bill de Blasio took office in Jan. 2014, Glen has had a notably long tenure in a high-pressure position known for turnover.
109,772
Affordable housing units built or preserved
That's on track for the de Blasio administration's goal of 300,000 units by 2026. Long taunted by critics who asked "affordable for who?" City Hall and Glen as housing czar budgeted more towards subsidizing housing for the lowest income New Yorkers.
63,559
New Yorkers in homeless shelters
That nightly shelter population is the city's highest since the Great Depression, and is up 10,000 from when Glen started in Jan. 2014. Perhaps all that affordable housing development hasn't been enough to keep up with growing demand.
25,000
Amazon jobs coming to Queens
The tech giant promised at least that many jobs at its new offices in Long Island City, and Glen was City Hall's point person on closing the deal.
$1.3 billion
In city subsidies
But Glen and the de Blasio administration have gotten heat for the deal, in part for the tax incentives given to the corporation. Unlike the state incentives, however, the city money is as-of-right, meaning no special deal was negotiated.
323,098
NYCHA residents in the cold
The city's public housing hasn't seemed to get any better under Glen's watch. Last winter, the New York City Housing Authority said more than 320,000 residents had been without heat at some point from Oct. 1 till Jan. 22.
80,643
Citi Bike rides
That's the total rides on a single day, June 26, 2018. And none of them may have happened if Glen hadn't championed the bike share system at Goldman Sachs and decided to invest in it before she joined City Hall.
51
Council members mad at her
That's the entirety of the New York City Council, many of whom were vocally peeved after Glen called them "not that smart" in a 2017 legal deposition.
$60
Spanx
That's the rough cost of a pair of the slimming undergarments, which Glen memorably praised twice in a 2016 interview with New York Magazine.
New York City Case Studies
Powered By
NEXT STORY: City & State's best interviews of 2018