Queens
Blue light in Queens, government shutdown, and presidential bone spurs
Rounding up the week's political news.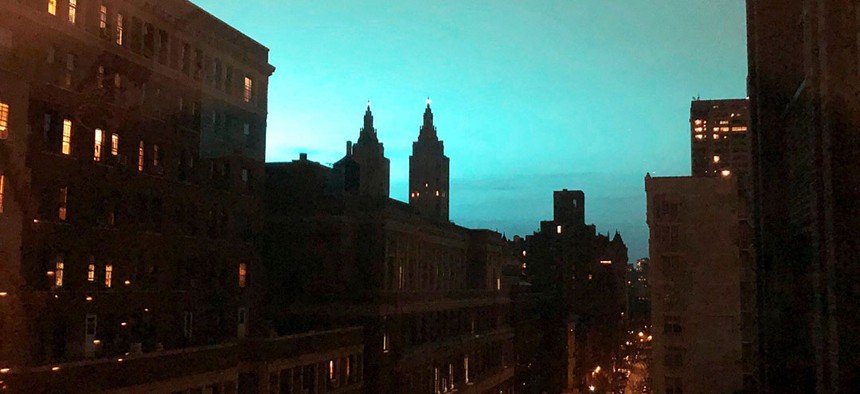 Forget Gatsby's green light across the Long Island Sound, New York City now has a blue light across the East River. When a transformer exploded at a Con Edison substation in Astoria on Thursday, the city sky lit up neon blue. Officials at Con Ed said this was caused by an "electrical arc," or a visible discharge of plasma. Confused onlookers quickly took to Twitter, sharing images and theories involving aliens and ghosts. The New York Police Department even assured worried New Yorkers that was "no evidence of extraterrestrial activity." What a way to end the year.
No wall, no government
A partial government shutdown started last Saturday at midnight after Congress failed to pass a spending bill to keep operations going. At issue was funding for President Trump's wall along the southern border – Democrats refused to pass a bill with wall funding and Trump refused to sign a bill without it. The shutdown will now drag on into the 2019, when Democrats will gain control of the House of Representatives. Despite the shutdown, Gov. Andrew Cuomo kept the Statue of Liberty and Ellis Island open for thousands of tourists, paying for operations through state funds.
Bloomberg spending big
Former New York City Mayor Michael Bloomberg is planning to make a final decision about his presidential ambitions early next year. And if he does jump into the race, he is ready to spend plenty of his own cash to help him win – at least $100 million, which is how much a top aide said he spent when he ran for mayor of New York. In an interview set to air Sunday on NBC, Bloomberg also said that he plans to push other potential presidential candidates to come up with plans to address climate change.
Presidential bone spurs
New reporting from The New York Times offers a possible explanation about the documentation of bone spurs that exempted Trump from military service in Vietnam. The veracity of the diagnosis and exemption has long been questioned. At the time, a podiatrist named Dr. Larry Braunstein rented an office from Trump's father, Fred Trump. Although Braunstein died in 2007, his daughters told the Times that their father told them of how he diagnosed the younger Trump with bone spurs in the heel as a favor to the senior Trump. However, any medical documentation of the bone spurs no longer exists.
Powered By
NEXT STORY: Top kickers of 2018