Congress
Committee assignment gives Ocasio-Cortez a platform for her agenda
Alexandria Ocasio-Cortez's seat on the House Financial Services Committee is a perch from which to fight Wall Street.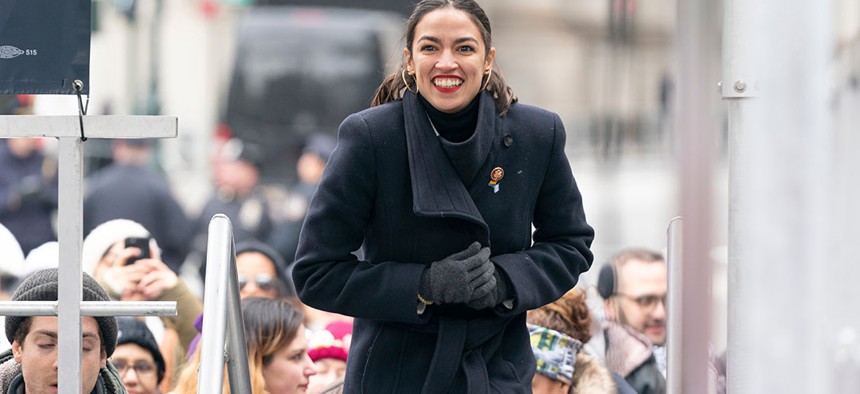 In 2009, when Rep. Barney Frank, who then chaired the House Financial Services Committee, helped shepherd the Wall Street Reform and Consumer Protection Act – also known as Dodd-Frank – through Congress, the second-largest congressional committee was at its most powerful. Rep. Maxine Waters from California now holds the gavel on this panel, and, with a coterie of freshman progressives on hand, she wants to fortify Dodd-Frank, which has been defanged by the Trump administration in the past year, reign in big banks and reset the balance of power between the financial industry and consumers.
While Waters, a member of the committee for 20 years, is prevented by the Republican-controlled Senate from enacting banking industry regulation, her platform is buoyed by a new and vocal addition to her committee: freshman Rep. Alexandria Ocasio-Cortez.
Ocasio-Cortez, who represents parts of the Bronx and Queens, won't be able to pass any of her self-described socialist agenda in this Congress, but a partnership with Waters presents an opportunity for the ambitious newcomer to leverage the financial committee's bully pulpit to browbeat Wall Street. And with plans that include digging into predatory lending and exploring options for public banking, Ocasio-Cortez has placed a number of national priorities on her agenda that fall within the committee's scope.
There are also opportunities to advocate for her constituents specifically. Last December, New York City Mayor Bill de Blasio announced a new plan for reforming and upgrading the embattled New York City Housing Authority, months after the settlement of a lawsuit with the U.S. Department of Justice that hinted at a possible federal takeover. A federal monitor, like the Housing and Urban Development department, wouldn't have to answer to City Hall, but it would fall under the jurisdiction of the House Financial Services Committee, where Ocasio-Cortez, whose Bronx and Queens constituents occupy 5,500 of the city's 178,000 public housing apartments, could team up with fellow New York City legislators and senior committee members Nydia Velazquez, No. 2 on the Housing Subcommittee, and Gregory Meeks – who nominated Ocasio-Cortez to the panel – to focus on advocating for increased resources for New York City public housing.
But Ocasio-Cortez – whose own priorities for the committee include "digging into the student loan crisis, examining for-profit prisons/ICE detention, and exploring the development of public & postal banking" according to her Twitter announcement – will also use her new platform to shake up Wall Street.
According to Shane Larson, the legislative and political director for the Communications Workers of America, one of the founding organizations of the progressive Take on Wall Street lobbying coalition, consumer advocates will be looking at this new generation of committee members to protect Dodd-Frank. Congress approved a deregulation bill last year, championed by former House Speaker Paul Ryan, that was designed to roll back Obama-era restrictions on Wall Street that were put in place in response to the 2008 financial crisis. Repealing and replacing Dodd-Frank – one of the biggest legislative achievements of the Obama era, which Republicans view as an unnecessary regulatory burden – is a longtime legislative priority for conservatives and President Donald Trump, who promised to "do a big number" on the sweeping Democratic legislation.
Unless House Democrats can get bipartisan support in the Senate, those rollbacks, which include an increased regulatory threshold at which banks are subject to stricter oversight from the Federal Reserve (from $50 billion in assets to $250 billion), are staying in place. But new progressives on the banking committee, especially those such as Ocasio-Cortez, who campaigned on constraining Wall Street, can use their platform to compel testimony from CEOs, drawing unflattering national attention and scrutiny to some of the country's biggest banks and financial institutions. "We think that a number of CEOs could be brought in to talk about why their tax money (from Trump's corporate tax cut of 2018) is being focused on stock buybacks and what stock buybacks have meant for the long-term implications of the economy – the fact that the companies are not using this money to grow their companies or to put more money in the workers' pockets or to hire more workers, and that instead they're going into stock buybacks, which is really a way of executives to increase their own take-home pay," Larson said.
Ocasio-Cortez, who worked on the 2016 Bernie Sanders presidential campaign, has so far used her unprecedented star power to generate national dialogue around far-left economic policies, giving her a reputation as a wild card (or worse, an agitator) among the establishment of her party. However, with a chairperson as left as Waters, who is a Congressional Progressive Caucus member, the freshman celebrity's appointment isn't as controversial as it might have been to the House Ways and Means Committee – which controls taxation – where Ocasio-Cortez and grassroots organizers publicly campaigned for a seat.
In fact, her placement on the exclusive banking committee, as well as the appointments of other progressives to top committees, was part of a larger deal to secure the speakership for Nancy Pelosi ahead of the midterms, according to a report by The Intercept. As a concession, Pelosi agreed to 40 percent CPC representation on the five top House committees.
This seemingly successful move to build progressive power on committees comes with its own ramifications for Democrats, with the potential for serious shakeups related to how the Financial Services Committee operates. The powerful banking committee is one of a handful of juice committees for Republicans and Democrats alike, particularly business-friendly conservative Democrat coalitions like the Blue Dogs and New Democrats, which have challenged Waters' committee agenda in the past on issues like bank deregulation. New Yorkers on such committees have often represented the interests of Wall Street as a hometown industry – and raked in campaign contributions from there. "It might be interesting to see how some of the new freshman members who are assigned to these traditionally money-making committees react to both the fundraising opportunities from these industries that have historically lined up to support members in powerful committees, and also what kinds of legislation these freshman might sponsor and cosponsor – whether it will mirror what others from their party have supported in the past or whether it will take a divergent path," said Sheila Krumholz, executive director for the Center of Responsive Politics, an organization that tracks the influence of money in politics.
Powerful financial trade associations and their member companies gave hundreds of thousands of dollars to members of this committee in the last cycle, Krumholz said. Although donations leaned heavily in favor of Republican members, donors are keeping Democrats flush too. "Looking at the receipts for members, you've got members getting tens of thousands, hundreds of thousands, some getting – specially from places like New York and other regional areas that are associated with the industries that this committee regulates – getting hundreds of thousands or even more than a million dollars from particular industries," said Krumholz. For example, Rep. Josh Gottheimer, a Democrat from New Jersey, is getting more than a million dollars from the securities and investments sector, according to Krumholz's data.
For her part, Ocasio-Cortez has been outspoken about taking corporate influence out of politics and, like other progressives, she has refused donations from corporate political action committees. This sets up the potential for confrontations with centrists in the party and on the committee who are cozy with big donors. "I cannot stress how important this moment is. Dems are putting members who rejected corporate campaign money on a committee overseeing Wall St.," Ocasio-Cortez said in a series of tweets praising grassroots efforts to get progressives more seats on the financial services committee. "As I've said before, it's People vs Money. We've got people, they've got money," she said in a separate tweet on the thread.
Thus, Ocasio-Cortez's power is significantly boosted by this assignment, giving her an opportunity to target both Wall Street and put pressure on establishment Democrats, adding substance to the message she campaigned on. It also cracks open the door a little further for a potential Democratic president to sign more aggressive financial regulations that could emanate from the House Financial Services Committee.
And even if Ocasio-Cortez can't get her legislative wishes, surely the media-savvy freshman will find a way to make some noise. At least, that's what advocates like Larson are hoping for. "Whether or not we have legislation becoming law in the near future, there's incredible power in raising up some of these issues through the committee process, through hearings and other opportunities," he said.
Powered By
NEXT STORY: Albany action, MTA madness and (un)popular presidential contenders