New York City
Cuomo's budget proposal, the shutdown that wasn't and Gillibrand 2020
Andrew Cuomo unveils his budget proposal, the L train shutdown that wasn't and Kirsten Gillibrand enters the fray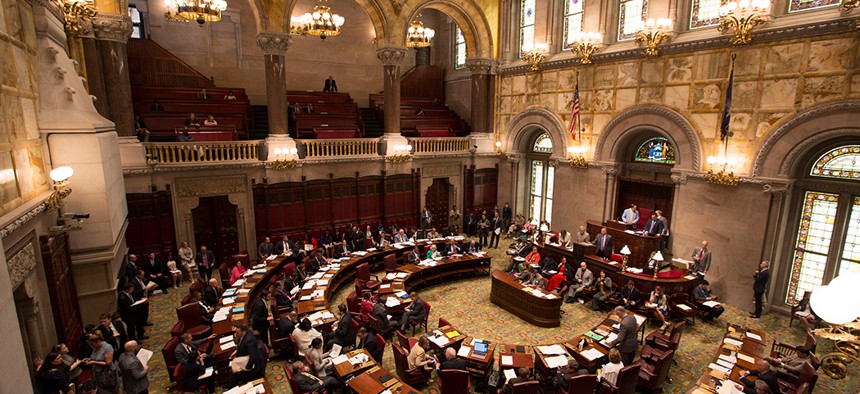 Whoopi Goldberg really does not like bike lanes. And the celebrity had the opportunity to unload on New York City Mayor Bill de Blasio, who is partly responsible for expanding spaces for cyclists in the five boroughs. The mayor went on "The View" to tout his expansion of health care for the uninsured, but was given an earful by co-host Goldberg, who commutes by car into Manhattan from New Jersey. She cited the 10th Avenue bike lane as an example of the horrible traffic they cause, never mind that such a bike lane doesn't actually exist. But who else gets gripe directly to the mayor – and on national television?
The state of New York
Gov. Andrew Cuomo struck a notably progressive tone as he delivered his State of the State address and unveiled his executive budget on Tuesday. He laid out his plan for the legalization of recreational marijuana, which would eventually generate an estimated $300 million a year in tax revenue to be used in part to regulate the industry. Other highlights included a $1 billion increase in education funding, which is about half what the state Board of Regents asked for; a new school aid formula that Cuomo said would distribute funds to poorer schools; and a congestion pricing plan that could raise $15 billion for public transit in the coming years. Despite including many other budgetary and nonbudgetary items, there were still several things Cuomo left out, such as single-payer health care and universal rent control.
Gillibrand jumps in
U.S. Sen. Kirsten Gillibrand formally launched her 2020 presidential campaign, making her the first New York Democrat to do so. She broke the news during an appearance on "The Late Show with Stephen Colbert," and the next morning she held her first presidential press conference outside a diner in Brunswick, where she lives. She modeled herself as a champion for young, working moms and someone who can reach across the aisle to get things done. Gillibrand finished her campaign kickoff with a visit to Iowa, a key early caucus state.
Swift action in Albany
The state Legislature wasted no time taking advantage of the new era of Democratic control to pass a package of electoral reform bills to overhaul the state's famously outdated voting laws. The reforms include no-excuse absentee ballots, early voting, consolidating state and federal primary dates and same-day voter registration. Lawmakers also voted to close the so-called LLC loophole, which allows limited liability companies to donate the same amount as individuals. The state Senate also passed bills barring discrimination based on gender identity and outlawing conversion therapy.
The shutdown that wasn't
The Metropolitan Transportation Authority announced that it is moving forward with Cuomo's new plan to repair the L train tunnel, averting a long-planned 15-month shutdown of the line. The move comes just days after the MTA board held a contentious emergency meeting to review the governor's plan, and after news reports revealed that a similar proposal was considered and rejected in 2014 due to safety concerns. The announcement has created even more confusion about the possible un-shutdown, as an MTA official reportedly claimed that it does not need the approval of the board, which has not yet voted on the matter.
Upstate/downstate sexual harassment
The state Legislature scheduled a joint hearing on workplace sexual harassment in February following calls from a sexual harassment working group comprised of former legislative staffers who complained of misconduct. While advocates applaud the move in Albany, New York City had very different news about sexual harassment. The New York Times revealed that Mayor Bill de Blasio's former acting chief of staff Kevin O'Brien was allowed to quietly resign last year following two substantiated claims of harassment. Although the mayor said this was done to protect the identities of the accusers, O'Brien landed a job at a consulting firm with close ties to de Blasio after his resignation. He has now been fired from that job.