New York State Senate
Day 1 of Democratic-controlled Albany
A sense of optimism prevailed, but fault-lines also emerged on the first day of one-party rule.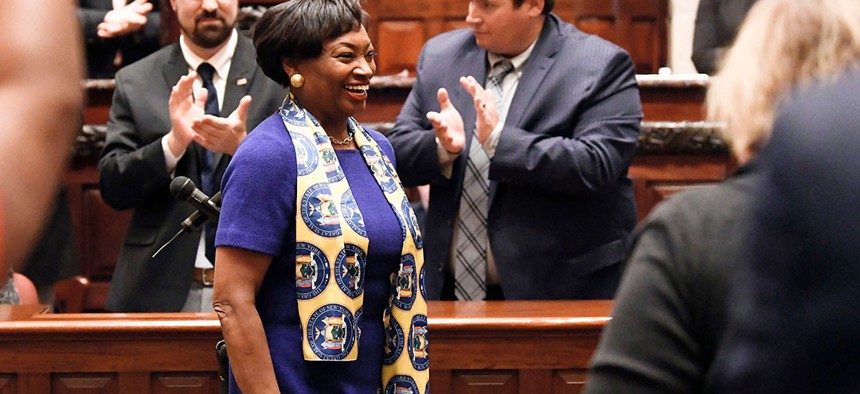 One-party rule officially got underway in Albany on Jan. 9 with Democrats celebrating the ascension of state Sen. Andrea Stewart-Cousins as majority leader and a fresh sense that holding majorities in both houses of the state Legislature will bring big changes statewide.
Democrats have already signalled that they intend to hit the ground running by passing legislation in upcoming weeks to codify Roe v. Wade in state law and enact campaign finance and election reforms. But even at a time when optimism was sweeping across the state Capitol, early signs have emerged that old conflicts could reemerge before too long, whether they are between Republicans and Democrats, downstate and upstate legislators or different parts of Democrats' one-party government.
For now, though, the biggest question is how well Democrats can maintain party unity nearly a decade after their last experience with one-party rule imploded amid intra-party conflict. Democrats insist they will do better this time, especially since a host of new members have joined their ranks since then, many of them as part of the party's big wins in the 2018 elections. Here are a few takeaways from the opening day of the legislative session.
A day of firsts
The undisputed star of the day was state Senate Majority Leader Andrea Stewart-Cousins, who became the first woman to ever be elected as the temporary president of the Senate. "It wasn't that long ago that women weren't even allowed to set foot on this Senate floor," she said in remarks given to the chamber. She also noted that her father was a military veteran who was denied benefits from the GI Bill after his service in the Second World War because he was black and that her mother was also unable to pursue a career as a lawyer due to racial discrimination. Although Stewart-Cousins spoke about the historic accomplishment of her election as Senate leader, she also acknowledged that she was not the only senator who was making history in the chamber.
There are now 20 women serving in the 63-seat chamber and several new members represent their own type of firsts. State Sen. Robert Jackson is the first Muslim to serve in the Senate. Several Long Island senators also made history in the chamber, including state Sens. Monica Martinez (the first Salvadoran in the state Senate), Kenny Thomas (first Indian American) and Anna Kaplan (first Iranian-American). State Sens. Jessica Ramos and Julia Salazar are the first representatives in the body with Colombian heritage, while Assemblywoman Catalina Cruz became the first "Dreamer" elected to the Assembly.  
Hitting the ground running
A big question that has followed the Democrats' sweeping victories in the 2018 elections is to what extent they will keep promises made on the campaign trail. Both Stewart-Cousins and Assembly Speaker Carl Heastie promised quick action on Democratic priorities in their opening addresses, including quick action on bills such as the Reproductive Health Act, Child Victims Act and the DREAM act, as well as issues like election reforms, gun control and the environment. While they made efforts to touch on a wide variety of issues in their speeches, they emphasized separate issues. Heastie, for example, said that some criminal justice reforms such as ensuring speedy trials for defendants and ending the use of solitary confinement "will take center stage in the coming legislative session." Stewart-Cousins spoke about issues such as sexual harassment and contraceptive care while also highlighting her support to make a state property tax cap permanent, a response to Republicans accusations that the Democratic Senate will raise taxes. She also promised "bold" investments in infrastructure. While there was not too much daylight between the two legislative leaders, the differences in the issues they emphasized shows how their priorities can differ.
Rule changes were the biggest controversies of the day
With their party now in the Senate minority, it remains to be seen what Republicans can do to have an impact on the legislative agenda. As Heastie got ready to open his chamber, more than a dozen Republican senators gathered in the Senate minority leader's office for a press conference to air grievances about new Senate rules proposed by the Democratic majority. One rule would establish that there would be more Democrats than Republicans on the Senate Ethics and Internal Governance Committee. "The ethics committee is the last place in government that should be politicized," state Sen. Andrew Lanza, a Staten Island Republican, said at the press conference. "And that's what the new majority is doing."
Democrats say this is necessary because they intend to reinvigorate the committee by having it take on legislative as well as investigative functions. State Sen. Alessandra Biaggi, the incoming committee chair, has said that "anything is possible with this committee" in its goal of ensuring ethical government, from hearings to investigations to legislation. But by upsetting the old balance between Republicans and Democrats, "that opens the door to weaponize that committee," state Sen. Catharine Young said in a floor debate about the rules. She brought with her transcripts from two years earlier, when now-Senate Deputy Majority Leader Michael Gianaris expressed support for having an even number of seats on that committee for both parties.
However, Gianaris said on Wednesday that the new rule was necessary so that the committee could take on a more robust legislative function. He added that at least one member of each party would need to sign on to any investigative effort.
Republicans also objected to language in the proposed Senate rules that might limit funding for minority party staff. In past years, the minority party had received 30 percent of the available staff funding. In response to questioning by Senate Republicans, Gianaris said that "it is not expected that allocations would dip below 30 percent," though that is possible in theory. Despite Republican objections, the rules were adopted by the Senate.
The honeymoon might not last for long
Lawmakers from both parties spoke in conciliatory terms on Wednesday. The good feelings might not last long, however. Republicans' efforts to protest the Senate rule changes show that the minority party is looking for ways to remain relevant, especially by presenting themselves as the upstate vanguards against tax increases and neglect by New York City lawmakers. Their Wednesday press conference and remarks on the Senate floor displayed an effort to own a moral high ground in the Legislature by making sure that Democrats do not contradict past positions they held while they were in the minority.
Democrats face their own challenges. They control both houses of the Legislature and the governor's mansion but rivalries could test their unity. Heastie made sure to mention in his remarks that the Assembly has in previous years passed legislation atop progressives' wish lists, suggesting that the Senate should follow its lead. Senate Democrats now have a majority to protect and Stewart-Cousins' reference to taxes show that she is trying to keep her conference from doing anything that might make her members vulnerable in the next round of elections.
Both houses of the Legislature also have to contend with Gov. Andrew Cuomo. By unveiling his "Justice Agenda" last month, the governor signalled that he will continue leaning left in his third term and will use his upcoming budget proposal to pass progressive legislation. With his first budget proposal due this month, Assembly and Senate Democrats have little time to pass big-ticket items like the Reproductive Health Act before they would be folded into budget negotiations – where Cuomo would be well-positioned to not only dictate the terms of legislation, but also take the credit for passing them.
"This term promises to be the most successful one I've had in government," Cuomo told reporters at the Capitol after the Legislature adjourned for the day. "Having that new energy and that new perspective I think is going to be helpful."