New York State
In Democratic Albany, property tax cap is a rare disconnect
Proposals to make a property tax cap permanent gives the chamber some leverage in budget talks.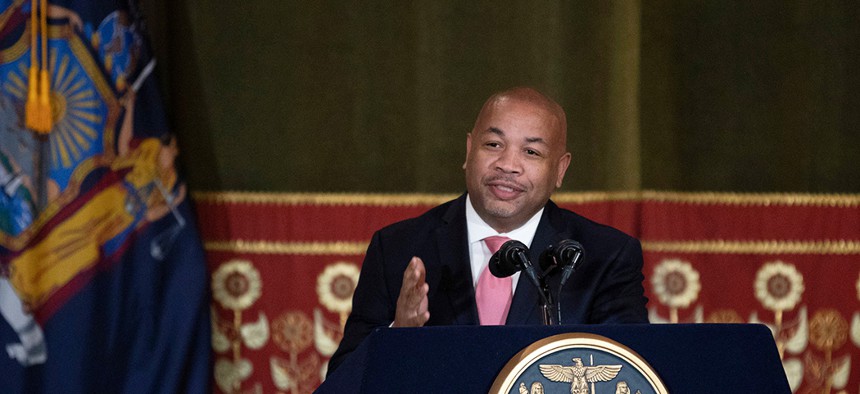 In recent weeks, Democratic majorities in the state Senate and Assembly have passed legislation in lockstep with one another – whether it was voting reforms, reproductive rights or increasing access to higher education for undocumented students. This coordination has allowed Democrats to pass a series of bills that had long been stalled by the previous Republican state Senate majority. But on on property taxes, the Assembly and Senate have thus far gone separate ways.
The state Senate passed a bill last week that would make the 2 percent cap on property tax increases permanent, but their counterparts in the Assembly have yet to make a serious effort to take up the legislation.
While Democratic leaders in the Assembly have not said whether they will take up the legislation – which prevents property tax increases of more than 2 percent annually – the issue may give Assembly leaders leverage in upcoming budget negotiations. According to several Democratic lawmakers, such talks could be tied to renewing and expanding rent control – an issue that Gov. Andrew Cuomo and swing-district senators have championed.
Assembly Speaker Carl Heastie has not addressed the issue directly, recently saying that the two legislative chambers will not always be synchronized.
"We are both Democratic houses, but we may not be always on the same schedule, so I don't think anybody should have any notice or concern if they pass a bill first or we pass a bill first, or vice versa," Heastie said, according to New York State Public Radio.
Assembly Majority Leader Crystal Peoples-Stokes, the No. 2 Democrat in the chamber, told City & State that the conference was in no rush to take up the legislation.
"I am thinking that it will not come up soon in the Assembly," Peoples-Stokes said. "I really do kind of see it as a stand-alone issue and I really think that it should stay that way."
Limiting property tax increases has been a pet issue for Cuomo since championed the cap in 2011. With the current law expiring next year, it has become a critical issue for state Senate Democrats, many of whom come from districts in the Hudson Valley and on Long Island where property taxes are among the highest in the nation. By making the tax cap permanent, suburban Democratic senators might improve their odds of keeping their seats – and retaining the party's majority – in future elections when the national climate might be friendlier to Republicans than this past election. The Senate bill to make the cap permanent was proposed by state Sen. Jim Gaughran, a Long Island Democrat, and passed the chamber on Jan. 23 by a 58-2 margin.
The reluctance of the Assembly to consider the bill was highlighted on Jan. 28, when Democrats shot down a proposed amendment by Republican Assemblyman Edward Ra that would have inserted the Senate bill language into unrelated legislation. "We know the Assembly majority has never been fully support of the property tax cap," he told City & State after the amendment failed. "It's always been an effort to drag the majority along with the bill."
A proposal by Republican Assemblyman Colin Schmitt to make the tax cap permanent has also gone nowhere in the Assembly, but the majority in the chamber may not be able sit on the bill forever.
Cuomo included the measure in his executive budget proposal and holds significant power over the state's spending process. An April 1 deadline is looming, and it has added urgency this year because lawmakers' pay raises depend on passing the budget on time. But it has not escaped the notice of some political watchers that the Senate – by passing the tax cap – has surrendered political leverage on the issue to the Assembly, where a greater share of members have New York City constituents who are not affected by the tax cap, which only applies outside the city.
With rent regulations set to expire in June, Democratic lawmakers say that they are open to the idea of finding a deal that would lead to passage of the tax cap and new rent protections, a pairing made in 2011. If such a deal is reached, then lawmakers might end up doing more this year to expand tenant rights than enacting the proposals in Cuomo's budget to end vacancy decontrol, abolish preferential rent and curtail landlords' ability to raise rent through capital improvements. The current rent laws only allow for rent control in New York City and adjacent areas, but new lawmakers like state Sen. Julia Salazar campaigned on universal rent control.
Several members of the Assembly told City & State that they are open working out a deal, likely through the budget process, that would use the tax cap as leverage to secure new tenant protections. With the two issues already in Cuomo's budget, it is likely that there will be action on both the tax cap and rent control by April 1.
In any case, they say they are ready to hear a right offer come their way. "If there's a deal to be made that will be fair and improve the quality of life all around, and have a positive impact on the upstate residents," said Assemblyman Nick Perry, "that's a deal that I'm sure we would consider."
Meanwhile, the governor has doubled down on the issue. "At the end of the day, the property tax cap is probably the most politically potent issue," Cuomo said in a recent radio interview. "People care about it, it matters. It matters on Long Island, it maters upstate, especially with the new SALT federal provision. Teachers union is against it. The Assembly stopped it. The Assembly doesn't have a property tax cap in New York City, so they weren't doing it for their constituents in New York City. If not their constituents, then who?"
Powered By
NEXT STORY: Rumble in the Bronx