New York State
New York delegation lands prime House committee assignments
Most New York members of Congress will serve on House committees corresponding to their districts and interests. Pelosi detractors will not.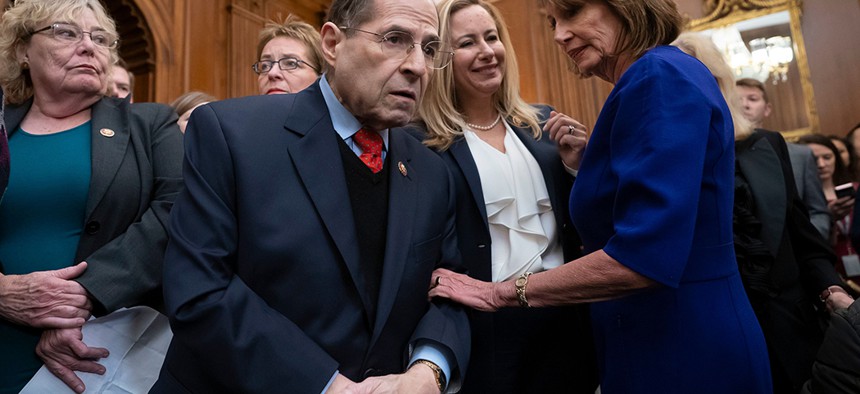 Nearly a month into the first session of the 116th Congress, the jockeying for top spots is over, committee seats are assigned, and legislating is in motion. Most members of the New York delegation can breathe easy, having garnered plum seats and new chairmanships.
However, House Speaker Nancy Pelosi left two Democratic members holding their breath. Rep. Kathleen Rice was barred by a steering committee vote from sitting on the House Judiciary Committee, despite protests on her behalf from fellow New York representatives, according to Politico. While lawmakers are not guaranteed assignments of their choosing, this denial was largely viewed as a snub, presumably retaliation for the Long Island Democrat's efforts to block Pelosi from ascending to the speakership following the Democratic takeover of the House. Rice, a former Nassau County district attorney, will instead sit on the House Homeland Security and House Veterans' Affairs committees.
On the vets panel, Rice will be joined by a fellow outcast from New York, freshman Rep. Anthony Brindisi from central New York and the Southern Tier. Brindisi, who votes against Pelosi and who also clinched an Agriculture Committee assignment, was similarly blocked from his top committee of choice, the House Armed Services Committee. Armed Services would have been a boon, considering that the Defense Finance and Accounting Service – a Department of Defense agency and one of the largest employers in the region – is located in his district. (Brindisi told the Syracuse Post-Standard after meeting with Pelosi that this was not payback, though he notably was not in attendance at the speaker's swearing-in ceremony.)
The rest of New York's freshman class got committee assignments corresponding to their expressed interests and that of their districts. Rep. Alexandria Ocasio-Cortez joins the powerful House Financial Services Committee, which, with five other members, has the largest representation of legislators from the Empire State. Reps. Max Rose from Staten Island and southern Brooklyn, Antonio Delgado from the upper Hudson Valley and the Catskills, and Joseph Morelle from the Rochester area also landed their preferred assignments.
Rose joins the committees on Homeland Security and Veterans Affairs, which will allow him to keep emphasizing his military service and to represent the interests of the many law enforcement officials and first responders, such as firefighters, in his blue-collar district. Delgado will sit on the Agriculture and Transportation and Infrastructure committees, which will be relevant to his mostly rural district. Morelle got Education and Labor in addition to Rules, the committee where he sat during his long tenure in the state Assembly. "As the son of a life-long Plumbers and Pipefitters union member and the husband of a retired teacher, I bring a unique perspective informed by those on the front lines of the labor and education fields," Morelle said in a press release.
New party control in the House means new leadership for every House committee, and longtime New York Reps. Jerrold Nadler, Nita Lowey, Eliot Engel and Nydia Velázquez were among those rewarded with chairmanships. For his part, Nadler has expressed his desire to target Trump with his new subpoena power, telling Roll Call he'll dig into the circumstances surrounding the ousting of former Attorney General Jeff Sessions, who faced backlash from the president after recusing himself from the Russia investigation. The Democrat serving the West Side of Manhattan also intends to investigate the sexual assault allegations against Trump appointee U.S. Supreme Court Justice Brett Kavanaugh.
And one delegation member will remain in no-man's land. Republican Rep. Chris Collins, formerly of the House Energy and Commerce Committee, will not sit on a committee this session, following his ouster by then-Speaker Paul Ryan last year, as a response to his indictment on charges of insider trading and lying to authorities. The congressman from the Buffalo suburbs will stand trial in February 2020.