New York City
NYCHA agreement, Child Victims Act and Amazon in the hot seat
It was cold in New York, but Amazon was feeling the heat, while the feds reached a NYCHA agreement with the city in This Week's Headlines.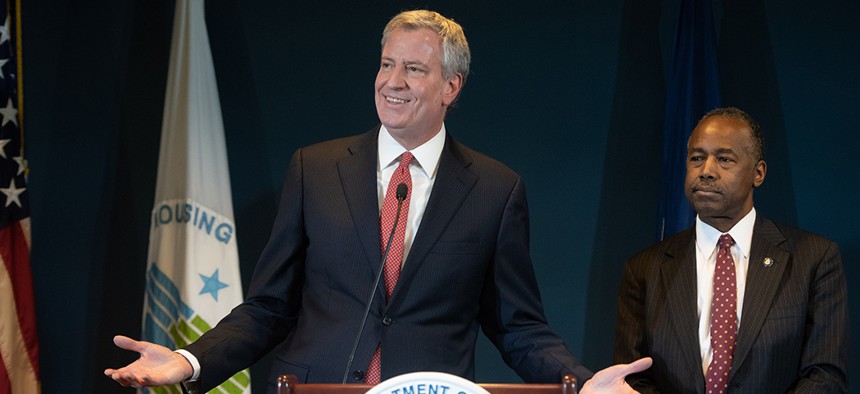 Cold enough for ya? A polar vortex descended on New York, bringing with it a brutal snow squall and subzero temperatures. Thankfully, it never dipped into the negative double digits, like in parts of the Midwest, but wind chills of minus 20 degrees meant New Yorkers still bundled up in layers before venturing outside. Although according to RWDSU President Stuart Appelbaum, it was still not as cold as Amazon CEO Jeff Bezos' heart. Read on for more of this week's headlines.
The fate of NYCHA
After two months of talks between New York City and the U.S. Department of Housing and Urban Development, the two have reached an agreement over the future of the troubled New York City Housing Authority. The federal government will appoint a monitor to oversee the agency and the city will replace NYCHA's interim chairman. The plan falls short of full federal receivership, which the city was hoping to avoid. The agreement will also require the city to invest an additional $1 billion in the system over the next four years, and $200 million a year after that. The new deal comes after the federal government sued over poor conditions and mismanagement and a judge struck down an earlier agreement as inadequate.
Years in the making
After trying for more than a decade, the state Legislature passed the Child Victims Act, extending the statute of limitations for victims of childhood sexual abuse. Now, survivors will have until age 55 to bring civil suits or age 28 to bring criminal charges. The bill also includes a look-back window, giving victims one year to retroactively bring a lawsuit – the aspect of the legislation that was ardently opposed by groups like the Roman Catholic Church. The Legislature also passed its first gun laws since passing the SAFE Act six years ago. Among the bills are one banning teachers from carrying a gun while at school and a "red flag" law to allow a court to take guns away from those deemed a danger to themselves or others.
Amazon in the hot seat
New York City Council members had another opportunity to air their grievances about Amazon's plan to build a campus in Queens at a hearing with company executives. Amazon officials said they would guarantee about 30 jobs at a new customer service center to Queensbridge Houses residents, the NYCHA complex near the development site, but it did little to appease lawmakers' discontent. They were especially displeased to hear that Amazon would oppose any unionization efforts by employees at the new campus.
Tragic subway accident
A young mother died in a New York City subway station after falling down the stairs while carrying her baby's stroller. Initially thought to be caused by the fall, a coroner said her death may have been the result of a pre-existing medical condition. But the incident had already galvanized transit and disability advocates, as well as concerned parents, who called for better accessibility at subway stations in the wake of the tragedy. The incident highlighted the many stations that still do not have elevators.
Johnson's preannouncement
New York City Council Speaker Corey Johnson is officially thinking about running for mayor in 2021. As part of his announcement, he launched an exploratory campaign account and began accepting donations. Johnson pledged that he would not accept corporate political action committee money or donations from employees of real estate and lobbying companies. He also said he would cap his donations at $250, meaning he will need to rely on many individual contributions and the city's newly expanded matching funds program.
Powered By
NEXT STORY: New York delegation lands prime House committee assignments