Andrew Cuomo
Poll: Is a civil war brewing among the state Senate Democrats?
Long Island Democrats reportedly complained about the opposition to Amazon's HQ2. How serious is the rift?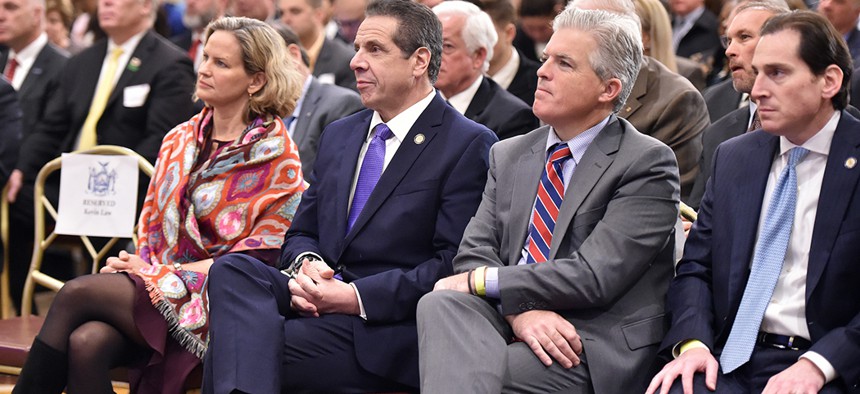 Last fall, when Gov. Andrew Cuomo was helping Democrats win back the state Senate, there were questions about whether he was already pitting suburban members of the party against the larger contingent of lawmakers who hail from New York City.
In early October, he joined Long Island Senate candidates to roll out a nine-point plan that featured a demand that "New York City pay its fair share for the MTA." The plan – which also called for a permanent 2 percent property tax cap and major investments in Long Island infrastructure – was presented as a counter to Republican critics who warned of the perils of single-party control. Indeed, the last time Democrats controlled the state Senate, two Long Island members of the conference lost their seats – and the party lost power – following the passage of a controversial MTA payroll tax.
In November, Long Island candidates were at the forefront of the electoral successes that returned Democrats to power with a sizeable majority. And since taking office, there had initially been little sign of any internal strife among state Senate Democrats.
But in recent days, that dynamic has apparently changed. Cuomo criticized Senate Democrats for threatening to kill Amazon's plan to site a second headquarters in Queens, and one report indicated that a number of Long Island state senators are now expressing worries about their colleagues' opposition to Amazon's so-called HQ2 plan and fears that the conference will be criticized as anti-business.
So we decided to poll our readers: Is there truly a fissure in the state Senate Democratic conference – or are such fears overblown?
---
Powered By
NEXT STORY: Who DOESN'T want to be mayor?