Five issues coming up after the state budget
Here are five issues to watch in the second half of the state legislative session: rent regulations, marijuana, single-payer health care, criminal justice and ethics.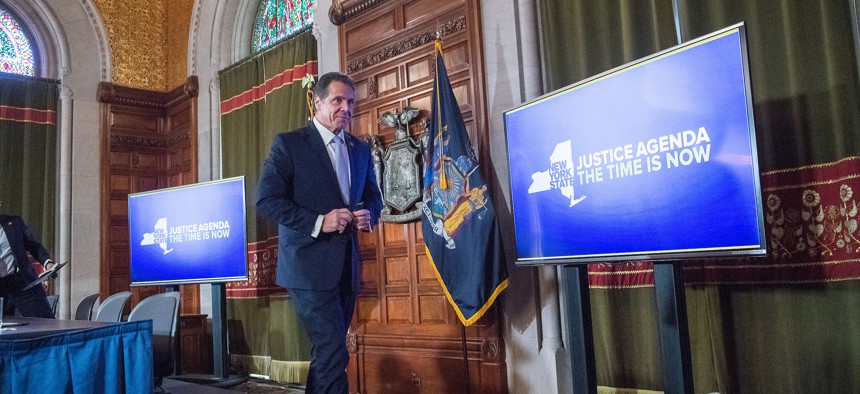 Democratic lawmakers and Gov. Andrew Cuomo may have struck a $175.5 billion budget deal, but a series of contentious issues will keep them busy in the 10 weeks left in this year's legislative session.
With lawmakers embarking on the second half of the state legislative session, which is scheduled to come to a close on June 19, perhaps the two biggest issues up for debate are rent regulations, which are set to expire, and legalizing recreational marijuana, which enjoyed widespread support but fell out of the budget.  
Proponents of establishing a state single-payer health care system are also aiming to get a quick start in the coming weeks. Lawmakers are pushing for additional reforms to the criminal justice system and ethics requirements in state government as well.
Democrats might agree on many of these issues in principle, but there remain significant differences on the specifics of legislation. Special interest groups might also disrupt efforts to unify state senators and members of the Assembly on some issues. Like in the budget season, some issues will make the cut and others could fall by the wayside when lawmakers adjourn for the year in mid-June.
Here are five big issues to watch in upcoming weeks.
Rent regulations
Supporters of renewing and expanding tenant protections have gotten off to a running start. Advertisements in favor renewing rent regulations have popped up on social media and several lawmakers are counting down the days until the June 15 expiration of the current laws. Legislative leaders say the laws will not expire, and stronger tenant protections are widely expected, but it remains to be seen how much of a difference one-party control in Albany will make beyond simply renewing the current rent regulations.
Now that the property tax cap has been renewed through the budget, supporters of rent regulations, particularly New York City lawmakers, have less leverage over their suburban and upstate colleagues to support increased tenant protections. However, they also do not have to win over Republican senators like they had to in past years when the GOP controlled the Senate and were reliable allies of the real estate industry. In many ways, the extent to which progressive lawmakers succeed in pushing for universal rent control – a vague term that covers a range of tenant-friendly legislation – will show how much clout they really have in Albany – and how much the real estate lobby has lost influence.
State Sen. Julia Salazar is pushing for a "good cause" eviction bill, which would affect nearly all of the market-rate apartments statewide. Similar protections already apply to New York City, and Westchester, Nassau and Rockland Counties. Other big issues include abolishing provisions in current law that allow landlords to raises rents for rent regulated apartments in New York City through major capital improvements, vacancy decontrol and preferential rent.
Marijuana legalization
The failure of New Jersey lawmakers to legalize marijuana has given New York legislators some breathing room. But Massachusetts has already gotten the job done, and lawmakers and activists say they are still keen on making sure New York does not fall behind other states in reaping the benefits of legalizing recreational cannabis. The potential revenues are tempting, but leading lawmakers like Assembly Majority Leader Crystal Peoples-Stokes say that communities of color need to get a share of the benefits to mitigate the past harms of prohibition. Though some lawmakers are not so sure, Cuomo has said that legalization can still happen this year despite falling short in the budget. For now, activists are expressing optimism as well. "The clock for passing marijuana justice starts now," Kassandra Frederique, New York State director for the Drug Policy Alliance, said in a statement.
Single-payer health care
Among the most ambitious items on progressives' legislative agenda is establishing a plan to set up a single-payer health care system in New York state. That is the longtime dream of Assembly Health Committee Chairman Richard Gottfried – the longtime sponsor of the New York Health Act. He and his counterpart in the state Senate, state Sen. Gustavo Rivera, have said they will start holding hearings on the legislation as soon as April. Some of their Democratic colleagues have expressed doubt about whether or not outstanding issues with the legislation can be resolved this year. This includes how to overcome federal opposition, Cuomo's reluctance to support single-payer at the state level, and a coalition of business, labor, and insurance groups who have been preparing for months to block the effort.
Ethics reforms
Supporters of reforming government ethics have made clear that their work is not done this year shaking up Albany's notoriously loose politics. State Sen. Alessandra Biaggi has injected new life into the Senate Ethics Committee, which only met twice in nine years of Republican control. Biaggi along with her roommates – fellow state Sen. Jessica Ramos and Assemblywoman Yuh-Line Niou – recently made some noise about campaign finance reform at a press conference in the Capitol, where they blasted Cuomo's fundraising during budget season.
A key question moving forward is whether lawmakers will keep up the energy moving forward on an issue that has lost some urgency after the passage of a bill limiting contributions by limited liability companies and the passage of campaign finance reforms in the budget. Among the ideas being considered are limitations on Albany fundraisers at certain times of the year. If Republican lawmakers succeed in a court challenge seeking to invalidate restrictions on outside income, that issue could also come up in the legislative process. Efforts to replace the Joint Commission on Public Ethics remain ongoing – and contentious.
There are also about a dozen outstanding bills on sexual harassment that would limit the use of confidentiality agreements, change the standards that define harassment, expand protections and extend the time that survivors have to lodge complaints. Additional hearings on the issue also appear likely in upcoming months.
Criminal justice reforms.
Advocates succeeded in the budget in efforts to limit cash bail, loosen discovery laws and speed up trials. But there is no shortage of other efforts to shake up antiquated criminal justice laws. Prosecutors and unions representing police and corrections officers are going to resist some proposed reforms, including efforts to make it easier to release police disciplinary records and limiting the use of solitary confinement. Other ideas are on the table as well. Inmates could secure free legal counsel in parole hearings, new treatments for mental illnesses and automatic parole for people who complete two years of a temporary release program.
Correction: An earlier version of this story misstated the date on which rent regulations end, which is June 15.