Jumaane Williams
Jumaane Williams taps former rival to lead transition team
Jumaane Williams former rival, Brooklyn-based activist, attorney and former deputy executive director of New York City's Young Men's Initiative, Ifeoma Ike has been tapped to lead New York City Public Advocate-elect Williams' transition team.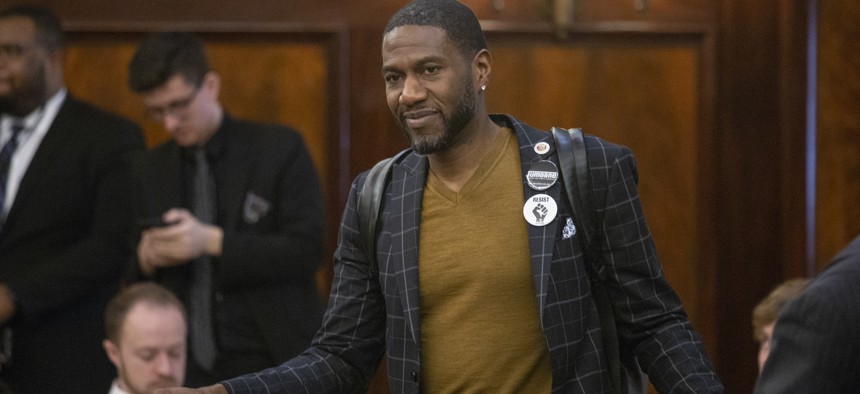 A former rival has been tapped to lead New York City Public Advocate-elect Jumaane Williams' transition team, and she's promising that activists will be heard in the halls of power – despite the office's tight budget.
Ifeoma Ike is a Brooklyn-based activist, attorney and former deputy executive director of New York City's Young Men's Initiative, a city government effort to reduce inequity for young men of color. Ike says she worked with a $27 million budget there, but will now be helping to launch Williams' office, which has a much lower annual budget of about $3.8 million.
But Ike says she and Williams – who calls himself an "activist/elected official" – do have valuable experience. "Nobody knows how to get things done better than organizers and activists who are limited with resources and budget," Ike told City & State.
Still, Williams has made it clear he'll advocate to increase the office's budget, which is lower than any of the five borough presidents' offices – trailing even Staten Island, which is getting $4.7 million this year. While campaigning, Williams floated the particularly expensive idea of opening satellite offices in each borough to focus on civilian complaints made against the NYPD.
Ike said the transition team agenda would be looking at the budget to see what's possible in regards to the four outer boroughs, possibly looking to existing networks of activists and organizers.
"We'll be looking at how we can formalize the community organizing that's already happening on the ground and making sure that each borough has representation," Ike said.
The public advocate's office had a staff of about 45 people under the last public advocate, Letitia James. Many staff joined James when she took office as state attorney general in January, but others still remain in the public advocate's office on the 15th floor of One Centre Street in Manhattan. Ike said the transition team would be assessing the office, but "it's quite conceivable" that some employees would remain in their current roles. What's most important, Ike said, is staying consistent with Williams' vision for "shared power to the people."
Ike ran in the special election for public advocate against Williams and more than two dozen others earlier this year. But Ike's name didn't make the ballot after she missed a paperwork deadline. Still, Ike's performance at forums and debates early in the race impressedmanyobservers as she delivered the type of speeches normally seen from seasoned politicians rather than a first-time candidate like herself. She won over Williams himself, who tweeted after Ike got bounced off the ballot that her "presence in this race was real and meaningful," and that the city "has only begun to hear her voice."
Ike will chair a transition team that also features former public advocate Mark Green, who endorsed Williams' run, and L. Joy Williams, a political strategist and president of the Brooklyn NAACP who served as senior advisor on Jumaane Williams' campaign. A spokesman for Williams said more transition committee members would be announced soon.
Williams won a special election for the seat in February, and is expected to officially take office early next week, according to a spokesman. That follows some confusion last week when Williams was apparently sworn in before the election results were certified.
Powered By
NEXT STORY: How lobbying works in NYC