New York State
Somos conferences paying off for students and sponsors
Somos, the biannual Hispanic conference will take place in Albany this weekend.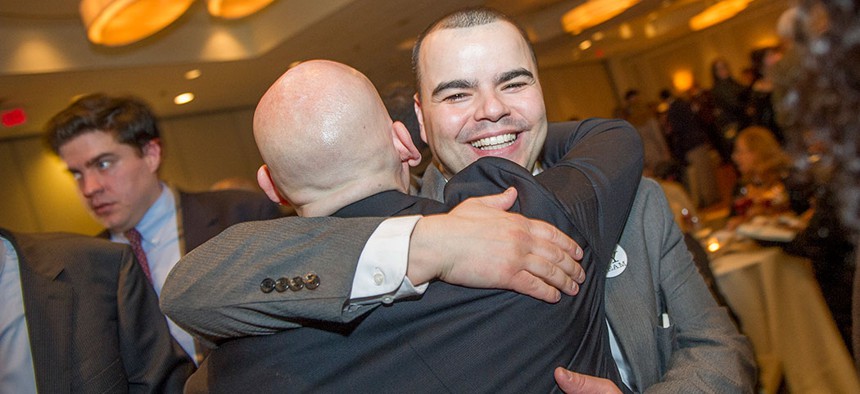 New York legislators are getting their dancing shoes – and, perhaps, their notepads – ready for the annual Somos spring conference in Albany this weekend.
The conference, which aims to promote Hispanic political power in New York, is remarkably similar to an annual February weekend conference hosted by the New York State Association of Black and Puerto Rican Legislators, commonly known as Caucus Weekend. But while that event has faced criticism for questionable spending and failure to fund promised scholarships, experts say Somos has been living up to its mission.
"In looking at the numbers, they look reasonable," New York Council of Nonprofits Chief Operating Officer Kelly Mathews told City & State after reviewing Somos Inc.'s tax forms. For the fiscal year from July 2016 to June 2017, Somos took in $1.12 million in revenue and spent the majority of that, $730,000, on its two annual conferences – one in Albany in March, and one in Puerto Rico in November. That year, Somos delivered $94,000 in total scholarship money to 90 recipients. Somos also helps fund attendance at the Angelo Del Toro Puerto Rican/Hispanic Youth Leadership Institute, or PRHYLI, a youth conference in Albany running alongside the main Somos Albany conference.
Somos Inc. had similar spending figures the previous fiscal year, from 2015 to 2016. The nonprofit took in $930,000, spent $470,000 on conferences and paid out nearly $80,000 in scholarships to 92 people.
Those scholarships are secondary to the organization's primary mission. According to the tax filings, Somos aims to put on conferences where stakeholders in New York's Hispanic population can "address various concerns pertinent to this community." Additionally, it funds academic financial awards and college internships.
These figures come from Somos Inc.'s publicly available Form 990s, filed with the Internal Revenue Service. Somos did not respond to repeated requests for comment about the group's finances or mission, and would not directly provide the Form 990s, despite being required to do.
The conferences are organized by Somos Inc., but the policy panels are set up by the New York State Puerto Rican/Hispanic Task Force, which is made up of New York state senators and Assembly members. For the last four years, Bronx Assemblyman Marcos Crespo has chaired the task force and served as the de facto host of the biannual Somos conferences. Brooklyn Assemblywoman Maritza Davila took over as task force chairwoman in December, and will be hosting her first conference this weekend.
The mixing of a tax-exempt, nonpartisan not-for-profit with political players has raised some eyebrows, said Gerson Borrero, a journalist who has been covering Somos conferences since they first began in 1987. But Somos' current 14-member board of directors, none of whom are elected officials, has been good at keeping up the firewall. "These people are playing it pretty straight," Borrero said. "Out of fear or stupidity, they don't fuck around, as far as I've been able to tell."
Still, Borrero is one of a number of Latinos involved in New York politics that have criticized the Somos conferences for being weak on policy. Before his death last year, Puerto Rican advocate Angelo Falcón had been calling for a formal report on Somos' results, both legislative and financial. Borrero said while he has heard Crespo may have written such a report, it has yet to be publicly released. Crespo wasn't immediately available for comment.
One metric has been clear though – Somos Inc. is bringing in more money. The organization's revenue increased in each the past five reported fiscal years, from $540,000 in 2012 to $1.12 million in 2016. Presumably, this revenue reflects an increase in sponsor support for Somos. Each conference is backed by a long list of sponsors who pay for access to the politicians and policymakers in attendance. Past attendees have included Gov. Andrew Cuomo, Assembly Speaker Carl Heastie, state Senate Majority Leader Andrea Stewart-Cousins, state Comptroller Thomas DiNapoli and dozens of other lawmakers. Somos lists more than 50 sponsors on the website for this weekend's conference, most if not all of which are also actively lobbying the state Legislature. Top sponsors include Uber, the Greater New York Hospital Association and the labor union DC37. City & State has previously written about another major Somos sponsor, the Pharmaceutical Research and Manufacturers of America, which also gave $2.5 million to a pro-Trump political action committee in 2017.
But with charitable giving and a message of uplifting Hispanic New Yorkers' political priorities, it's hard to find direct criticism of the organization in Albany. The conference is known for its parties and socializing, Crespo admitted to City & State ahead of the 2018 conference, but it's about more than that.
"Powwows do take place," he said, "but so does a lot of very substantive and worthwhile networking that strengthens the Latino agenda."
New York State Case Studies
Powered By
NEXT STORY: Frank Seddio, the devil's advocate