New York State
The factions, fringes and future of New York's U.S. House Republicans
The GOP New York House delegation is trying to deal with their dwindling population both in New York and in Washington.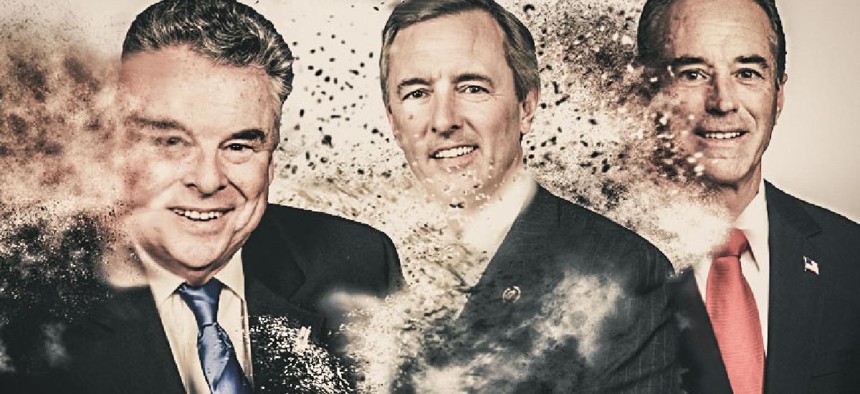 A shift to the middle would seem to be the logical response for the remaining House Republicans from New York after the beating their party took in November. Some state Senate Republicans have done exactly that, voting this year for Democratic measures to expand LGBTQ protections, voting rights and campaign finance regulation.
GOP Reps. John Katko, Peter King and Elise Stefanik seemed to signal a desire to reach across the aisle in January, when they broke with President Donald Trump and joined House Democrats – and only four other Republicans – to vote to fund the government and end the federal government shutdown without Trump's demand for billions of dollars to build a wall on the U.S.-Mexico border.
But the reality is more complicated.
Having won tough races – some by slimmer margins than others – New York's congressional Republicans have little incentive to move off of their current messaging, bipartisan or otherwise. The GOP New York House delegation is not monolithic, and only those from certain districts are likely to try to appeal to swing voters.
On Election Day last November, three New York Republican congressional incumbents – John Faso, Dan Donovan and Claudia Tenney – lost their seats to Democratic challengers, dropping the number of New York Republicans in the House of Representatives from nine to six, versus 21 Democrats. The midterm elections were also hard on the New York GOP in Albany, where Democrats flipped the state Senate. Even some of those who didn't lose still were exposed as vulnerable: Liuba Grechen Shirley came closer to veteran King than many expected, Dana Balter mounted an impressive campaign against Katko, raising record cash, and Rep. Chris Collins nearly was knocked out, ultimately winning by a single point (and his Democratic rival, Nate McMurray, has already indicated that he's angling for Collins' seat again).
Ideologically, the New York GOP House delegation has a near even moderate-conservative split. There are the conservative, Trump-supporting Reps. Collins and Lee Zeldin, and the upstate moderates Katko and Stefanik. Imagined as a Venn Diagram, Rep. Tom Reed can be plotted somewhere in the middle as a pro-Trump moderate. So can Rep. Peter King, a conservative but sometimes-unpredictable Washington veteran, who supports the president while occasionally voting against him.
Zeldin and King, a hawkish Reagan Republican who echoes the president's rhetoric on Muslims and MS-13, represent neighboring districts on Long Island, and they share many views, particularly on immigration. Zeldin is more conservative and more ardently anti-immigration, while King has sometimes worked with Democrats on causes such as securing federal money for 9/11 first responders.
Facing Shirley's unexpectedly strong challenge, King made bipartisanship a more prominent part of his messaging. The shifting demographics in his district, which is becoming less white, could nudge him farther toward the center. "In the long term, all of Long Island is moving much more toward what you would say are favorable demographics for Democrats," said Craig Burnett, a professor at Hofstra University, explaining the challenges facing the more conservative branch of New York's Republican congressional delegation. "This has been true for a couple decades now, but it certainly seems to be accelerating somewhat. Both of them occupy suburbs – or even in some cases for Zeldin you might even call it exurbs, even farther away from the city – of a major metropolitan area, but one that has seen an influx of immigration, a changing of demographics that used to be consistent."
King's district is not the only one where local politics incentivize displays of moderation or bipartisanship, but where that was already true before the GOP's poor showing in the midterms. "There's a more moderate contingent within the current Republican House delegation that consists of central New Yorkers like Katko, like Elise Stefanik, who are certainly Republicans, but they're using a rhetoric with a lot more appeals to bipartisanship, and they're more willing – in certain cases – to buck the Republican Party," said Luke Perry, a professor and chair of the Department of Government and Politics at Utica College. In the last Congress, Katko voted against the repeal of Affordable Care Act, and Stefanik voted against the Republicans' sweeping tax cut bill, which was shepherded by her ally, then-House Speaker Paul Ryan. (Stefanik managed Ryan's debate preparation when he was a candidate for vice president.) Notably, buttressing their moderate bona fides, Stefanik co-chairs the Tuesday Group, a prominent, unofficial caucus of moderate House Republicans, while Reed co-chairs the bipartisan Problem Solvers Caucus.
Stefanik and Katko face a complicated situation: as moderates occupying Trump-friendly districts, they may be forced closer to the center of the Venn Diagram in 2020, following the Reed model. However, in the near term, they show no signs of relinquishing their bipartisan tags in favor of a cozier relationship with the president. Stefanik, who previously worked in the Bush administration, won her district comfortably in the midterms by more than 30,000 votes. Although she sided with the president almost 90 percent of the time in the previous Congress and she appeared with him on the campaign trail, Stefanik disagreed with Trump on several issues including the U.S.'s stance towards Russia and tariffs. In the new Congress, she has split with the president on the majority of measures in the 116th Congress, according to data from FiveThirtyEight, voting with Democrats on high-profile partisan issues like ending the government shutdown and, most recently, voting to overturn Trump's emergency declaration to fund a wall on the border. But Trump took her district by a 13.9-point margin in 2016. Although his popularity is mired in the low 40s, more of his supporters will likely turn out in when he is up for re-election, so she'll likely be watching the polls and may adjust her rhetoric accordingly leading up to 2020.
While similar ideologically, Stefanik and Katko face different realities on the ground that affect their political flexibility in terms of how far they can move toward or away from Trump in anticipation of another blue wave in 2020. Stefanik's pastoral North Country district is more rural and overwhelmingly Republican than Katko's, with no urban center. "The difference between him and Stefanik," said Perry, "is that Syracuse is a big part of his constituency and the city's more liberal. So if he goes too far to the right then he's going to lose just because of the realities he's dealing with demographically."
Katko won his district by a 5-point margin in the midterms, but he is perhaps in the tightest spot (aside from Collins, who faces legal trouble) come 2020, as he may face Balter again, the Democratic challenger he called a "tough opponent" whom he hopes "doesn't want to run again in two years." With her relatively successful run, Balter has the campaign infrastructure and the fundraising capacity to launch another serious challenge to Katko in the next election. She raised $1.5 million in the third quarter of the 2018 race, a Syracuse record, and closed the gap enough on election night to give Katko his most narrow victory in his three years of running. He sat out the vote on Feb. 28 to overturn Trump's emergency declaration - but he said he supported the House resolution to terminate the declaration and was absent due to the death of his father - and he has voted against Trump on almost every measure in the 116th Congress, indicating that moving forward, he's going to move the center as much as he can without alienating Trump-supporting voters in his district.
There are a few upcoming issues that will be brought to the House floor, like bills designed to radically reduce the prices of prescription drugs in addition to a major infrastructure package, that may force the hand of New York Republicans in the near term. "Prescription drugs, which is something that we've stated to Trump that we want to work on, that could be an issue for Republicans like King and others. If we put forth a prescription drugs bill, and they don't vote for it, that could be massively detrimental to them," said a senior Democratic congressional aide, who requested anonymity to speak candidly. "And in general, if the economy continues to decline, that could spell doom for New York Republicans."
In the long term, the strong feelings that President Trump stirs in voters of both parties is another wild card. Trump is unpopular in the state as a whole, and the blue wave in the midterms was largely viewed as a referendum on his performance. His net approval in New York is hovering around -24 percent, and he has a disapproval rating of 60 percent as of January 2019, according to Morning Consult, which tracks Trump's approval month to month. Since he took office, his numbers have been pretty consistent in New York. "Among likely voters in November, literally days before the midterm elections, he was at 39 percent favorable, 58 percent unfavorable," said Siena College pollster Steven Greenberg. "Then come January, when we polled registered voters, he was 32-64, and our most recent number in the poll two weeks ago 34-59." Trump's numbers are typically more favorable upstate and in the downstate suburbs, but not significantly.
"I would wager that by the time we reach 2020, most Republicans in New York state will be either outwardly anti-Trump or looking to distance themselves in some way," Burnett, the Hofstra professor, said in an email. "Not only is Trump unpopular, he is likely to remain so for the next two years. If the economy retreats or even hits the definitional recession stage, support will drop even more."
But even with low approval ratings, some New York Republicans cannot afford to completely unhitch their wagon from the hometown president, especially if he carried their districts by a wide margin. This is especially true for King, whose district has some competing factors that he'll have to navigate: the Democrats and Democratic-leaning independents whose disdain for Trump enabled Shirley to gain momentum in the midterms, and the pro-Trump, anti-immigrant Republicans in his district – both of whom he'll have to court to keep his seat.
Ultimately, in a district where Republicans are pro-Trump, but Democrats might be extra motivated to come out against him in 2020, standing with Trump may be both necessary to avoiding a primary challenge, and at the same time, a big impediment to winning the general election. That was the lesson from 2018 for Claudia Tenney. Tenney couldn't have possibly supported the president any more than she did, and he returned the favor – Tenney received separate campaign stops on her behalf from Trump and two of his children last year, including a high-dollar fundraiser for her campaign – yet she narrowly lost to Democrat Anthony Brindisi in the majority-Republican district, which Trump carried by +15.5 points in 2016. This could be a warning to the remaining Republicans, but one that they may not be able to heed.
Clarification: This story was updated to clarify that Rep. John Katko opposed President Donald Trump's emergency declaration to fund a border wall, and that the congressman missed the House vote due to the death of his father. 
Correction: This story initially stated that Rep. Elise Stefanik campaigned in 2018 on "an anti-Trump platform." It has been updated to reflect the fact that, although she disagreed with him on some issues in the last Congress, Rep. Stefanik campaigned with President Trump and her platform could not be accurately summarized as "anti-Trump." City & State regrets the error.
Powered By
NEXT STORY: Who will be the next Queens Democratic party boss?