New York City
Unpacking de Blasio's plan to rebuild lower Manhattan
New York City Mayor Bill de Blasio has made a $10 billion proposal to build out lower Manhattan's shoreline by roughly two short city blocks to protect the city from the inevitable effects of climate change.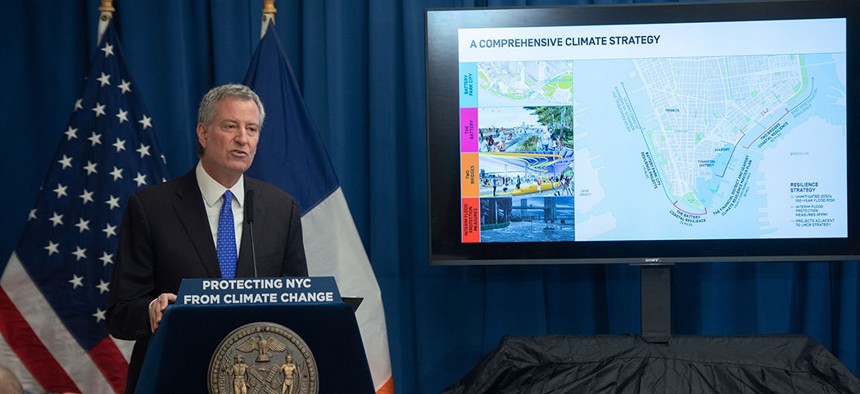 There's a storm brewing, and New York City Mayor Bill de Blasio wants to be ready when it comes. Since 2012's Superstorm Sandy flooded lower Manhattan and climate change threatens more powerful storms like it, de Blasio is arguing that the city needs a more aggressive program to fortify the low-lying waterfront area. Although the city already had a plan to enhance climate resilience, the shortened timeline scientists are now predicting for catastrophic climate change may necessitate more ambitious action.
To compensate for anticipated storm surges, rising sea levels and extreme precipitation, de Blasio's plan calls for pushing out the lower Manhattan coastline by 500 feet – roughly equivalent to two short city blocks. But despite other aspects of the plan already being underway, the mayor's plan to "climate-proof" lower Manhattan could run into some trouble. It may not be that easy to simply change the geography of New York City.
What's new about de Blasio's idea?
The Lower Manhattan Climate Resilience Study, a new report conducted by the Mayor's Office of Recovery and Resiliency – in conjunction with the New York City Economic Development Corporation and the Governor's Office of Storm Recovery – found that by 2050, 37 percent of properties in lower Manhattan will be at risk of storm surge, or sea rising associated with a storm. By 2100, nearly 50 percent of properties in the area will be at risk.
The central proposal that de Blasio's plan focuses on is to build out the shoreline of the Financial District and South Street Seaport neighborhoods on the east side of Manhattan – a measure the plan says is necessary because the shore of that area is so close to the water level and because existing features including utilities, sewers and subway lines prevent the city from building protections on the coast where it exists now. The plan notes that the eventual buildout would be as much as 500 feet added to the shore protecting the area from rising seas through 2100, and is slated to cost up to $10 billion. The new land would be higher than the current shoreline to protect from higher tides and future storms. De Blasio added that the extra land could have additional uses, including as a park, but that those decisions would be part of a Uniform Land Use Review Process.
While some have drawn comparisons to another plan advanced by then-Mayor Michael Bloomberg called "Seaport City," which would have built up on the existing shoreline, de Blasio said at a press conference on Thursday that the details of that plan are no longer desirable nor feasible. "This is not the same thing, that was a much bigger area, focused on private development, building up buildings," he said. "We're in a different moment where we can see a whole host of other concerns that need to be addressed." Among the issues de Blasio says his plan addresses are increasingly extreme precipitation and groundwater table rise.
In addition to the proposal to build out the shoreline of the Financial District and Seaport, Thursday's announcement also mentioned that the city is investing another $500 million towards resiliency projects around the rest of lower Manhattan's "U"-shaped terrain, building up defenses including flood walls and retractable barriers. Another fortification that already has funding from the U.S. Department of Housing and Urban Development is the East Side Coastal Resiliency Project, which includes raising parts of East River Park.
What about the outer boroughs?
Back when Sandy hit in 2012, then-Mayor Michael Bloomberg unveiled a strategy of his own to protect the most vulnerable parts of New York City – not just surrounding lower Manhattan, but in the outer boroughs, including Queens and Staten Island, where the majority of Sandy-related fatalities occurred.
In the Rockaways, a boardwalk that was destroyed by Hurricane Sandy was rebuilt to act not only as a boardwalk, but as a barrier to tidal surges. A larger undertaking to build a five-mile seawall on Staten Island is also moving along after multiple delays, having now secured funding totaling $615 million – $400 million in federal funds, $150 million from the state and $65 million from the city.
Coney Island, another area that sustained heavy damages from Sandy, has received billions from the city for recovery projects including the renovation of Coney Island Hospital and hundreds of thousands of yards of extra sand on beaches to protect against storm surge. Still, a study by the Waterfront Alliance found that over 80,000 residents in the area have a 50 percent chance of losing their homes to flooding by 2060, and residents have raised concerns that not enough is being done to fortify the area against future storms.
Who will pay for the new climate plan?
While the Staten Island seawall may have secured its necessary federal dollars, funding will inevitably be a major issue for de Blasio's proposed buildout. With estimates between $5 and $10 billion, de Blasio said in a New York magazine op-ed on Thursday that funding for the project should come from the federal government. Curiously, though, he also acknowledged that President Donald Trump is unlikely to fork over that money in the name of guarding against climate change. "I'm stating the pretty tragically obvious truth right now that there is no federal resiliency strategy," de Blasio said during Thursday's press conference. "Do I think the Trump administration is going to change? No, we've got a climate denier in the White House."
The obvious next question is how de Blasio plans to get federal funding without Trump. On Thursday, he floated a number of options to reporters. First, de Blasio said that building for the project wouldn't even begin until 2020 – apparently hinting at his optimism that Trump will lose a bid for re-election to a climate-conscious Democrat. Questioned with the hypothetical that Trump secures a second term, de Blasio then floated the possibility that Democrats win the Senate in 2020. The mayor said that he planned to sit down with U.S. Sen. Chuck Schumer – a presumptive Senate majority leader – in the next few days to talk about his plan.
If either of those options fail, de Blasio said that the city would have to have a very serious and honest conversation with the community about the possibility of private funding. The city could allow private development in the area in exchange for funding for the project, but that option would likely not only take longer, but would invite criticism from residents. While de Blasio acknowledged that he'd want to avoid that option if possible, the urgency of the matter may be too great to not pursue it.
Already though, the notion of private development in the place of federal funding is putting some off. "With this plan to provide protection for the entire coastline of Lower Manhattan, we now have a roadmap to a more resilient and sustainable future," New York City Councilwoman Margaret S. Chin, who represents parts of the Lower East Side, said in a statement. "However, this more resilient future cannot be paid for by private real estate development that would destroy the waterfront neighborhoods that we are trying to protect."
Chin is not alone on the position, as de Blasio noted that federal funding, rather than private development, could speed the process up by as many as five years. While the city will engage in a community outreach process and begin a planning process in the spring, until 2020, it will be hard to know exactly what the project would look like without knowing where the funding will come from. De Blasio, at least, is optimistic. "There's still time to get the federal dollars," he said.