New York State
House moderates want to talk about anything but Trump
On Thursday, while most members of the New York congressional delegation were tweeting up a storm about the long-awaited report by Special Counsel Robert Mueller, representatives of swing districts stuck to a low profile.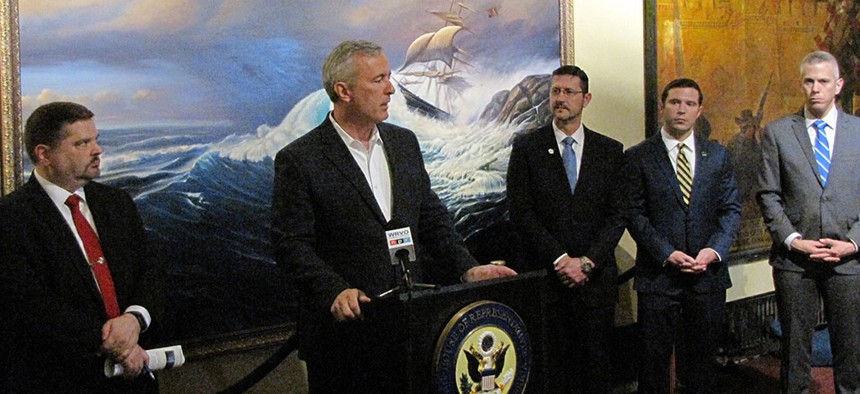 On Thursday, while most members of the New York congressional delegation were tweeting up a storm about the long-awaited report by Special Counsel Robert Mueller, Democratic Rep. Anthony Brindisi and Republican Rep. John Katko headed to the H. Lee White Maritime Museum in Oswego to celebrate ongoing efforts to designate a national marine sanctuary in Lake Ontario.
The two representatives of swing districts in upstate New York were not alone in staying away from the partisan sniping that greeted the release of the report. Democratic Rep. Max Rose – a top target of GOP efforts to retake the U.S. House in 2020 – also found other things to do. Just 36 minutes before Brindisi and Katko kicked off their event at 11 a.m., Rose sent out a press release highlighting a bill addressing veteran suicides. He followed that up a few hours later tweeting about tolls on the Verrazzano-Narrows Bridge. While Rose has called for the release of the Mueller report in the past, City & State could not locate any statements on the investigation's findings since the report was released.
While Brindisi would later speak about the report to a local news station, he avoided directly criticizing President Donald Trump and Attorney General William Barr, an approach similar to another Democratic lawmaker representing an upstate swing district, Rep. Antonio Delgado. "As our intelligence community has made clear, Russia directly interfered in the 2016 election," Delgado tweeted that afternoon. "All branches of government must work together to uphold the rule of law, protect our democracy against interference from adversaries and restore public trust in our elections." Since commenting on the report, Delgado has focused his public comments on a family road trip that avoids partisan issues – unless you consider celebrating the 50th anniversary of Woodstock to be a liberal message.
Representatives for Brindisi, Delgado, Rose and Katko could not immediately be reached for comment.
Other New York lawmakers from safer districts had few qualms jumping into the fray. In fact, other than Democratic Reps. Grace Meng and Yvette Clarke, every other member of the New York congressional delegation expressed their feelings on Trump, Barr and the report. Democrats see a damning report of the conduct of the president and his campaign. Republicans see something completely different.
Some Democratic lawmakers, like Rep. Kathleen Rice, called for Congress to continue its investigations into Russian interference in the 2016 election and Trump's alleged obstruction of justice. Others criticized Barr's role in the investigation and questioned whether his loyalty was to Trump or the American people. Rep. Alexandria Ocasio-Cortez said Congress should pursue Trump's impeachment, while powerful chairs of House committees like Rep. Jerrold Nadler and Rep. Eliot Engel demanded that the Justice Department release the report to them without redactions.
Republican representatives, even those from potentially competitive districts, were mostly less cautious than Katko. Rep. Lee Zeldin proclaimed that the Mueller "witch hunt" was over, while Rep. Peter King, from a neighboring district on Long Island, praised Barr's performance. Rep. Chris Collins – who is currently under indictment for alleged securities fraud – distorted the findings of the report by incorrectly claiming that it exonerated Trump of allegations of obstruction of justice.
Congress members from swing districts, such as Brindisi, Rose, Katko and Delgado, are stuck in the middle, doing their best to avoid upsetting the moderate voters they need to win reelection in 2020. That approach makes sense, said Luke Perry, a professor of political science at Utica College who has written extensively about congressional races in Central New York. Perry noted that when New York's congressional moderates have commented on the Mueller investigation and report, it has been in a careful way that avoids partisan aspersions.
"Brindisi has consistently supported the full report being released and repeatedly stated that the people he talks with do not want government getting bogged down in endless investigations," Perry said. "Katko has also regularly referenced his professional background as a federal prosecutor in verbally defending the Justice Department in ways most Republicans have not."
Powered By
NEXT STORY: Caban campaign caught spying on Melinda Katz