Alexandria Ocasio-Cortez
Three takeaways from the new Netflix documentary about AOC
Ever since Alexandria Ocasio-Cortez defeated then-Representative Joe Crowley, political observers have been trying to figure out how. Luckily for everyone else, there was a film crew tracking her story. Here is what "Knock Down the House" shows about the secret of her success.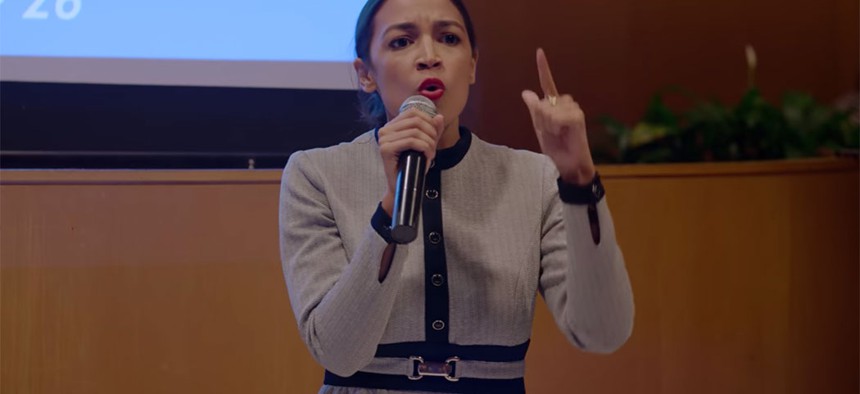 The new Netflix documentary "Knock Down the House" tracked Rep. Alexandria Ocasio-Cortez and three other progressives as they challenged Democratic incumbents in New York, West Virginia, Nevada and Missouri last year. During filming, Ocasio-Cortez was just one of four women fighting an uphill battle. As fate would have it, she would be the only one to win – with lessons to share for any insurgent who wants to take on the political establishment.
Ever since she defeated former Rep. Joe Crowley in the 2018 Democratic primary, political watchers have been trying to figure out the secret of her success. But figuring out the true nature of her victory requires time and a sense of how the race looked from her perspective before she became a household name. Luckily for everyone else, there was a film crew tracking her story.
Here are a few takeaways from what the film shows about the secret of her success:
Look like your district – in different ways
Ocasio-Cortez has received much attention for being representative of a new generation of Democrats with greater gender and racial diversity. She is a young woman of color in a district that has only become very ethnically diverse in recent years. The documentary shows her putting those qualities to good use during her campaign, whether it was by speaking Spanish at rallies or on social media. However, that is just one way that she showed different groups of constituents that she was one of them.
As it turned out, white Millennials were as important a part of her winning coalition as older people of color. The documentary shows the many small ways that Ocasio-Cortez conveyed that she is a woman of her generation. There is the subway shot where she speaks in a voice-over about her student loans. There is the Cafe Bustelo that sits on a shelf as her red-bearded, live-in "partner" talks to her about the campaign. One scene shows her calling supporters to action in a room filled with white 20 and 30-somethings. Whether it was well-heeled hipsters from Astoria, long-term residents in the Bronx or recent immigrants in Jackson Heights, there is no shortage of examples of how Ocasio-Cortez could reflect the different demographics of voters.
It takes a lot of old-school politicking to win
The documentary shows how all four candidates struggle to do all the things they need to do to win. There is the scene where West Virginia Senate hopeful Paula Jean Swearengin – who unsuccessfully challenged Democratic Sen. Joe Manchin – is shown coaxing supporters over the phone for small donations. All the other candidates – Ocasio-Cortez, Amy Vilela in Nevada, Cori Bush in Missouri – also do a fair amount of knocking on doors.
But what's striking is how Ocasio-Cortez really sweats the small details. In one scene, she goes off about consultant-speak the design of one of Crowley's campaign mailers, noting design flaws and his campaign's failure to include the date of the primary. Her campaign literature, by comparison, had a lot of thought put into it. For starters, it included the date of the primary and did not shy away from mentioning her support for hot-button issues like abolishing ICE and a federal jobs guarantee. Most importantly, was the use of simple language that led to one overarching message: vote.
Ocasio-Cortez had a knack for knowing the issues that would get a voter's blood boiling. Her use of social media gets some attention in the documentary, but much of it focuses on how she leveraged in-person interactions with voters, printed literature and even a little bit of sidewalk chalk to reach voters who were not tuned into the political process.
An aloof opponent helps
After first ignoring Ocasio-Cortez and sending a surrogate to debate her, Crowley finally appears on stage with her towards the end of the film. In retrospect, it is amazing that more people did not see a defeat coming for Crowley. An attempt to tie her to disgraced Hiram Monserrate falls flat. He later condescends to her by saying she brings "a lot of energy" to the race and even literally scratches his head during a T.V. debate while she conveys energy, idealism and – perhaps most importantly – a willingness to bring up issues that would appeal to voters in the heavily Democratic 14th Congressional District. Was Crowley too busy thinking about his anticipated rise to House Speaker to show support for a $15/hr minimum wage, a federal job guarantee, and "Medicare for All?" We'll never know, but Ocasio-Cortez has hardly stopped talking about any of that, along with the Green New Deal, since she trounced him on primary night. She might have been the only person at one point who knew how vulnerable Crowley really was, but the documentary makes it obvious for anyone who makes it to the end.