MTA
Trump bills pass state Legislature and a shake-up at the state GOP
Rounding up the week's political news.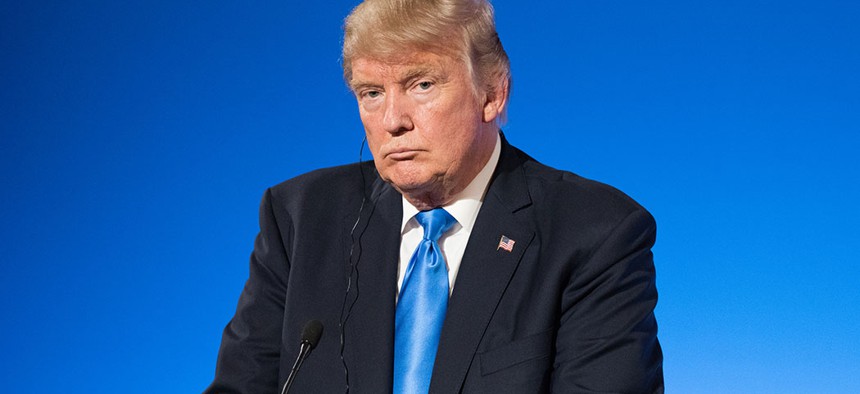 New York City has a supervillain. It's not Thanos, nor is it someone a little more realistic like Lex Luthor. He is someone far more evil than either: this unknown criminal is single-handedly disrupting the commutes of thousands of New Yorkers during rush hour.
According to MTA incident reports, nearly 750 trains have been delayed over the past several months thanks to someone pulling the emergency break in the rear cab, the supervillain's M.O. He managed to evade capture because he escaped out the back of the train into the tunnels. But the authorities have now caught the alleged subway saboteur, so perhaps the scoundrel will finally face justice.
State moves on Trump bills 
The Assembly passed two bills aimed at President Donald Trump. One would allow the state Department of Taxation and Finance to give New York tax returns to certain congressional committees, while the other would enable state prosecutors to charge people pardoned by the president for similar federal crimes. The Assembly did however slightly narrow the scope of the first bill to allow the Department of Taxation and Finance to release only the taxes of certain federal and state elected officials, as well as the president's Cabinet. Both pieces of legislation now go to Gov. Andrew Cuomo, who has expressed support for the measures.
Shake-up at the state GOP 
After it became apparent that Erie County Republican Party Chairman Nicholas Langworthy would successfully defeat state Republican Party Chairman Ed Cox in a leadership election, Cox announced that he would not see reelection and that Langworthy would succeed him. Langworthy officially takes over in July. Meanwhile, Cox, who has led the party for over a decade, will now work on the president's reelection campaign. Although no one has spoken publicly about it, top aides to Trump helped Langworthy gather enough support to unseat Cox.
Relaxing voting restrictions 
On the other side of the aisle, the state Democratic Party voted to ease the rules around who can vote in party primaries. Now, someone who switches parties at least 60 days before a primary, or 25 days before a primary for someone joining the party after being unregistered, would be eligible to vote. Previously, one would have needed to make the switch by October the year before the primary election. The state party also set the presidential primary date for April 28, giving the state more clout at the Democratic National Convention.
Crisis in the taxi industry
The New York Times published a two-part investigation into the taxi industry in New York City, finding that much of the financial devastation that drivers are facing today can be traced back to powerful industry leaders who drove up the price of medallions, creating a bubble that eventually burst. The second half of the reporting also found lax oversight by city and state agencies that ignored warning signs and allowed predatory lending practices. Both New York City Mayor Bill de Blasio and state Attorney General Letitia James announced investigations into the lending practices and brokers involved.
AOC weighs in on Queens DA race
While progressives wait to see who Rep. Alexandria Ocasio-Cortez will endorse for president, the freshman lawmaker weighed in on a more local race. She announced that she is backing fellow democratic socialist Tiffany Cabán in the Queens district attorney race. Cabán is only the second person Ocasio-Cortez has officially supported since taking office in January. Cabán is the most left-wing candidate in an election some consider to be a referendum on whether Queens is ready for progressive criminal justice reforms seen in other parts of the city.
Corrupt Collins has a primary challenger
Although he did not report a single contribution from an individual in the first quarter, Rep. Chris Collins now needs to ramp up his campaign efforts now that he is facing a primary challenge. State Sen. Chris Jacobs announced that he is running for Collins' seat and will primary the congressman if necessary. Collins, who is currently under indictment for insider trading, has already sent out a fundraising email attacking Jacobs as a "Never-Trumper." Although he said last month that he was still deciding whether to seek reelection in 2020, Collins seems to have made a decision.