New York State
As progressives pivot to the Assembly, a Benedetto challenger emerges
Jonathan Soto, the first No IDC NY-backed candidate for 2020, will focus on the incumbent's Trump ties.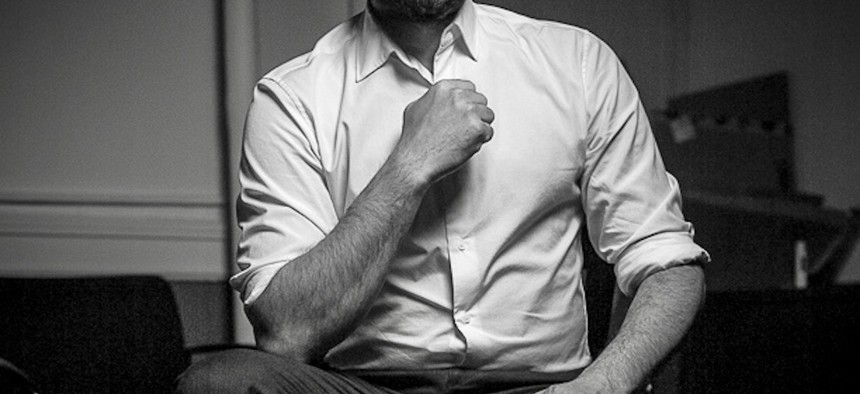 A Puerto Rican community activist plans to challenge East Bronx Assemblyman Michael Benedetto in the 2020 Democratic primary, and he will be the first candidate backed in the 2020 cycle by No IDC NY, City & State has learned. Jonathan Soto, 34, believes he's well positioned to oust the incumbent in Assembly District 82, focusing on Benedetto's alliance with the political establishment and receipt of donations from Donald Trump.
Even with the support of the grassroots organization that helped oust six of the eight former members of the state Senate's now-defunct Independent Democratic Conference, Soto may face an uphill battle. Benedetto, chairman of the Assembly's Standing Committee on Education, isn't a widely known symbol of the Bronx Democratic machine like Ruben Diaz Sr. "He's not walking the district with the Reverend (Diaz Sr.) in his cowboy hat," said John Doyle, a former New York City Council candidate and self-described progressive Benedetto supporter. "He's walking the district as the one-time teacher and community activist."
But Soto sees an entry point in Benedetto's support for the Trump Golf Links at Ferry Point, which opened in the district in 2015. Benedetto spoke at the ribbon cutting. The course was built at city expense, for $127 million, and is operated by Trump – only to see visitorship and gross receipts dip in its second year. That's money Soto says would have been better spent on schools, housing and public transit. Campaign finance reports show Benedetto received $2,500 from Trump himself in 2014, and $4,100 from Trump Links in September 2015, three months after Trump announced his presidential campaign.
"Once I saw the picture of Trump and machine politicians celebrating the transfer of $127 million of our tax dollars for his Bronx golf course, I felt a moral obligation to run and send a message," Soto told City & State this month. A Throggs Neck resident, Soto is a political organizer at Union Theological Seminary in Manhattan and an alumnus of New York City Mayor Bill de Blasio's Clergy Advisory Council. "The reason why we are fighting over resources, especially in diverse communities, is because the pie has been made smaller due to a bad deal with the powerful and the rich in our political system here in New York," said Soto, who identifies as a socialist.
Benedetto, a longtime district leader, public school teacher and founder of the Bronx Times Reporter, has represented District 82, which stretches across the working-class and middle-class communities of the Bronx's northeastern shore, since 2005. The area, from the single-family homes of Edgewater Park and City Island to the high rises of Co-Op City, is underserved by the subway and in places can feel like a seaside town.
Its voters have historically toed the mainstream party line in low-turnout primaries. Benedetto trounced his last Democratic challenger, Egidio Sementilli, in 2012 with 89 percent of 3,000-odd votes. The incumbent is also popular in Co-Op City, a key campaign stop, Doyle noted. Although freshman Bronx state Sen. Alessandra Biaggi made history when she defeated former IDC leader Jeff Klein in 2018, voters in the portion of her district that overlaps with Benedetto's overwhelmingly chose Klein.
The demographics of the district have shifted during Benedetto's tenure. (Benedetto is Italian-American.) Community District 10, which includes Throggs Neck and Co-Op City, is now roughly one-quarter white, compared to nearly 50 percent in 2000, according to NYU's Furman Center. The Hispanic population has nearly doubled over that same period, from 23 to 40 percent, while the black population has increased slightly.
"Just on the demographics alone, a formidable challenge that can hit those newer communities can present an interesting challenge to a longtime incumbent," said Eli Valentin, a Monroe College political science professor who has also worked as a political consultant in the borough. "That, and we are in a very anti-incumbent climate."
Soto's announcement comes as the activist coalition No IDC NY shifts its attention to the Assembly. Progressive activists now believe a shakeup there could help push through more expensive goals in Albany, like a millionaires tax (which Gov. Andrew Cuomo strongly opposes) and single-payer health care. The Assembly has also recently inflamed reformers by resisting public campaign financing and a ban on outside income.
Benedetto has checked some No IDC NY boxes over the years, voting for the Climate and Community Protection Act, and various gun control measures. He's a co-sponsor on both the Marijuana Regulation and Taxation Act and the New York Health Act.
But Soto has been outspoken on money in politics, already condemning the real estate money that flows through the Bronx Democratic Party. He plans to fight large corporate subsidies, and envisions empowering the state comptroller to audit government-subsidized projects on contract adherence, as it does government agencies, taking inspiration from a movement in Puerto Rico to audit the island's multibillion-dollar debt.
Soto would also seek to break up the power of entrenched incumbents in Albany with term limits. He would join Biaggi in condemning Cuomo's outsize influence in the annual budget process, and is supportive of amending the New York state constitution to "take budgetary power away from Cuomo," a long-shot effort that would ultimately fall to a voter referendum. Other priorities include deeply affordable housing on public land, voting rights for incarcerated New Yorkers, and the Separation of Children Accountability Response Act, which would increase transparency around the number of detained migrant children in New York. Inspired by Rep. Alexandria Ocasio-Cortez, he hopes to mobilize new voters (there are currently more than 51,000 registered Democrats in the district), focusing on seniors, immigrants and his fellow public school parents.
"The Bronx is hungry for new leadership, not patronage to the status quo," said Jessica Torres, a political strategist from the Bronx who recently helped organize a presidential forum for She the People, a new network of Democratic women of color. Like Soto, she had a brief stint in the de Blasio administration. "Jonathan's candidacy is not only refreshing, it's super timely," Torres said.
Born in Huntington, New York, Soto spent his childhood between Brentwood, Long Island and Puerto Rico. He studied at Fordham and later took night classes at Brooklyn Law School and the Pratt Institute, in labor law and urban planning. He has lived in Throggs Neck for five years, where his 8-year-old daughter is in school.
De Blasio appointed Soto to the Clergy Advisory Council in 2015, where he worked with religious leaders to address homelessness, domestic violence and immigration issues. (Though his parents are Pentacostal ministers, he doesn't identify with a specific denomination.) But Soto became increasingly frustrated with de Blasio's administration, especially after Hurricane Maria ravaged Puerto Rico, and he left in January 2018.
It was shortsighted, Soto now argues, for de Blasio to close an emergency service center that had served hundreds of Puerto Rican families just five months after the storm. Activists also demanded a Hurricane Maria task force to address issues like too few Spanish translators at the Human Resources Administration that never came to fruition. "De Blasio was always very willing to engage on hot-button issues that didn't require substantive funding," Soto charged. (In a statement, City Hall countered that staff "jumped to action" to serve more than 2,500 Puerto Rican households with shelter and benefits.)
The South Bronx, west of Benedetto's district, has New York City's most-concentrated Puerto Rican population.
Ravi Ragbir, director of the New Sanctuary Coalition, a grassroots group that supports immigrants fighting deportation, remembers Soto rallying for him while he fought his deportation case in 2018. Though Ragbir lives in Brooklyn, he said he's immersed in immigrant faith communities in the Bronx, which he thinks will identify with Soto despite a tendency towards social conservatism among some religious groups. "There are a few things that they will not align on, but the general idea of support for the community, housing and immigration, they are on the same page," Ragbir said.
Benedetto has made a few headlines recently. In late May, he was the sole dissenting Democrat on legislation that would allow the state Department of Taxation and Finance to share Trump's tax returns with the federal government. Republicans applauded his vote. "We shouldn't be passing bills to get revenge on our political enemies," Benedetto told City & State. Soto later challenged that Benedetto had voted "to deter a constitutionally-valid act of Congress."
This month, Benedetto announced a package of education bills to curb the expansion of charter schools. "That's a good move, got to give credit where credit is due," Soto said. But he also urged Benedetto to advocate for less "convenient" education bills, such as Erin's Law, which would mandate age-appropriate sexual assault training and education at elementary and middle schools. The bill, which passed the Senate unanimously this month, has yet to pass through Benedetto's Education Committee. (Benedetto said Wednesday that he doesn't think the bill goes far enough, but that it might yet reach the floor this session.)
"I will stand by my record that I put forth during the course of my tenure and we will let the voters decide," Benedetto told City & State. He went on to defend the Bronx Democratic Party, noting "the amount of minorities and women" it has supported for judgeships. He also credited county leaders for passing the Green Light Bill, which would allow undocumented New Yorkers to apply for driver's licenses, through the Assembly Wednesday.
On Trump Links, Benedetto added that the Bloomberg administration negotiated the contract, and that he had "no finger in that pie." Still, the golf course was "a wonderful thing for the development of the area." Benedetto said he did not recall receiving donations from Trump or his business. "I think Mr. Soto is grasping at straws and trying to make something out of nothing," he added. "I disdain everything that's going on these days with Washington."
No IDC NY plans to target between six and a dozen Assembly members in 2020. Candidates of color will take precedent. Gus Christensen, the coalition's chief strategist, said he sees in Soto the embodiment of No IDC NY's next phase, thanks to his ample experience in both politics and activism. He believes Soto will stand out in Albany, like freshman Queens Sen. Jessica Ramos, another No IDC NY-endorsed politician and de Blasio alumna. "Jonathan is not someone who is going to go to Albany and disappear," Christensen said, laughing. "He's too good-looking for that, let's be clear."
But first Soto would have to get there, by knocking out an incumbent who may have a fundraising and name recognition advantage. Valentin likened party machines to "paper tigers," defeatable so long as their challenger can fundraise enough to be competitive. However, in a post-IDC world, "I think the narrative has to be made a little bit more creatively," he said. "When you have the boogeyman, it's easier to raise money off of that."
Powered By
NEXT STORY: What you need to know about 2019's elections